Riviera Has A New President & Big Events Headed Its Way
Details

Category: Inside Golf
Published: 2022-02-24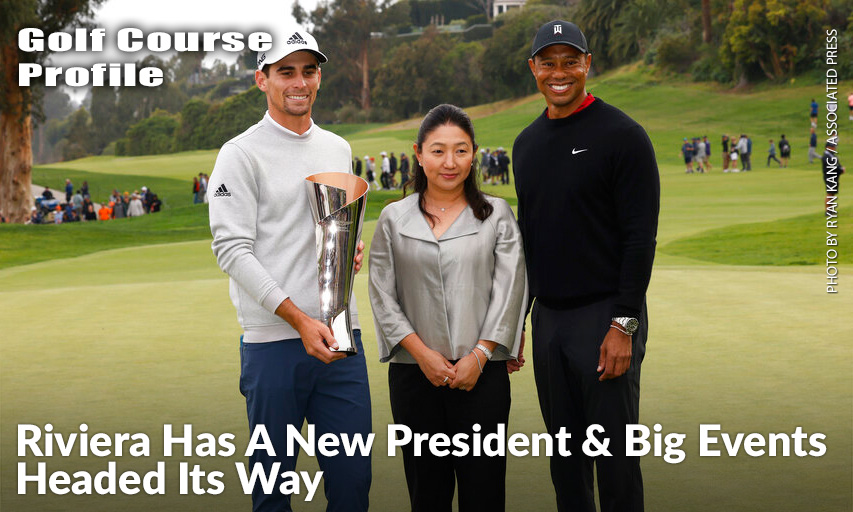 By DOUG FERGUSON, Associated Press
LOS ANGELES, California — Megan Watanabe first showed up at Riviera when her family bought the club in 1989. She took golf lessons and tennis lessons in the summer, left Japan to attend middle school and eventually went to Pepperdine to study art.
She never imagined where it would lead.
Watanabe is the first woman to be president of the fabled club. And while Riviera already is regarded as among the best courses on the PGA TOUR, it's about to get a lot more traffic.
Riviera celebrates its 100th anniversary in 2026 by hosting the U.S. Women's Open, its first women's championship. Golf has been confirmed for the Olympics program for Los Angeles in 2028 and will be played at Riviera.
"We've always sought majors," said Watanabe, who spent 10 years as vice president before taking over from her father, Noboru. "In 2017, we had the U.S. Amateur and we continued to look for opportunities. We haven't had the U.S. Open since 1948."
She said John Bodenhamer, the chief championships officer for the USGA, mentioned changes coming to the U.S. Women's Open with a big boost in purses and going to more historic clubs.
"The things he talked about really interested me," Watanabe said. "Because we have never hosted a women's championship, it made sense. Also for the Olympics. I wanted the women to be comfortable and experience Riviera before the Olympics."
Since that 1948 U.S. Open won by Ben Hogan, Riviera has hosted the PGA Championship twice and a U.S. Senior Open.
Watanabe has not ruled out another U.S. Open, which would seem like a long shot with the limited property at Riviera for the massive build-out the championship requires.
Riviera was on the verge of hosting the U.S. Open in December 2020 with no fans during the peak of the pandemic until the British Open was postponed and the U.S. Open moved from June to September and stayed at Winged Foot.
Next year, the U.S. Open goes down the road from Riviera to Los Angeles Country Club, which has 36 holes and ample room. Watanabe preferred a comparison on the other side of the country. Merion had the 2013 U.S. Open and will host again in 2030 and 2050.
"Merion is probably about the same size we are. My thinking is if they can do it, I think we can do it," she said. "Yes, parking is always an issue. If we can have extra property to put in a merchandise tent and corporate tents, it would be great. At the same time, I would pitch a smaller, premium-sized U.S. Open. That might work. That's what we do well here."