LPGA Foundation Announces 2022 LPGA Leadership Academy Schedule
Details

Category: Inside Golf
Published: 2022-03-19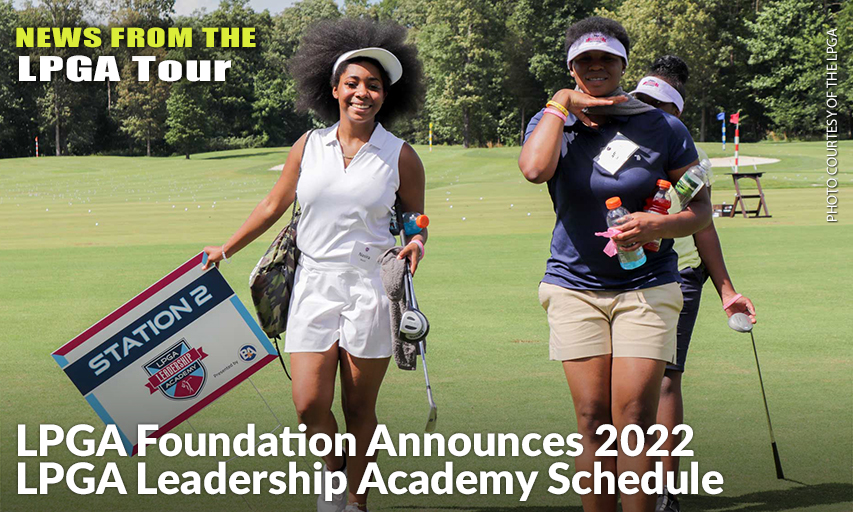 DAYTONA BEACH, Florida — The LPGA Foundation, whose mission is to empower, inspire and transform the lives of girls and young women through the game of golf, announced a four-event LPGA Leadership Academy schedule for 2022.
The schedule will cover the breadth of the United States with two-day academies taking place in Michigan, New Jersey, Virginia and Washington. Each LPGA Leadership Academy will host 40 girls aged 13-18.
"The 2022 LPGA Leadership Academy schedule is fully funded by donations from our sponsors, enabling us to offer each two-day academy at no cost to those selected to participate," said Nancy Henderson, President of the LPGA Foundation. "We are committed to empowering, inspiring and transforming the lives of girls and young women through the game of golf, and we are very excited about the impact that the LPGA Leadership Academy has already had on those who have participated in the program."
The LPGA Leadership Academy uses the game of golf as a platform and learning tool to:
Teach girls how to become better decision-makers
Overcome and let go of setbacks
Take calculated risks and embrace opportunities
Develop skills to accomplish specific goals
Play their own game and find their own voice
This is the LPGA Leadership Academy schedule for 2022:
June 22-23 – Saginaw Country Club in Saginaw, Mich., presented by the Dow Great Lakes Bay Invitational
"The Dow Great Lakes Bay Invitational is excited to team up with the LPGA and Saginaw Country Club to host our third LPGA Leadership Academy in Michigan in 2022. This two-day leadership forum continues to receive overwhelmingly positive feedback from the young women who completed the 2019 and 2021 programs, and the impact the experience had on their self-esteem and confidence in facing life's challenges," said Chris Chandler, Executive Director, Dow Great Lakes Bay Invitational. "We look forward to empowering a whole new class of future female leaders as we bring this opportunity to the Great Lakes Bay Region again this summer."
July 13-14 – USGA Campus in Liberty Corner, N.J., presented by the USGA
"I believe that the USGA gets as much, if not more, out of hosting the Leadership Academy than the participants do because of the benefit that comes from being around these remarkable girls and young women," said Mike Whan, CEO of the USGA. "If you spend just a little bit of time around LPGA*USGA Girls Golf, you'll quickly understand that investing in a female future for golf is in the best interest of everyone who loves the game."
July 19-20 – Robert Trent Jones Golf Club in Gainesville, Va., presented by Christina & John Zacamy
"It is a privilege to partner with the LPGA Foundation to inspire and support young women from diverse backgrounds as they begin their leadership journeys," said Christina Zacamy, former Chair of the LPGA Foundation Board. "During these uncertain times, it is more important than ever to invest in a program for young women that promotes self-confidence and develops leadership skills that will last a lifetime."
Aug. 1-2 – The Golf Club at Newcastle in Newcastle, Wash., presented by Acer
"Giving young women a chance to stretch themselves and grow through the game of golf fits right in with our mission to help people break barriers," said Kim Phipps, Senior Director, Global Marketing & Brand for Acer. "We're thrilled to help the LPGA provide future leaders with this opportunity."
In addition to attending the Academy, each participant will be eligible to apply for the LPGA Foundation Scholars Program, which includes invitations to an LPGA event, mentoring programs and a $5,000 college scholarship. Details about the LPGA Leadership Academy, the locations and applications for participation can be found on the LPGA Foundation website at www.girlsgolf.org/events/leadership-academy.
The LPGA Foundation introduced the two-day LPGA Leadership Academy in 2015 to engage teenage girls in golf and provide them with a framework for young women to develop their confidence, communication and leadership skills. With activities on and off the course, attendees discover their unique strengths through group exercises, expert-led discussions, journaling and interactions with female executives.
Key priorities include: LPGA*USGA Girls Golf, the LPGA Leadership Academy, scholarships and the Dolores Hope LPGA Financial Assistance Initiative for those in the golf industry who are experiencing severe hardship. The LPGA Foundation is supported by corporate and private donations, foundation grants and contributions from LPGA members. 
For more information on how to contribute to the LPGA Foundation, please contact LPGA Headquarters, 100 International Golf Drive, Daytona Beach, FL 32124, or by phone, +1 386-274-6200 and on the web: www.girlsgolf.org/donate-foundation.