Nexbelt Unveils New Augusta Braided Series Golf Belt
Details

Category: Inside Golf
Published: 2022-03-29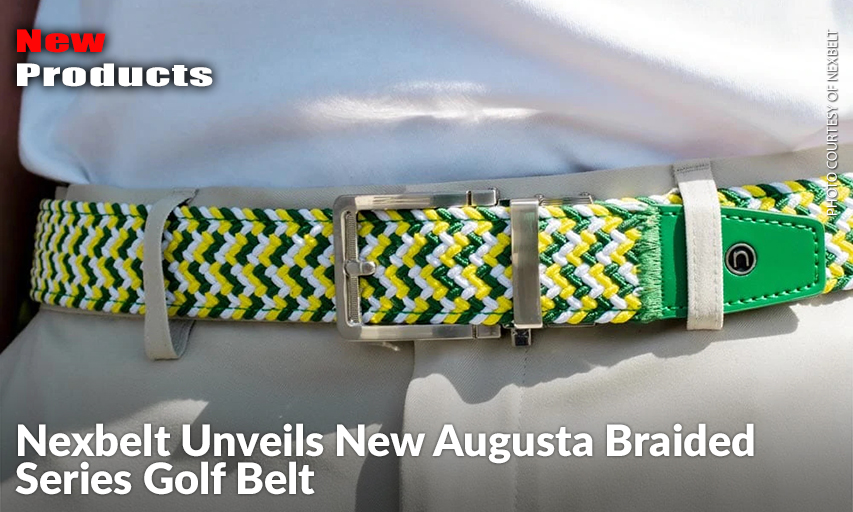 RANCHO CUCAMONGA, California — Since 1934, Augusta, GA has been home to some of golf's greatest moments. Amidst the azaleas, towering pines and flowering dogwoods, the first week of April ushers in a stage unique to the sport. Over four days and 72 holes, the smallest field in championship golf competes for a chance to capture the famous Green Jacket and a place in history.
Now you can take a journey down Magnolia Lane and celebrate the greatest week in golf with your very own Augusta Braided Series Belt from Nexbelt, "The Belt With No Holes".
Our Braided Series Golf Belts offer all the beauty of a nylon braided belt but none of its deficiencies. Nearly two years of design work have allowed us to be the first to offer a braided ratchet belt! These braided belts offer great comfort because they stretch a tiny bit to allow a little more flexibility on the course.
Cut-to-fit and will accommodate up to 50″ waist
Green, Yellow and White nylon material
Buckle size 1 5/8″ x 2 5/16″
Nexbelt logo medallion on leather tip
With over 40 players now wearing Nexbelt on the Professional Golf Tours, it's considered "The Fastest Growing Belt in Golf". Its team of PGA TOUR Staff Professionals for 2022 includes Jim Furyk, Kevin Na, Marc Leishman and many others.
Nexbelt is known for its innovative technology and providing golfers with the maximum comfort and minimal adjusting. The unique ratcheting system called PreciseFitTM allows the wearer to adjust the belt in ¼ inch increments, providing the golfer with the best fit, feel, and fashion available.
Nexbelt is 100% committed to offering its customers superior customer service and the most innovative and technologically advanced products available.
---
Nexbelt's DRIVE Vision….  
Deliver what we Promise with Integrity.
Retain the Human touch
Invest in Good People generously.
Value our Customers Unconditionally.
Embrace Change with Innovation.
Company Founders, Tom Hunsucker, and Eddie and Francis Rowland started Nexbelt in 2010 with a vision to reinvent the way Americans buy, sell and wear their belts. Tired of the old outdated pin/buckle system, they set their sights on creating a belt that would be both adjustable and highly fashionable at the same time. Out of this passion, Nexbelt, "The Belt With No Holes" was born.
Nexbelt®, Precise FitTM and "The Belt With No Holes"® are registered trademarks.
For more information about Nexbelt, visit www.Nexbelt.com.