Pine Hills Working On Staying Atop Alberta Golf Playground
Details

Category: Inside Golf
Published: 2022-05-09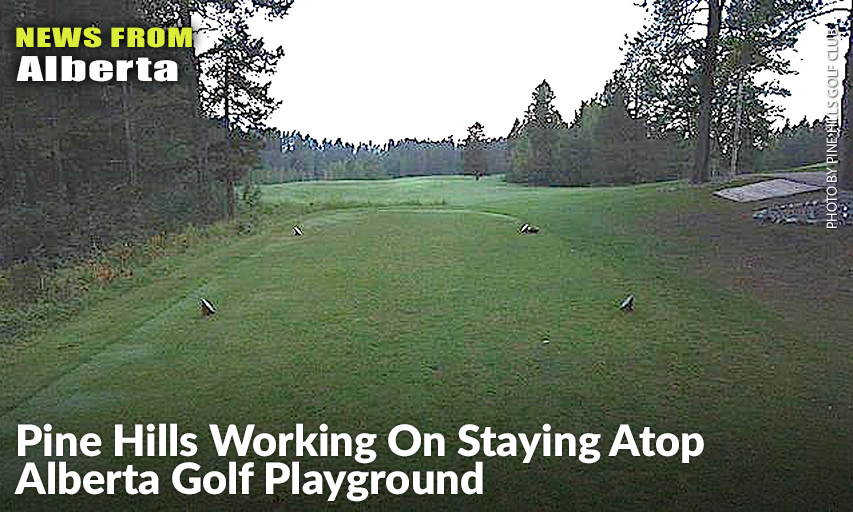 By GORD MONTGOMERY, Inside Golf
ROCKY MOUNTAIN HOUSE, Alberta — Everything eventually wears out. Car tires. Socks. Golf gloves. And yes, golf holes. The latter is the case in this Alberta community, where over the years, weather and play, have begun to take a toll on the Pine Hills GC, a wonderful rural golf getaway close to the foothills of the Rocky Mountains.
Speaking in a phone interview, the course's executive professional Dave Drake, said work is well underway on building a new hole which will serve the club, and its visitors well in two ways. First, it will let the maintenance crew shut down a hole for repairs yet remain as an 18-hole test. And, it will add a new touch to the course's character.
"We did some renos that started in 2020, I guess, just to fix some drainage issues on some of the holes on our front nine and we started a new hole," Drake explained of how this change began. "We're in the process of building that now, and if things go well hopefully we'll be on it by the latter part of 2023. That's what the goal is."
The reason for the new hole, Drake confirmed, is: "To give us the opportunity to do renovations on the golf course and still have 18 holes in play. We have to fix our irrigation. It's getting pretty dated and the easiest way for us financially to do that is one hole at a time."
At present there are some other hoped-for fixes coming, including the opening test, which Drake noted, "Is a bit of a wonky hole. It's like playing on a camel's back! And then number six is kind of built out in the muskeg," so longterm plans call for some renovations to that hole.
The new hole, when it comes into play, will have some real character to it, the pro noted. While it's a par-4, there are a couple of shots that will require some skill to manage it.
"There are a couple of ponds our there and we kind of built it around those. It will be about 360 (yards) from the tips," but is made a tad more difficult as water runs all the way down the righthand side of the fairway. "It will be a pretty easy fairway (to hit)," the pro pointed out, adding, "but the second shot is over water to the green. It won't be too difficult to build," however managing its challenges may be another story. The work on the new hole is being done in-house along with some aid from a local contractor.
While Christmas is well past us as the golf season begins, it appears a Secret Santa dropped by Pine Hills and left a gift under the tree. That has helped the small-town club afford the major changes that are pencilled in or are already underway. Drake didn't drop any names of the benefactor, but then again, we all know Santa is a kind of anonymous guy who does good things for those who are good during the year. And this is a club that follows Santa's lead by doing a good job of providing fun and recreation of around 23,000 rounds for residents and visitors each and every golf season.