PGA of British Columbia Introduces Women's Golf Week
Details

Category: Inside Golf
Published: 2022-05-12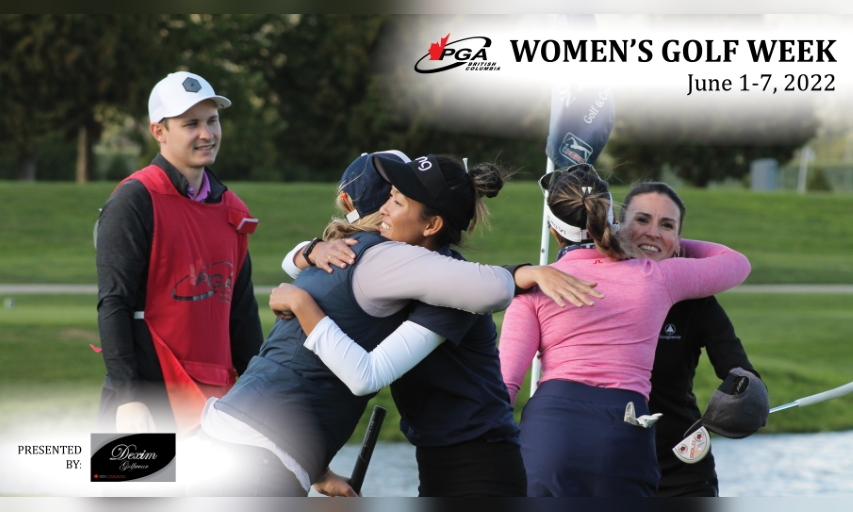 RICHMOND, British Columbia — The PGA of British Columbia is proud to announce the launch of a new Association initiative in 2022 that will help showcase the many elements of one of the fastest-growing areas of golf.
PGA of BC Women's Golf Week presented by Dexim Golfwear will take place June 1-7, 2022, and will be an online-based platform for the Association to highlight various aspects of the game, specifically targeted at females in BC. From juniors to seniors and beginners to tournament players, Women's Golf Week will dedicate seven days to showcasing the many people, programs, and upcoming events available to all female golfers across the province.
Through various channels of communication of the PGA of BC, golfers will see a different area of the game brought to light, including a profile of a featured female PGA of BC Golf Professional every day.
By design, the week will cap off on June 7th, which culminates with International Women's Golf Day — a collaborative global community working to engage, empower, and support girls and women through golf. This female-driven experience is available across the world and allows a simple and accessible platform to build a foundation and creates a network to support the continuation of golf no matter what skill level or interest. The annual event has been well-supported by many facilities throughout British Columbia, many of which are expected to enroll again in 2022.
"Our Board of Directors have identified women's golf as a key demographic in which we feel our platform can be used to highlight the many great happenings in BC," said Donald Miyazaki, Executive Director of the PGA of British Columbia. "Women's Golf Week will allow us to showcase the various programs and initiatives that all PGA of BC members have been doing for decades to promote golf for women of all ages and abilities. At the end of the day, we hope to make the game of golf and its facilities an inviting and enriching environment for existing and beginner female players", Miyazaki adds.
A long-time supporter of the PGA of British Columbia, Dexim Golfwear has signed on as the exclusive presenting sponsor of the initiative. Founded in 1989, the Canadian-owned and operated manufacturer of high-quality women's golf apparel is based out of its headquarters in Montreal, Quebec. Dexim's colourful and diverse designs in golf dresses, polos, and skorts featuring reliable and comfortable materials have made them an industry leader. The company's sought-after clothing products are available at more than 400 retail locations nationwide, including at over 30 facilities in British Columbia. For more information, please visit www.deximgolfwear.com.
As the program's launch date approaches, please watch for the PGA of BC's social media channels such as Twitter, Facebook, and Instagram with the hashtag #forewomen. PGA of BC members and facilities looking to contribute or be a part of Women's Golf Week are encouraged to contact Owen Simpson, Communications & Marketing Manager at This email address is being protected from spambots. You need JavaScript enabled to view it.. If you would like to be a part of International Women's Golf Day, please visit their website here.