When You Can't Land A Job There... Why Not Just Buy The Place?
Details

Category: Inside Golf
Published: 2022-09-20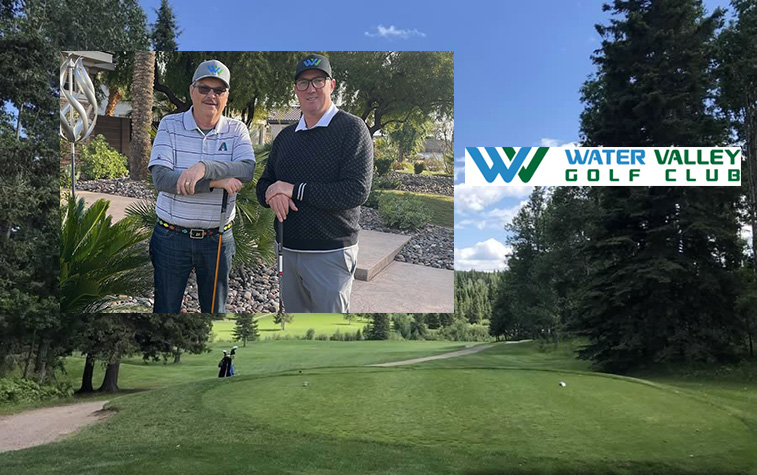 By Gord Montgomery, Inside Golf
WATER VALLEY, Alberta — There are golf course owners these days who are basically hands-off, other than dictating protocol and procedures via the boardroom.
Then there are places where the owners take a more hands-on approach, reaching out each and every day to see what their customers want, and looking to fill any void. The latter is the case at the Water Valley Golf Club situated just minutes outside of Calgary.
You see, sometimes fate calls your name and if you're smart enough to listen, good things can happen. For Pat Thomas and his nephew, Jeremy Dueck, a business opportunity too good to pass up came along so they took it.
The pair saw a chance to get into the golf business through the purchase of the Water Valley club and jumped on it. This came about purely by accident, said Dueck in a phone interview about why anyone in these inflationary times would choose to invest a rather large sum into a sport that has ebbed and flowed over the past decade.
"I'm kind of up for challenges and I have a passion for the sport," Dueck said, maybe only half-joking about taking the reins of this 18-hole layout known as the 'Jewel of the West.'
Continuing on about taking over, Dueck noted that as a youngster he spent plenty of time, shall we say... obsessing about golf. "I have a passion for golf," said Dueck, "I was drawing golf courses and redesigning golf courses in a book as a junior golfer. Then later in life, sitting around during COVID and being bored, I figured I'd go work at a golf course. So, I emailed the owner here (at Water Valley) and he said, 'No. There are no (work) opportunities.' So, I asked him if he wanted to sell it. And he said, 'Actually, I do.'"
And almost as simple as that, Uncle Pat (as everyone calls him) and Dueck became golf course owners with things running smoothly since the ownership transition.
"I knew what Water Valley had potential for. We've made a few improvements so far, changed a tee box here, a green there," Dueck said, noting also that there could be future changes to the landscape but as of right now nothing concrete is on the books.


The 17th Hole At Water Valley Golf Club (Photo Courtesy Water Valley GC)
This layout is located a short drive from both Calgary and Cochrane, thus the drive-in traffic from those larger communities is a boon to this small-town track. About attracting customers in a market with plenty of choices on where to tee it up, Dueck said they focus on one thing, "I guess it all comes down to quality. We have competitive pricing with other courses but when it comes to quality, there's no comparison.
"What we offer can't be compared to what's around us. Now that we have a driving range, which Cochrane doesn't have, we're getting people coming out here who want to warm up before a round," on a revamped range that had been shut down by the previous owner. "We put it all back up and got it running again, with all new stuff," he said.
An important aspect of their ownership is to be hands-on, Dueck explained, noting they function on a different sort of philosophy than courses owned and operated by corporations.
"This isn't a place run by a bunch of guys who sit around a table and make decisions. This is me being on-site and my uncle coming in every couple of weeks. We're playing with the members, we're out there with the members, we're on site. People see us. They know who we are. They see us laugh. They see us treat them [well]. It's a lot different than a big corporation that never sees their golf course."
Since golf course purchases aren't inexpensive, one has to wonder about the ROI (return on investment) in a situation like this. As it turns out, cash flow going forward won't be a problem under the new owners at the Water Valley Golf Club.
"My uncle (who lives in Las Vegas) has a passion [for] golf and is a successful business owner. He has seven to 10 McDonald's in Las Vegas so we don't need to worry about money. This is just more or less kind of our baby," ended Dueck.
And so far, the Water Valley GC has been the perfect new addition to their family for both Thomas and Dueck who saw an opportunity and swung into action.