The Louisiana Golf Trails, Part 2: Louisiana Style Golf, Fishing & Music In The Atchafalaya Basin
Details

Category: Inside Golf
Published: 2022-10-21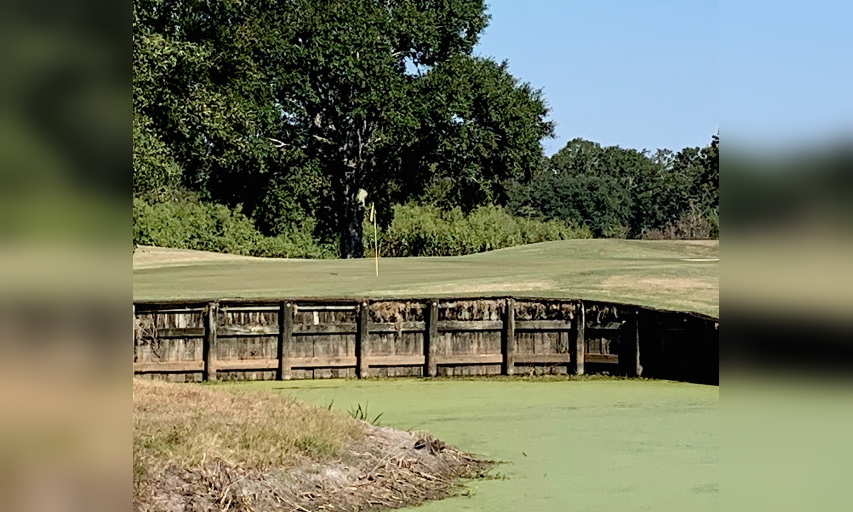 By Gord Montgomery, Inside Golf
PATTERSON, Louisiana — While a golf trip is first and foremost all about golf, there are times you need to step away from the game to take advantage of other outdoor activities your getaway spot offers. Such is the case in Louisiana, around Patterson and Morgan City, where a trip through the bayou in search of largemouth bass is the ideal way to help break the chain of bogeys you've been carding.
Along with an experienced guide — because these waterways that meander through the state go on and on and on in a confusing configuration of branches and dead-ends — you're sure to find the sweet spot for hauling in a bass or two on a catch-and-release basis.
But of course, prior to casting a line or two, check out the local fairways on a couple of great courses on the Audubon Golf Trail.
Farm d'Allie Golf Club
In Lafayette, the first place to tee it up is at the Farm d'Allie Golf Club. Built in 2003 by Jeff Blume, this course is set in the bottom land (what locals call Beau Bassin) that was once the riverbed of the mighty Mississippi. Now, it's an 18-hole layout spread over 215 acres that brings lots of challenges with it including, yes, water. Once the home to cotton fields and soybeans, it now is one of the most popular places to tee it up in this part of Louisiana.
One interesting twist to this design is the fact it has huge trees in the middle of three fairways, often within striking distance off the tee, so care must be taken when airing the driver out. The greens also incorporate a number of false fronts so an extra club isn't a bad idea on many approach shots. Add into that mixture thick, tangly Bermuda rough (which we northerners rarely see) that often turns the club face closed as you make contact so a shot can go just about anywhere other than where you planned. However, that's offset somewhat by large, open fairways — other than where those three trees make their homes — and greens that are of a good size.
At its longest, Farm d'Allie plays to slightly under 7,000 yards but that can be pared down to a more manageable 6,400, 6,037, 5,536, or just over 4,900 yards. But be warned: every one of those yards is well-earned as you make your way around this rural course.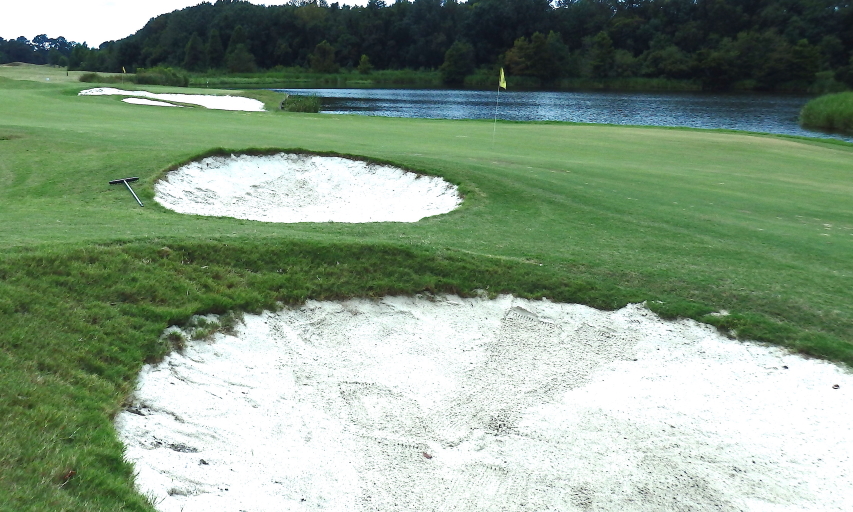 The Massive Greens Complex, Which Is Home To The Ninth & 18th Holes, Is Surrounded By Hazards Of Both The Sand & Liquid Varieties.
The Atchafayla at Idlewild
This is a must-play in this area of the Atchafalaya Basin, located in Patterson, which is about 90 minutes from New Orleans. Here, wildlife and wild swings can go hand-in-hand with this Von Hagge design. It's a big layout with distances that stretch out to over 7,500 yards from the tips, which is a big haul no matter how good a player you may be. Starting closer to the putting surface here sees tees at around 7,000, 6,500, 5,900, and 5,200 yards. As the course was being shaped, over half a million yards of soil was moved, which brought into play the 15 lakes and native wetland areas throughout this scenic course.
Besides lots of wooded areas throughout this course, one finds some narrow entryways to the short grass off the tees. Once clear of those, however, the greens here are large, although many are guarded by huge bunker complexes. One interesting note is the 9th and 18th greens are one large putting surface with water on one side and sand on the other so your approach must be dead-on to prevent all kinds of bad news — not including a possible putt of over a couple of hundred feet.
The course was built in 2004 and bears the hallmarks of recent designs in its length, shape, and playability — once you get through those somewhat harrowing tee shots on many holes.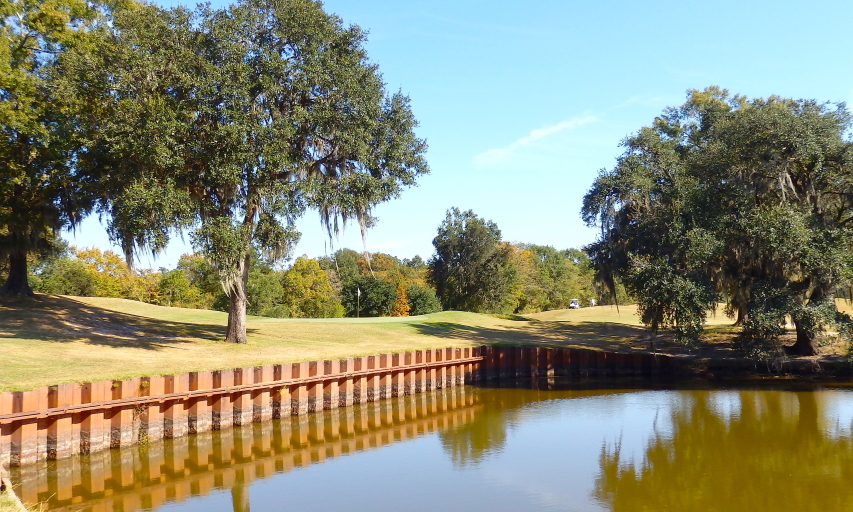 With Water Playing A Major Part Of The Protection Around The Santa Maria GC Just Outside Baton Rouge, Accuracy Comes Into Play More Often Than Raw Power On This 18-Hole Layout.
Santa Maria GC
A little further down the road, you come to the petroleum-rich environment of Baton Rouge where golf courses are cut through low-lying areas. For us, this included a quick nine at the Santa Maria GC, a Robert Trent Jones, Sr. design who had help from Baxter Spann, Mike Nuzzo, and Roger Rulewich.
Opened in 1987, the architects made use of what was there to begin with as this layout features 18 lakes and a couple of creeks meandering throughout the property so care needs to be considered over raw power.
Besides the water, there is lots of sand here with the course playing to almost 7,000 yards from the back tees down to around 5,000 off the front deck. A warning was issued prior to teeing off and that was that the par-3 holes here, while not overly long from the middle tee, finding the greens that are well protected by that abundant sand and water means those shorties aren't necessarily the easiest holes on this layout. 
This course rates highly with those who rate and rank public facilities and Santa Maria scores highly on a consistent basis, which means it's well worth the time to tee it up here.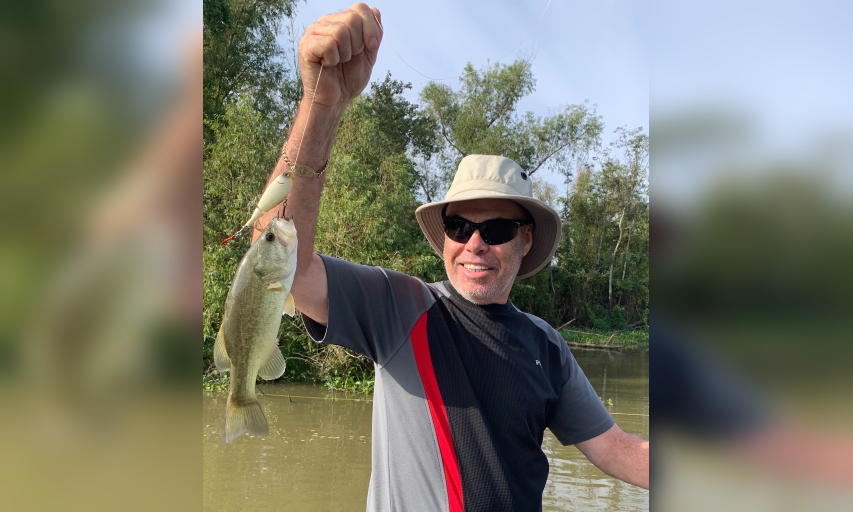 Needless To Say, I Was Quite Pleased With Myself For Hauling In This Largemouth Bass During An Outing On The Bayou Near Morgan City, LA.
Hooking A Big One
There is nothing to relieve the stress of a string of bogeys like hooking into a bigmouth bass out on the bayous around Morgan City, Louisiana. And trust me, once you hook into one of these liquid-living fighters, you'll forget about that snowman you carded on your last hole.
An unexpected joy of this fishing sojourn, hosted by the Cajun Coast CVB, was the fast boat ride through the bayous off of Dorian's Landing, which are beautiful pieces of nature. Piloted by our guide, Winston, who is a former game warden in the area, we churned through the still waters at around 80 km/h, with lots of wildlife evident both in the air, in the water, and on the shore.
But we were here to fish and that's what we did. While it took a while to find any action, it was a great time to question Winston about the best way to hook into a largemouth bass. His simple answer was to use topwater lures and to be patient. As well, he suggested making sure one's casts were near fallen logs, trees, or anything protruding above the water's surface. "Basically, accuracy with casting is the best way to catch something."
He noted that the bass wasn't as plentiful as they once were. "You caught something basically every time you threw a line in the water," he noted before a former no-limit guideline was put in place a few years back and needless to say, many anglers took advantage of that. "Now, there's a 10 fish limit per person, but keep what you can eat and release the rest," he advised.
We went to work and after a while, the fish started to play our game. I landed a pair of them and the strikes with the topwater lure were awesome. While they weren't the largest ones in the water, these guys put up a decent fight and were immediately thrown back for someone else to catch and, hopefully, release.
Tapping Your Feet
To say music is a key element of life down here is akin to saying I was excited about catching some fish! Many genres of music originated in this part of the south, including Creole music such as zydeco, swamp pop, and swamp blues. Add into that mix some country rock from further north as well as jazz, R&B gospel, blues, and rock and you can see why music is so harmonious with the way of life down here.
In fact, music is so common in Louisiana that in many communities, different genres can be heard into the late evening courtesy of street musicians and bands in restaurants and bars. To top that off, the Louis Armstrong New Orleans International Airport offers up a brass band focusing on jazz to greet travellers. In other words, Louisiana is about music in all shapes and forms.
---
Part 3: Next up, it's a trip into the gaming areas of the Louisiana Golf Trails with stops in Lake Charles and Baton Rouge with more great golf and some Cajun-style food.