Some Remarkable New Products Are Now Available For Golfers
Details

Category: Inside Golf
Published: 2022-12-02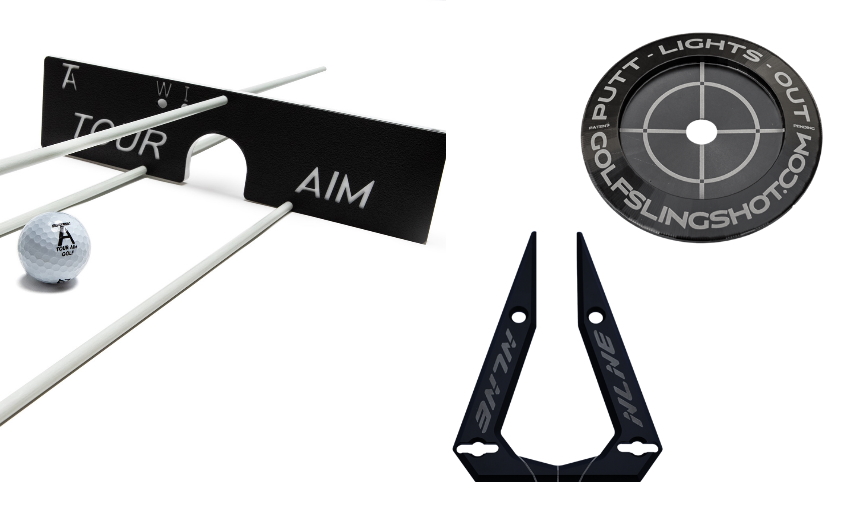 By Dr. Barry Lotz, Inside Golf
These are two of the best training aids currently available and carry the endorsement of the PGTAA (www.PGTAA.com).
In my opinion, Tour Aim Golf is one the best golf training aids ever to come to market. It is simple and effective and easy to use.
Great alignment and aim is the start of great golf.
Proper target alignment and aim is the first step in the golf swing. If you are not properly aligned with your target, your golf shot is doomed before you even swing.
TOUR AIM's Mission: True Target Aim - Aim Better | Play Better | Score Better
$89.99 for Tour Aim + Alignment Sticks
$74.95 without alignment sticks

This product performs the functions of over 20 other products while providing instant positive and negative feedback as you practice. Tour Aim is perfect for any golfer from juniors to PGA TOUR players.
Tour Aim was designed and produced by Tour Aim's founder and CEO Noah Wolf. Versatility is the keyword for this training aid. It does everything you need to improve your game!
He found using swing aids and alignment sticks cumbersome to use and he wasn't sure how they were supposed to help him align and aim. After hitting ball after ball and not paying attention to alignment and aim, some bad swing habits developed. These habits translated to high scores and lots of lost balls on the golf course.
With the sole focus of making practicing golf more effective and efficient, Noah created Tour Aim.

Now hundreds of teaching pros and amateurs around the world are using Tour Aim to improve their games and their student's games. Renowned coaches such as Sean Foley and Derek Uyeda, upon seeing Tour Aim in action, had their players begin using Tour Aim.
Visit touraimgolf.com to see how Tour Aim works.
iNLiNE
$159.00 for the iNLINE
$59.00 for Lights-Out
www.golfslingshot.com
The iNLiNE targeting and putting model WILL perfect your aim, putter face alignment, eye position (with the hatch marks that frame the ball), club path, and line — the main keys in putting. You just focus on distance control.
The elegant-looking unit is CNC milled from an aluminum billet, which is then hard anodized and laser etched. You can request the graphics of your choice which makes them great for corporate handouts or gifts. Bulk pricing is available.
The unit has both an adjustable putter gate and an adjustable width ball gate for players of all skill levels. The patent pending design enables you to place your putter and ball directly on the green for real playing conditions. You simply position, raise and/or lower tees to adjust the challenge. Take my word: it is going to take a lot of focus to get to "make putts" on a consistent basis.
Combined with Tony's Lights-Out portable 4" in diameter CNC milled alloy moving "hole" that actually captures the ball, completes the system. Either unit can be used singularly depending on your needs, time, and proficiency. This unit can also be laser etched with any logo or motto.
Needless to say, the system's parts can be used indoors and outdoors, individually or with a group of fellow friends or competitors. Make up your own personal challenges or games to take the boredom out putting practice.
Our testing group was enamored with the system and what it could do for their putting. The system takes up minimal space and is, of course, very durable.
---
About the Writer
Barry Lotz, J.D., Ph.D. is the director of the Professional Golf Teachers Association of America. Visit www.facebook.com/PGTAA to see all the latest mental strategies, travel, and equipment reviews. Currently, he also works with between 10 to 12 PGA TOUR players on the mental side of golf.
He is a member of the Golf Writers Association of America and serves both as a consultant and mediator to the golf industry. He is also the author of numerous books, including "333 Best Web Sites for Golfers" and his previous book, "How to Build Business Relationships through Golf," updated for 2011, is still in the Top Ten Golf Business Book's best seller list. His latest book, "The Right Mind for Golf," is now in its 12th reprint and is available on Amazon and at the Torrey Pines golf course.