McCourt Pens A Golf Book With A Different Sort Of Instruction
Details

Category: Inside Golf
Published: 2023-04-14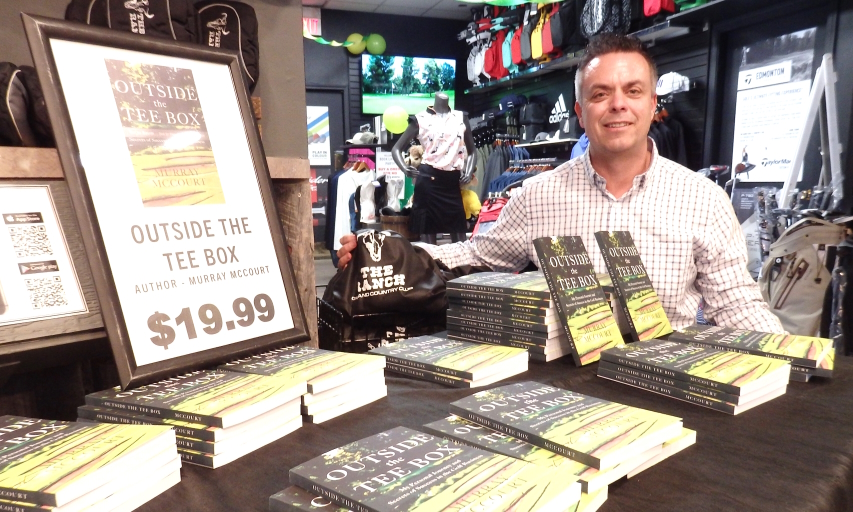 By Gord Montgomery, Inside Golf
SPRUCE GROVE, Alberta — When a golf professional undertakes the chore of writing a book you'd expect it to be in the vein of a how-to instructional pamphlet. Or perhaps something along the line of humorous on-course happenings. You know, to fix your slice/hook you do this and this …. or, "That goose honked in the middle of my backswing!" "These pants are so tight they restrict my follow-through!"
But Murray McCourt, who is the executive pro and part owner of The Ranch Golf & Country Club just outside of Edmonton, took a different route into the publishing world. His just-released manual, Outside The Tee Box, is centred not on the above topics but rather his business philosophies and personal growth within the golf industry.
The idea for this began a few years back when a speaker at a seminar piqued McCourt's interest in undertaking writing such a book. Kraig Kann, an author himself who also worked on the Golf Channel and is now a public speaker, planted the seeds of this idea in Edmonton pro's mind and when the two connected, the book idea began to come to life.
"He strongly encouraged me to write a book a couple of years back," recalled McCourt. "But, I put it on the back burner," after looking for an editor and publisher and being informed, for the most part, he'd have to self-publish any work. "I didn't want to go that route," so the idea was paused.
Then, as happens, fate intervened at of all places a college football game in the U.S. There, Kann met some school alumni who owned a book company. He vouched for the value of McCourt's volume and the hook was set.
"I got a phone call from that football game, set up a Zoom meeting, and four months later, I had a published book! I wasn't really sitting down (to begin with) to write a book. I was just sitting down to write down my thoughts on a bunch of different subjects," the Alberta pro explained.
In using a verbal rendition of Cole's Notes to describe the theme of what he penned, McCourt said: "The first half of the book, I'd say, is maybe 80% my personal journey in the golf business with maybe 20% business stuff. The second half of the book, call it 90% business and a little bit of my journey here and there. My experience in that area is in the golf industry but a lot of my business theories are easily transferable to other businesses. I feel like it's a business book that talks about my journey in the golf business …. that are transferable to others whether they own a coffee shop or a furniture store or whatever."
Of who would gain from flipping the pages of his work, McCourt continued, "It would certainly appeal to any golfer because The Ranch is a highly successful golf course and you kind of get into my mind a bit on how we run and why we do certain things. From a golfer's viewpoint, there are tidbits in there that they'd find interesting. On the business side, if people take the opportunity to pick up a book and read it, my thoughts and business philosophies, hopefully, they could translate that into their own business and make some improvements."
So then, there's nothing in there on how to fix my slice, Mr. McCourt?
"No," he replied with a chuckle. "There's absolutely none of that in the book. I'll leave that to the teaching experts. They can write those books; I'll leave that to them!"
McCourt's hope for the book is quite simple even though it was the No. 1 best seller on Amazon to begin with. "It was pretty spectacular to see that!"
So while he is now a published author, he added he's not planning on changing careers as he says he's more than happy where he's at in the golf industry. "This was really outside my comfort zone. I'm not a guy who likes to put myself out there although I do have the golf show on TSN (Edmonton radio)," but with support from his family, and the golf community, it's a significant achievement and something to be proud of.
The book is available on Amazon, as well as at McCourt's course, The Ranch Golf & CC. It retails for $19.95, which is a bargain-basement price if it helps any business owner look at things in a different way to improve their bottom line. To that end, the course McCourt manages is a perfect example of standing out from the crowd and doing solid business year after year.
And that slice? Well, you'll have to find another pro to look after that problem.