Fire Damage At Alberta Golf Course Limited But Precautions Still Being Taken
Details

Category: Inside Golf
Published: 2023-05-19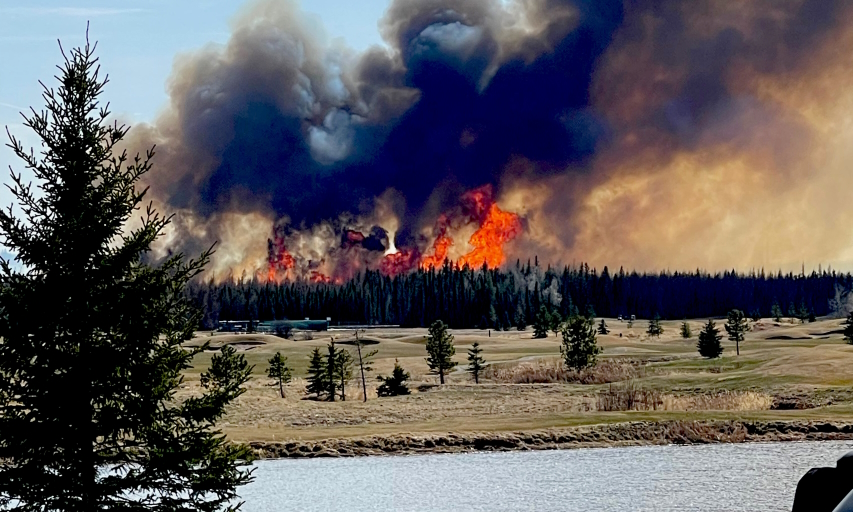 By Gord Montgomery, Inside Golf
PARKLAND COUNTY, Alberta — With over 85 wildfires raging across north-central Alberta, many golf courses have found themselves close to the infernos, but as of yet, none that Inside Golf was able to contact have suffered any major damages.
One 18-hole facility that was perhaps closest to the fires is Trestle Creek GR, where head pro Art New said while they lost some trees, they came away basically unscathed.
Besides being an upscale golf course, located about 45 minutes west of Edmonton, Trestle Creek is a summer/full-time home to many. New said there are about 300 lot owners and those in attendance when the fires neared had to be evacuated. They were allowed back a day or two later but then had to evacuate a second time when the fires flared up again.
Given where the fires were at that time, Trestle Creek actually became a base of operations for the firefighting crews. "They had a command centre here when they evacuated the area, [the hamlets of] Evansburg and Entwistle," said New. "They took over our maintenance shop. There were, I'd say, 250 to 300 people around every day. They were landing helicopters on our first fairway ... I can't say enough about the first responders."
While nutrition was brought in for those engaged in the battle, New said he pitched in by cooking hamburgers for the troops, adding, "I cooked about 80 burgers and realized I don't want to be a commercial cook, ever!"
As for the course itself, all the buildings and the RV units at the site were all saved from any damage by the efforts of those looking to contain the many, massive fires that were springing up everywhere.
"It was amazing how quickly things could change when that wind came up!" New continued. "On the edge of our course, it burnt some trees on the new nine that we're shaping but nothing serious. It didn't change the shape of the holes or anything. On the existing course, on our Creekside Nine around the fourth green and fifth tee box, it burned some trees on the edge and some brush. We were very lucky. If the wind had gone the other direction it would have been a different story."
Further west down the Yellowhead Highway, the town of Edson and its golf course also found themselves on the edge of the many grass and bushfires. In fact, the entire town, with a population of around 8,000, was evacuated. Fortunately, the blaze(s) threatening that community shifted with the winds, and residents were allowed back home after a brief time.
As for the golf course, head professional Jamie Driscoll said they were lucky as the fire itself wasn't overly close to them and never really threatened their property.
"We evacuated on Friday afternoon and were back on Thursday afternoon," he explained about the precautions taken early on. "As for us, the fire was about 15-20 kilometres away and still is [on May 16]. It's contained at that level. It hasn't grown since May 7th or 8th. There's no damage to the golf course or anything, but there is a lot of smoke," which he noted hasn't overly affected green fee play. "We have about 370 members so at this time of year it's mostly the members playing anyway. Revenue has maybe been affected a little bit, but not a ton."
At present, Edson and the area are not on evacuation alert, but Driscoll, who just started at the Edson Golf Club this spring, noted, "I'm new to town and I haven't packed any bags [to evacuate] yet, but I guess I better just in case!"
A bit closer to Edmonton, the Cougar Creek GR, about 20 minutes west of Edmonton, had scares of their own, but again no damages to the course proper. That's not to say the fires weren't nearby. Head professional Jake Behiels noted they were close by for a few days.
"It was a little alarming. There were a couple of small fires pop up a couple of kilometres away and then there was a small [grass] fire that popped up right across the road in the ditch. That was a little scary. A bunch of our maintenance staff noticed the fire. They saw people stop on the highway and put it out with bottles of water. A little too close for comfort!"
With a roadblock set up east of their site on Highway 16 (Yellowhead), golfers had to go through a bit of a Q&A session with police to access the golf course. If they wanted to go farther west, it was no go.
"People were allowed to come to Cougar Creek. They were just making sure they weren't going to the mountains or Entwistle. If they were, they were turned back."
As for the course itself, tee times were limited to enhance safety for players. "Our tee sheet ended at 4 o'clock, just in case something happened," said Behiels. "It would have been a lot easier for us to get whoever was on the course off, if something popped up."
As of right now, extra precautions are still being taken, the pro noted. "Absolutely. The maintenance crew is working later," standing on guard. "As of last week, we've extended our hours, but, we're keeping a close eye on everything."
East of Edmonton, there were also fires beginning in grassy and treed areas. There, Northern Bear GC was on high alert given the background of the Director of Golf Blair McDowell as well as the course owner.
McDowell noted, "The fires weren't real close to us in terms of proximity. There was one north of us, one straight south of us, and another [east] on Highway 14 and 21. That would have been the closest to us. With the changing winds, it wouldn't take much to change course and we've seen that, unfortunately, first-hand.
"In Fort McMurray [and their massive firestorm of 2016] our owner lost his house," and McDowell was then working up there. "So, I was trying to be proactive rather than standing there with our hands in our pockets." To that end, the maintenance crews and course staff put sprinklers on the clubhouse roof and in other areas in case they were needed. Fortunately, they weren't, at least to this point.
At this point, the fires show no sign of easing in the near future and more have started to the north as the hot, dry, windy weather continues to hang over these parts of Alberta and foster the continuation, and growth, of these many wildfires.