FootJoy – The Most Coveted & Respected Name In Golf Offers Outstanding Clothing Options
Details

Category: Inside Golf
Published: 2023-11-02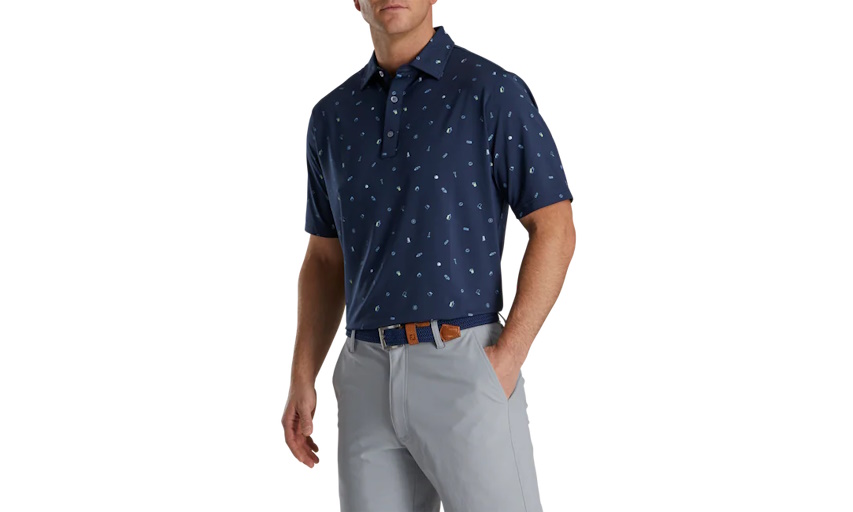 These 3 products make you look good while being comfortable, well-made, and trend-setting using the latest technology available.
One of the benefits of writing about golf equipment, travel, and apparel is the ability to try products in the categories mentioned earlier. My favourite company for clothing is FootJoy.
The following products are, in my opinion, the finest!
---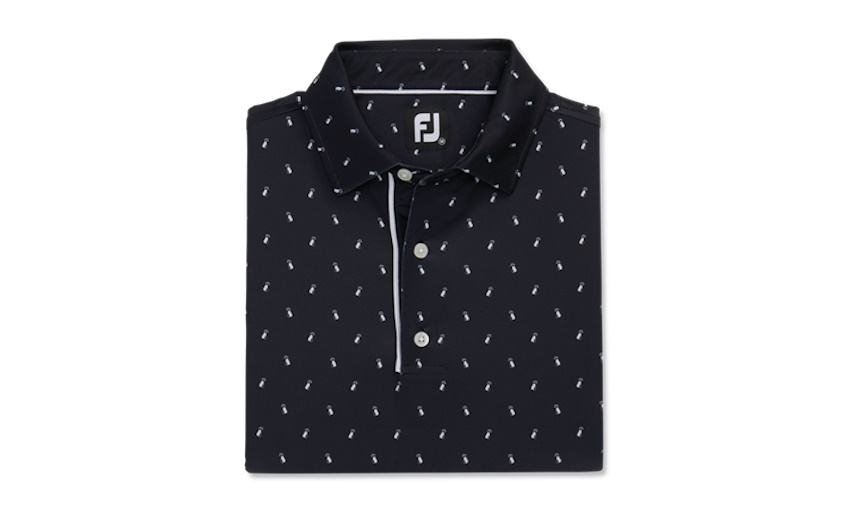 (Photo From FootJoy Website)
The Golf Bag Print Lisle Self Collar
ProDry® performance golf shirts from FJ are the ultimate high-tech performance garment to wear on the course. Offering contemporary styling with UV sun protection and easy care fabric, each garment wicks moisture away from the body and regulates body temperature keeping you cool and dry.
Easy to care for fabric is machine washable with minimal wrinkling or shrinkage. Exclusive ProDry fabrication provides superior moisture control that quickly wicks away moisture, keeping you dry and comfortable.
Using ANTI-MICROBIAL TECHNOLOGY, the finish of this shirt helps inhibit odour build-up when ambient moisture is present.
Quality is personified by double-stitched seams offering added durability, and the locked stitch hem provides reinforced construction with a tailored look.
This shirt features an extra-long back shirt tail to make tucking in a breeze.
Available for $80.00.
---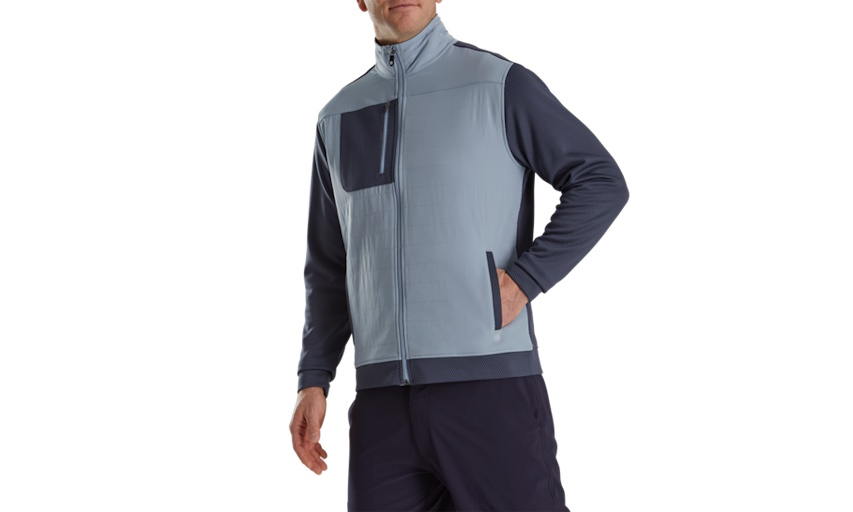 (Photo From FootJoy Website)
ThermoSeries Hybrid Jacket
One of the most beautiful garments to hit the market is FootJoy's ThermoSeries Hybrid Jacket!
The ThermoSeries is designed for layering, allowing you to be adaptable and versatile on the golf course in all conditions. There is no restriction during your swing and the jacket keeps you warm.
The foundation of the ThermoSeries layering system is the base layer, designed for maximum comfort and insulation while allowing a full range of motion. The textured hex pattern material allows your body to breathe and stay dry.
The ThermoSeries mid-layer is lightweight for optimal layering, packed with performance stretch materials designed for versatile protection from the elements as conditions change.
The USP (unique selling proposition) of the ThermoSeries is that the outer layers offer a combined technical knit and woven fabric to provide warmth and comfort in the most severe conditions while allowing you to swing freely. The woven shell material offers a 4-way stretch ability for improved range of motion and wind resistance.
A full front zipper allows for easy access to wear during changing weather conditions and the side pockets allow for hand comfort and warmth.
The protected chest pocket gives you access to your scorecard, glove, and wallet, without exposure to the elements.
Available in navy/white, charcoal/grey, and navy/slate for $175.00.
FYI, ThermoSeries pants are also available for $125.00.
---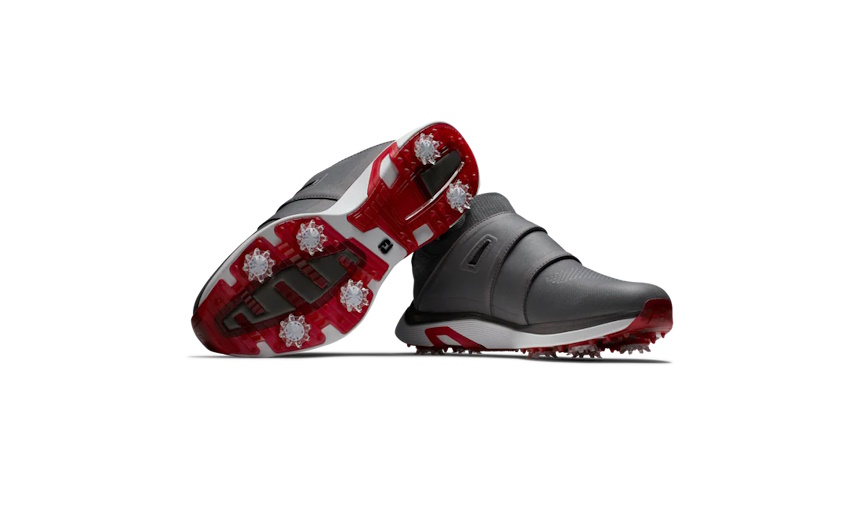 (Photo From FootJoy Website)
HyperFlex BOA Shoes
Finding quality, comfortable, and great-looking golf shoes is no mean feet, I mean feat, excuse the pun!
The HyperFlex line of FootJoy golf shoes is known for its exceptional flexibility and comfort. HyperFlex BOA golf shoes for men are specifically tuned for the modern golfer athlete. The shoes are designed to move with the golfer's foot, providing a natural range of motion and enhancing overall comfort. It is crucial for maintaining stability and performance during a golf swing, especially in challenging weather conditions or on uneven surfaces.
BOA shoes are simply one of the better inventions in golf footwear. The integration of the BOA closure system provides a unique and innovative way to secure the golf shoe. This system allows for a quick and precise fit, ensuring that the shoe remains snug and comfortable during the entire game.
The outsole design of the FootJoy HyperFlex golf shoes is engineered to provide exceptional grip and traction on various terrains.
The BOA closure system consists of a dial and stainless steel laces that are easy to adjust and offer a customized fit for each golfer. Personally, after so many shoe articles and testing, these shoes perform in style, wearability, and performance!

HyperFlex features added ankle padding and an innovative, breathable, and waterproof performance knit upper so you can play at the highest level.
The Ortholite® Impressions FitBed® soft insoles provide immediate step-in comfort and moulds over time for a truly custom-like fit.
The shoe carries a 2-year waterproof guarantee and utilizes the Fast Twist 3.0 cleat system with Pulsar LP cleats. The Fast Twist system was the first ever 3-click insert system on the market. The locking post design secures each cleat with consistent torque for balanced performance.
Available in white, charcoal, navy, and white/navy/lime for $199.00 at FootJoy. Extra wide sizes are offered.
---
About the Writer
Barry Lotz, J.D., Ph.D. is the director of the Professional Golf Teachers Association of America. Visit www.facebook.com/PGTAA to see all the latest mental strategies, travel, and equipment reviews. Currently, he also works with between 10 to 12 PGA TOUR players on the mental side of golf.
He is a member of the Golf Writers Association of America and serves both as a consultant and mediator to the golf industry. He is also the author of numerous books, including "333 Best Web Sites for Golfers" and his previous book, "How to Build Business Relationships Through Golf," which is still on the Top Ten Golf Business Book's bestseller list. His current book, "The Right Mind for Golf," is now in its 13th reprint and is available on Amazon and at the Torrey Pines Golf Course. Just released on June 1st, his new book, "The Right Mind for Putting," is now available at www.pgtaa.com.