Alberta Team Rebounds Nicely To Finish 5th At RBC Scramble
Details

Category: Inside Golf
Published: 2023-11-07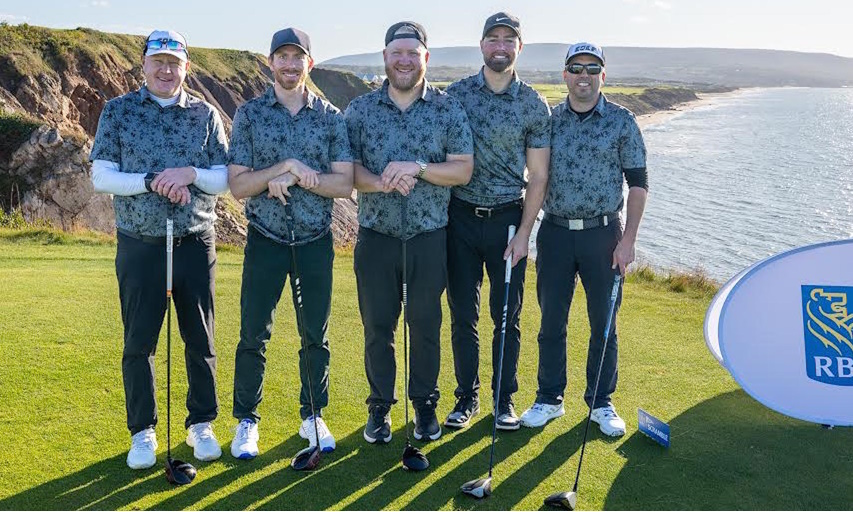 By Gord Montgomery, Senior Writer, Inside Golf
CAPE BRETON ISLAND — Success in sports often comes through overcoming adversity. In the case of the five-man team from The Track GC in Langdon, Alberta, that typified their experience at the 2023 RBC Scramble finals at two of Canada's premier golf courses.
They, along with many of the other teams on hand, dealt with strong wind gusts, rain, time changes, long flights, unfamiliar courses, and stiff competition. Oh, did we mention part of the Alberta team also dealt with cancelled flights and lost equipment on top of everything else?
Despite all those hiccups, the team's professional, Gregg Schubert, from The Track noted the experience and the hospitality at the national final were second to none. For that reason, he suggests that everyone, no matter their skill level, should take part in trying to qualify for this event which takes place yearly following local qualifying rounds.
Schubert's course hosted a qualifier where just under 20 teams of four teams played in eight-some. The victorious foursome from this event, comprised of Ryan August, Brendan Waldock, Ryan Brown, and Tyler Moffat, had previously tried to advance from this stage for five or six years, the pro explained. From that stage, they moved to the regional final, held at Mickelson North in Calgary, where they shot lights out to advance to the national final. The final scores at both events are tabulated using team handicaps through Golf Canada.
"We had one of those magical days where we had two pars, three eagles, and the rest were birdies!" Schubert of the scramble format at Regionals. At this stage, Schubert had joined in on the action to help out the foursome from his course. One exciting rule in those two stages was a team, once they were on the green, was guaranteed a 2-putt. Everyone had a chance to make it in one, but if all missed, they took two and moved on. This is done simply for the pace of play.
While several teams advance to the finals each year, hundreds more try to leap from the local qualifier to the national final. Asked if there was a secret to putting a team together, Schubert suggested there's no recipe for doing so. It doesn't hurt to have a bomber, a short game whiz, and a putting machine all lined up alongside you to succeed.
"Building that perfect team is a combination. It would help if you moved the golf ball but you also need to have decent putters that have touch and feel. But because of the handicap (requirements), you can only have a couple of people under a 9.9 handicap factor. You've got to find those diamonds in the rough that are 15, 16, 17 handicaps that when they catch it, they can move it and they can putt it decently. It's an interesting dynamic."
From the Alberta scene, it was off to Cape Breton in Cabot Links and Cabot Cliffs. The journey there was just another round of adversity for half his teammates. On the way, two members, who were scheduled to fly from Vancouver to Kelowna to Halifax, found themselves without a connector in the middle stop. They did hop on another airline but …. yes, there's more. "They got to Calgary about 40 minutes before the flight to Halifax, but their clubs never made it with them!" the pro explained.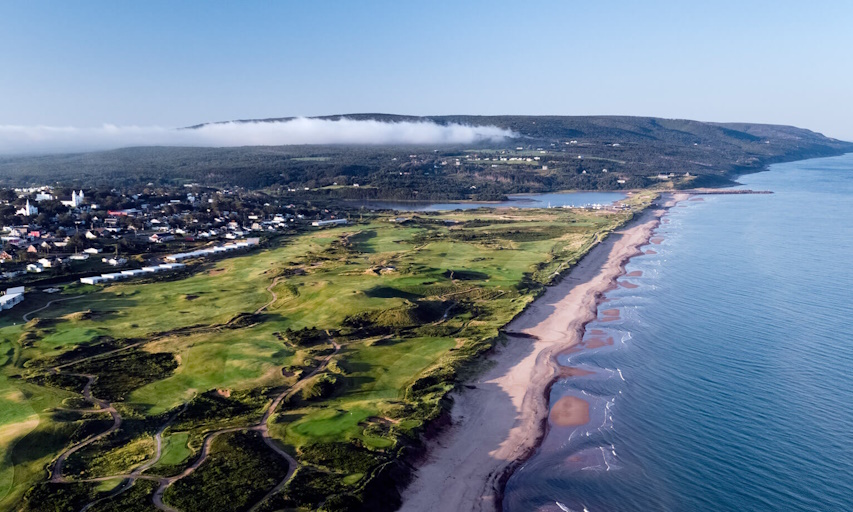 (Photo From Cabot Cape Breton Website)
Eventually though, with the help of the staff at the host venues, the two had sets similar to their own and they were off and playing in some nasty weather as the tourney caught the tail-end of a tropical storm. The Albertans struggled and ended Day 1 close to the bottom of the standings. "We got to the first tee about 11:30 and it started raining and never stopped until about hole 12. We had anything from 40 to 80, and I heard as high as 90 kilometres an hour winds. We played four holes then they called us off for about an hour to let the storm pass a little bit. The rain stopped and the wind picked up. When you're playing two or three feet of break on putts because of the wind, it just makes it difficult. When we got to Hole 16 they called us in on account of darkness. It was just one of those days. We made a lot of pars - we couldn't make any putts," to finish the day at 2-under given their handicap.
At the Cliffs, a couple of hours later, they started "a bit sluggish but picked it up coming into the house, making eagle on the last hole," Schubert recalled moving the team into the middle of the pack score-wise.
On the final day, they again started in the rain. "We were OK. I think we got it to 4-under through nine then we started getting on a roll. I think we shot 7-under on the back nine," as they tied for the fourth-lowest score of the day and ended up fifth overall in the tournament. A testament to how dealing well with adversity can pay off.
With their success, the pro feels more players from his area around Calgary will seek to experience what this group did. This tournament has grown exponentially, from around 1,600 hopeful qualifiers in the first year to around 12,000 this year.
"It's just a spectacular event the PGA and RBC put on, along with all the sponsors. They do a first-class job. It was one of those over-the-top experiences," Schubert ended.