Food On Golf Courses Changing With The Times
Details

Category: Inside Golf
Published: 2017-10-24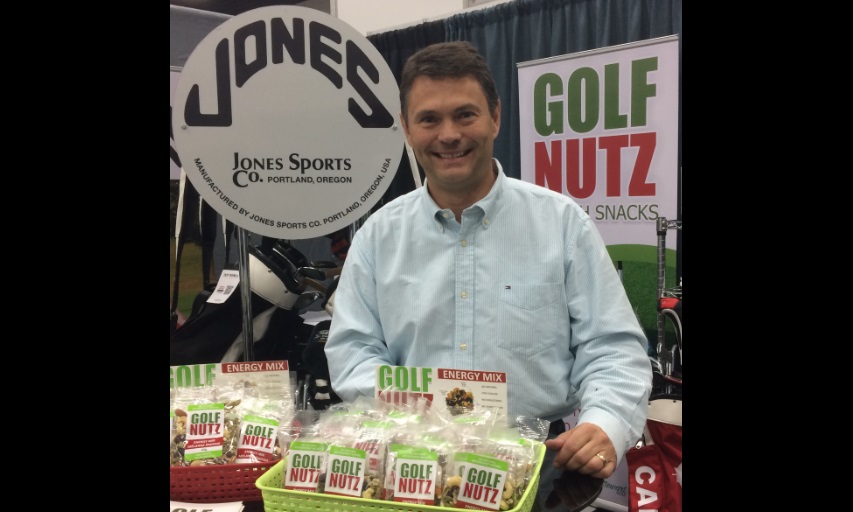 Dave Stewart Is Pleased To Be Introducing Healthy Snack Food To Golf Courses Across The Country With Golf Nutz.
EDMONTON, Alberta (Gord Montgomery/iG) — As the sport of golf continues to change, with everything from clubs to balls to clothing undergoing continual metamorphosis, there's also another part of the game transitioning with the times — food.
In the past, the halfway house at your local layout used to offer staples like chocolate bars, pop and the good ol' hot dog to sate appetites. But in today's world players are looking for something more dynamic, more healthy, in what they seek out in way of nutrition and energy.
One of those new products to start hitting the between-nine snack shelves is Golf Nutz, a product that was on display at the PGA of Alberta's Buying Show and an idea that is gaining in popularity.
That's the word coming from Dave Stewart, the president of Hathaway Stewart Golf, who was seeking courses willing to put their money where their clientele's  mouths are.
"Snacking is a mega-trend across a lot of different categories," he explained about why he feels his energy mix is a good choice outside of the usual grab-and-go food ideas offered at most golf courses. "When it comes to the golf golf course, unfortunately a lot of the snacks aren't built for golf performance. They are loaded with sugar and sugar does deliver energy but it's a spike and a crash and that's not what you want on a golf course."
In layman terms, what one gets from energy bars and drinks, in exchange for a few bucks, are high amounts of sugar and sodium (not to mention mustard stains on your pants that your wife detests  from that overloaded hot dog).
Golf Nutz on the other hand offers nothing but good nutrition to energize your game. They contain zero cholesterol and potassium and only 6 mg of salt. They deliver 23g of carbs, 5g of fibre, 12g of natural sugar along with 11g of protein.
"This is actually formulated for golf performance," stated Stewart. "It's just an all-natural mix of nuts and seeds that ultimately delivers energy over an elongated basis for endurance."
The product contains almonds, cashews, pumpkin and sesame seeds and raisins which is where the natural sugars and flavour comes from. Stewart said he spent 15 years in the food business leading to his expertise.
"I'm very familiar with the food category. One of the things that really struck me was how deficient products on the market were for golf. They were just water with sugar, so from my own knowledge and experience, and with five years experience in the nutritional supplement business, I was very familiar with delivering nutrients through food."
Stewart noted that sugar isn't always a bad guy, but that ingredient is best served with "high velocity sports like hockey or soccer, but with golf, no. The way you want to get your energy is with the unsaturated or polyunsaturated fatty acids available in abundance in nuts and seeds," leading to the Golf Nutz combination of ingredients.
While relatively new on the market, Golf Nutz appears to be catching on.
"We're still early days but we've got some nice distribution already across the country. We've got about 50 clubs now selling the product and sell-through has been good. I'm now getting good feedback from Alberta and B.C. where we've placed the product."
While he's in business to turn a profit, Stewart prefers to think of himself in a different way — the guy who brought smart snacking into the golf world.
"Money is really not the motivator here. The motivator is proper nutrition at the golf course. Really, we're trying to deliver a solution for golfers," who get the munchies during a round at their golfing getaway. "This is built for twice a round; once on the front nine, once on the back. That's all you need."
Stewart said he sees Golf Nutz playing out on three different distribution points at a club — the halfway house, the beverage cart and the pro shop. The last is probably the most interesting concept of the three simply for what it means to the course's pro shop bottom line.
"The nice thing about this, shifting to the business side, one of the things pro shops are starving for is consumables. The only consumable in the pro shop right now is golf balls and there isn't a lot of margin on golf balls. So what this does is drive cash flow. So not only does this deliver health to the consumer it delivers health to the bottom line."
For more on Golf Nutz, marketed as an "all natural source of energy and protein," go to hathway-stewart.com.