Mom's Suggestion Pays Off In A Big Way For Headcover CEO
Details

Category: Inside Golf
Published: 2017-12-18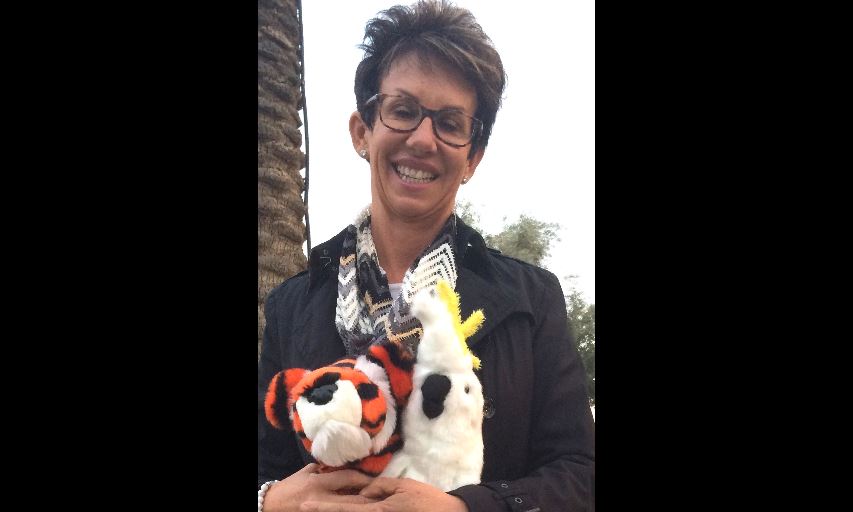 Jane Spicer, The CEO Of Daphne's Headcovers, Poses With Some Of Her Many Creations During A Trade Show At The 2017 West Valley Media Classic At The Wigwam Resort In Litchfield Park, AZ. (Photo/Gord Montgomery)
PHOENIX, Arizona (Gord Montgomery/iG) — Don't ever let anyone tell you that parents don't know what they're talking about. Just ask Jane Spicer.
As a teen, Spicer was into making hand puppets with the hankering to own her own car.  Through some wise advise from her mother, she got that vehicle … along with a company that is renowned throughout the golf world for making the most popular headcovers.
Long before that type of golf gear was popular, Spicer took the bull by the horns — and yes, she probably has crafted more than one of those animals — during the 38 years Daphne's Headcovers has been in business.
"Headcovers just didn't exist and I was making puppets, and my mom, Daphne, the company's namesake, had a customer suggest we make head covers. My mom bribed me and said, "I'll tell you what. If you sell enough of these I'll buy you a car. I was almost 16, so I made some samples and went out and gave a bunch of bad sales pitches and Daphne's Headcovers was born."
While the idea has become so popular that two high echelon pros use them — Dustin Johnson has a black lab on his driver and Lydia Ko has the Snowman on hers. But back when she was starting out, sales weren't all that easy, Spicer noted. And in 2017, Daphne's teamed up with one of the biggest hitters ever on the PGA TOUR, when she teamed up with John Daly who stated, "So, make sure when you cover  up that hot driver, make sure it's a 'Grip It and Rip It' John Daly Lion Headcover by Daphne's!"
"We really had to work at it. I'd sale I was a sales rep, and as a 16-year-old sales rep, they wouldn't let me in the golf shop. Then I'd say I was selling animal headcovers  and they'd go, 'What? What's that?'
"But, it was a slow and steady growth and now we're in over 75 countries," with all a menagerie that includes cats, penguins, moose, tigers, lions , well you name a species and Daphne's has likely created some version of it. In fact, the company presently has 75 different designs on hand and turns out a new one each and every year.
What is perhaps a popular sales idea, besides the cuteness of these headcovers, is that they all carry an unbeatable guarantee.
"We are the only head cover company in the world with a lifetime guarantee," said Spicer, who acts as the company CEO. "Our quality remains our passion."
Besides driver covers, Daphne's also has sleeves for fairway woods and hybrids and they're available at a number of golfing outlets or through the company's website at daphnesheadcovers.com.
The company is headquartered in Phoenix, AZ., with a factories in China and Indonesia.