Fleetwood Retains Abu Dhabi HSBC Championship Title
Details

Category: Inside Golf
Published: 2018-01-22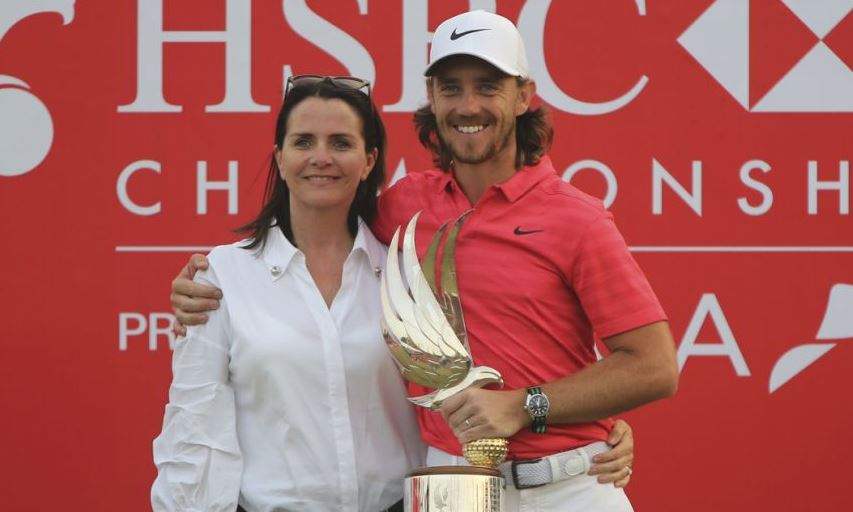 England's Tommy Fleetwood Poses With His Wife Clare Craig And A Trophy After He Won The Abu Dhabi HSBC Championship. (AP Photo/Kamran Jebreili)
ABU DHABI, United Arab Emirates (AP) — Tommy Fleetwood successfully defended his Abu Dhabi HSBC Championship title after a sensational back nine to clinch the win.
The 27-year-old Englishman started the final round two shots behind overnight leaders Ross Fisher and Thomas Pieters, and an indifferent front nine saw him make the turn five shots behind Fisher as gusty winds hit the National course of Abu Dhabi Golf Club
But Fleetwood birdied the 10th, 12th, 13th, 15th, 16th and 18th holes for a seven-under par 65 round to finish on 22-under 267.
Fisher, 37, got off to a fast start when he made an eagle from 45 feet on the par-5 second hole and added two more birdies in his front nine. A bogey on the par-5 10th, which could have easily turned into a double if not for a 25-feet bogey putt, stalled his progress.
Playing two groups ahead of him, Fleetwood had birdied the 10th and 12th holes, but he saved his best golf for the next four holes. On the 13th, he was stymied behind a tree but hit his second shot from the desert to six feet.
The top-ranked European then rolled in a 25-feet putt on the par-3 15th to join Fisher at 20-under, before moving ahead with a 50-feet birdie putt on the 16th hole. He then picked up another shot on the 18th, which proved to be a luxury cushion when Fisher failed to make birdies on the 17th and 18th.
"I feel a lot more emotional, actually, than last year. I don't know why. I just really wanted to win this one," said Fleetwood, who is expected to advance from 18th to 11th in the rankings on Monday.
"I had the year of my life last year. I know everybody has been talking about it, and just backing it up is the next big thing, really. It's a weird feeling coming to defend a trophy because it's yours and you don't want to give it away."
Fleetwood added that the tough conditions made it easier for him to focus.
"I wouldn't have known I shot 30 on the back nine when I came in. I was playing really well. I was hitting really good shots in. It was just a case of scoring being tough, and we had to keep going. It was sort of shot after shot.
"When the conditions are that tough and that windy, it actually helps you focus on each shot because there's never any easy shots. Two days before, with flat calm conditions, it was way easier to look ahead."
A disappointed Fisher, who was runner-up twice late in 2017 and is winless since the Tshwane Open in March 2014, praised Fleetwood's perfomance.
"Hats off to Tommy. I don't feel like I've lost a tournament. He's gone out there and shot 65 and he's won it, so all credit to him," said Fisher.
McIlroy finished inside the top-five once again — his eighth top-five in nine Abu Dhabi starts — but he was happy with the result this time.
"It just felt great to get another tournament under my belt. It's a great start to the year. I have no complaints. My body held up really well. My game was probably better than I expected it to be. So I'm really happy with the week," said McIlroy who started well with two birdies in his first four holes, but could not get going on the back nine.