Haotong Li Tops Rory McIlroy To Win Dubai Desert Classic
Details

Category: Inside Golf
Published: 2018-01-29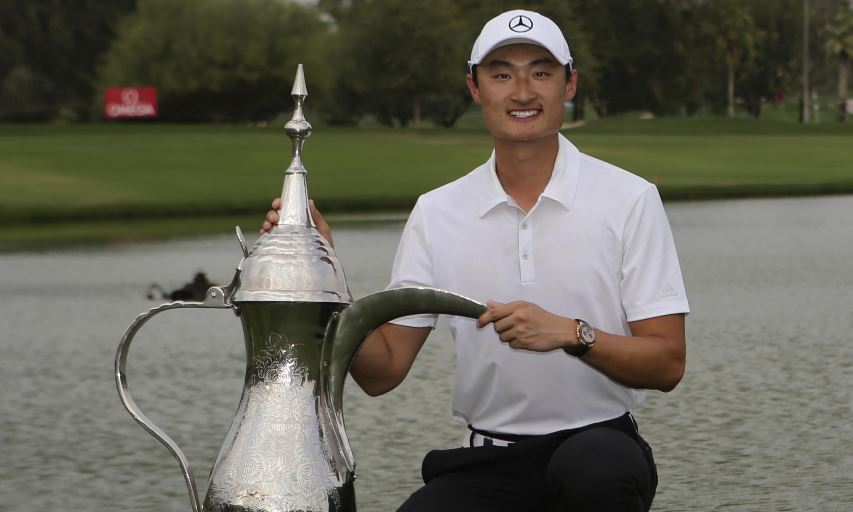 (Photo/The Canadian Press)
DUBAI, United Arab Emirates (AP) — Li Haotong held off Rory McIlroy to win the Dubai Desert Classic by one shot, closing with a 3-under 69 to deny the Northern Irishman's bid to win for the first time in 17 months.
Leading by one shot going to the par-5 18th, Li holed a 10-foot birdie putt after McIlroy had reached the green in two. McIlroy two-putted for birdie and a 69.
Li, who finished at 23-under 265, becomes the first player from China to crack the top 50 in the Official World Golf Ranking.
The 22-year-old Li started the day one ahead of McIlroy, an advantage that was quickly gone on the first hole when Li made a bogey.
McIlroy appeared to seize control on No. 10 with a two-shot swing when McIlroy made birdie and Li made bogey. McIlroy made bogey on the 11th, only for Li to drop a shot at the 12th to remain two shots behind.
Momentum swung Li's way when he dropped a 20-foot birdie putt on the par-3 15th from the back fringe and McIlroy failed to make birdie. Li made four birdies over the last six holes, while McIlroy fell back with a bogey on the 16th when he hit 3-wood off the tee into a waste area.
Both players then birdied the last two holes.
Li won for the second time on the European Tour.
"Well, for some reason, after making that bogey on the 12th hole, I was just so relaxed. I was two shots behind at that point and I just wanted to have fun," he said.
"I was lucky, I made birdie on the 13th, and he made par. On the 15th green, for some reason, I just felt so good down there. Felt so comfortable. And also got lucky with that putt. I think it was the most important shot of the round."
McIlroy was making his comeback to golf after a three-month layoff.
"If someone had told me at the start of the year you'd finish third (in Abu Dhabi) and second in your first two events, I would have said I'd take that," said McIlroy. "But being in the positions I've been in and having two close calls the first couple of weeks of the year, it's a little difficult. The competitor in me is very disappointed right now. I wanted to win. I always want to win, and I just didn't do enough when I needed to."
England's Tyrrell Hatton finished third after hitting his second shot into the water on the 18th hole, while France's Alex Levy was fourth with a 269.