SFU's Kylie A 'Jack' Of All Trades With School, Golf, Community Involvement
Details

Category: Inside Golf
Published: 2018-04-13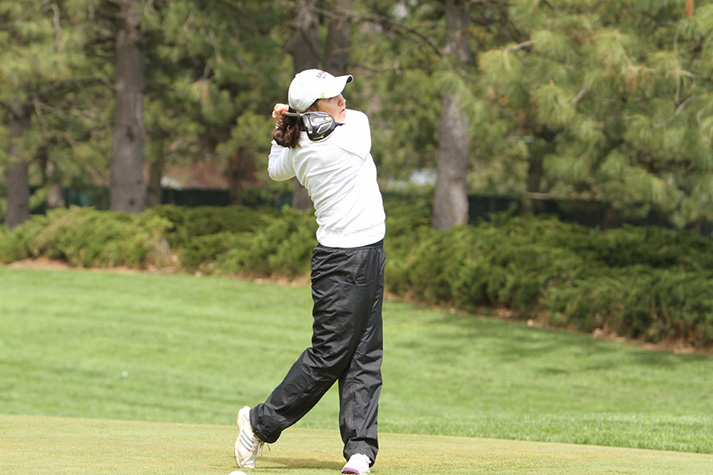 Pentiction's Kylie Jack Juggles Her School Work, With Her Golf Game And Her Involvement In Her Community As She Also Takes On Being A Role Model For Indigenous Youth - Image Courtesy SFU Twitter
By Brad Ziemer, British Columbia Golf
It's not easy being a university student-athlete, for whom it can often seem like there are not enough hours in the day to juggle the demands of academics and their chosen sport.
Kylie Jack knows all about that, yet the 21-year-old criminology major and member of the Simon Fraser University golf team also finds time to pursue another passion: being a role model for indigenous youth.
When she's not hitting the books or banging golf balls at the driving range, Jack volunteers her time helping new indigenous students settle in at SFU. And when she's back at her Kelowna-area home, Jack can often be found doing volunteer work for both the Penticton and Westbank Indian bands.
That work, Jack says, is more important than any birdies she makes on the golf course. "That means a lot to me," Jack says in an interview. "It makes me feel like I am a role model and leader to indigenous children and that I have an ability to give back to them. It is awesome to feel like that."
Jack, a member of the Penticton Indian band, was one of 12 recipients of the 2017 Premier's Awards for Aboriginal Youth Excellence in Sport that were recently handed out at a Richmond conference.
The annual awards honour aboriginal athletes under the age of 25 who have achieved excellence in performance sport, are regarded for their leadership qualities, are committed to a higher education and are recognized as community role models both on and off the field.
SFU golf coach Matthew Steinbach was delighted to see Jack receive the award. "Kylie is one of our most unique members of our team in the way she balances school and golf as well as life with her community," Steinbach says. "She volunteers with the Indigenous Affairs Group and helps mentor incoming indigenous students. She is also really involved with her community back home."
Jack is a senior at SFU and is red-shirting this year. That means she's not competing with the golf team this year while she concentrates on her studies, but will return to the team full-time next fall. It is not uncommon for student-athletes to take five years to earn their degrees.
"I have a lot more free time because I am not travelling with the team this year," Jack says. "But for the last three years it was a lot of time management and trying to get everything done on time. And next year will be the same, but I am pretty good at time management now because I have had lots of practice."
Jack was introduced to golf as a child by her parents, who both played the game. Her mom Sharon and dad OJ would take her to the Two Eagles course in West Kelowna where Kylie quickly developed a love of the game.
Both my parents played when I was growing up and that was really cool," Jack says. "My mom was better than my dad, so she was a good role model for me." Sharon Jack says Kylie couldn't get enough golf growing up. "She loved the game from the beginning," Sharon says. "She always wanted to go out and practise, so we had to set up a little area in our yard. She was just a natural."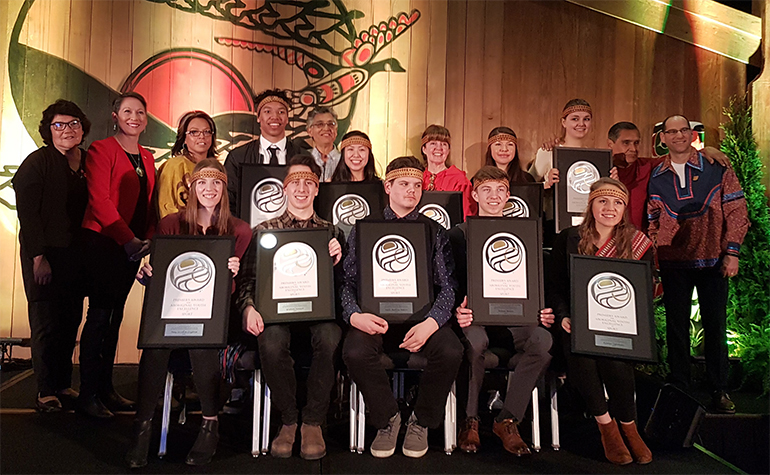 Image Courtesy BC Government and I·SPARC
Kylie Jack (Back Row, 4th From Right) Was A Recent Recipient Of The Premier's Award For Aboriginal Youth Excellence In Sport
Kylie headed to SFU after graduating from Aberdeen Hall Preparatory School in Kelowna and chose criminology as her major. "I just wanted to know why people commit crime and right now there is an over-representation of indigenous people in the criminal justice system and I wanted to find out why that is happening," she says. "The courses I am taking are really interesting."
Even though she has red-shirted this year, Jack still practises and works out with the team. She also plays in many of the team's qualifiers. Jack had the best tournament result of her collegiate career almost exactly a year ago when she placed second and helped SFU win its conference championship.
That tournament was held at Coeur d'Alene Golf Course in Idaho, which is best known for its par 3 14th hole that features a floating island green. "I bogeyed that hole every day," Jack says. "That tee always gets my heart pumping."
She didn't make too many other bogeys during that event as Jack fired rounds of 76 and 77 to help the Clan win the Great Northwest Athletic Conference title. "It was very cold and I remember wearing lots of layers. I seem to like that course. I have played well there whenever we have played there. My short game was really tight so that's why I played so well."
That short game -- in particular her putting -- is the strength of Jack's game. "It really helps save me if I am not hitting the ball particularly well," she says. "My iron play needs some work. If I could just stick it on the green a little more often I wouldn't have to try and get it up and down as much. That would be awesome."
Jack hasn't decided where the future will take her. She is considering law school and has landed a summer job at a Kelowna law firm that will allow her to get a feel for whether that might be a good fit.
She also hasn't ruled out working in the golf industry and is being encouraged by Debbie Pyne, managing director of player development with British Columbia Golf, to take some coaching seminars. Pyne sees Jack as someone who could help inspire more indigenous youth to play the game.
Right now, Jack is looking forward to her final year of collegiate golf and hopes she can end things on a high note. "I am so excited to start playing again," she says. "I have really missed it this year. I am excited to see where we can take the team next year."