Southern Golf Swing A Chance To End Winter's Fast
Details

Category: Inside Golf
Published: 2017-03-17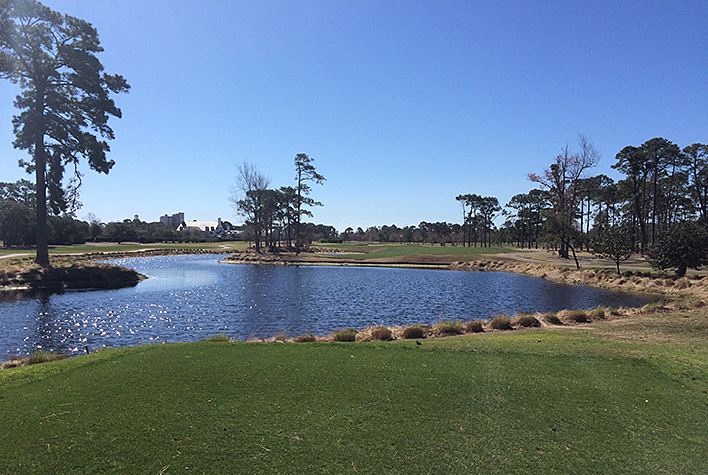 The Fairways Are Wide And Inviting At Pine Lakes, The First Golf Course To Be Built In The Myrtle Beach Area, That Is Now Home To Over 80 Tracks - Image Credit Gord Montgomery/ iG
By Gord Montgomery (iG)
Myrtle Beach, South Carolina - Even though it's had a facelift and a name change, Pine Lakes GC is still a looker.
Originally known as Ocean Forest Hotel & CC, the first golf course in this area where more than 100 tracks line the area, Pine Lakes went under the surgeon's knife in the early 2000s to become a fun course where you don't necessarily have to hit it long. From the back deck it measures out at just over 6,600 yards, however that is countered somewhat by the fact it's at sea level. 
Well, OK, the elevation is about 30 feet but in this game, what's 10 yards here and there?
The thing is, Pine Lakes may not be long but be warned, you do have to hit it straight. While this was a Scottish replica back in the day before it's design mulligan, it still has some Old World charm to it. One of the club pros described it as "A Scottish style tee to green course," which is about as good a character reference as you're going to get.  
This track, that was in outstanding condition for early March, opens with a nice little par-4 that is followed by a pretty par-3, letting you get your feet on the ground quickly with those two tests, especially if you haven't played the game for a few months.
The third hole is a long, challenging 426 yards from the middle tees and with a green guarded by water, it's one of those holes where if you put a big crooked number on your card, you feel fully justified. Immediately after that hole things smooth out again with a short, manageable par-4 and a mid-length par-5.
From the front porch at this course, those that don't have a lot of "Oomph!" in their swing will find it an enjoyable play. The total distance for all 18 holes, from tee to green, is 4,758 yards with no forced carries, as their teeing ground is often well removed from the tees further back
The fairways here offer plenty of landing space and the greens are smooth and they do hold fairway shots well. They aren't overly large in size or in breaks but the slight inclines on them can be well disguised meaning the odd putt, if you tend to rush and not take your time looking things over,  can come up a little light ... or way, way heavy!
One thing that should be mentioned here, especially for us Western Canadians that aren't used to sea level golf is to not just think about using that one extra club but actually pulling it out of the bag and swinging it, especially if the wind gets up.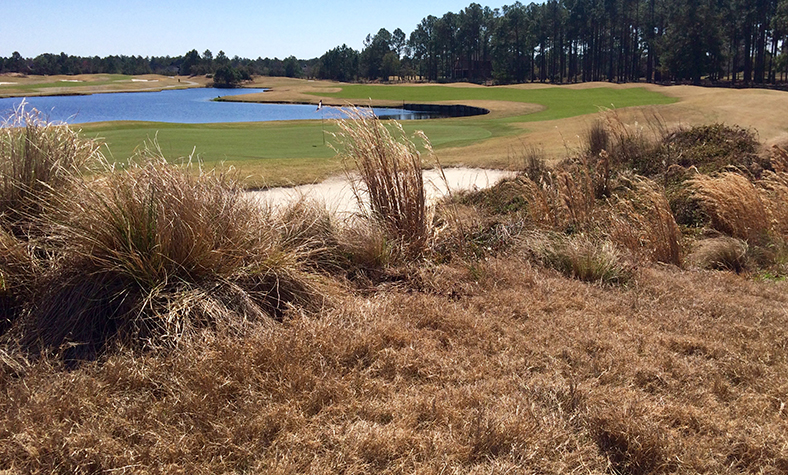 image credit gord montgomery/ ig
As You Can See From Behind The Second Green At The Amazing Thistle Club, Accuracy Both With Your Driver And Your Irons Is An Important Part Of Your Game On The Cameron Nine
What's really nice about Pine Lakes is the time it takes to play - we went out at 9 a.m. on a day where the tee sheet was full, and were off the course four hours later, a testament to how this course is designed in order to let its guests enjoy a day of fun golf without too many of those big, crooked numbers sprayed onto their scorecard.
Although some of the original design elements from 1927 still exist the changes here were well done so it's likely original course designer Robert White would still be proud of this playground.
Thistle Golf Club
"If you think the clubhouse is nice wait until you see the golf course ... and I don't even golf!"
Those words from the restaurant waitress at Thistle Golf Club echoed time and again through my head as we toured this outstanding property in Sunset Beach, North Carolina.
Simply put, this 27-hole facility, about a half-hour from North Myrtle Beach, is stunning in its beauty and its challenges. As it turns out, these tracks are named in honour of one of the original Scottish courses that was founded in 1815. The present day club sits just over 100 miles away from Charleston, SC, which is the site of the first mention of golf in America.
From the get-go on the Cameron and Stewart nines (we didn't get to the MacKay nine) this was a continual test of hitting your target. If you tend to stray too far left, or right, you're going to need lots of ammunition to make it around thee nines as there is, it seems, water everywhere. And if it's not the wet stuff making life difficult for you out here there is also a tremendous amount of sand, and in particular waste bunkers, scattered about the premises.
In fact, on the Stewart's No. 7 hole, a 397 yard par-4, the waste bunker is massive - so massive in fact, that the cart path runs down its length, starting just after the teeing grounds and ending up guarding the right side of the green. Add to that the thick vegetation down the left side of the fairway and this is one hole where you definitely need to stripe it.
On this day it was decided the white tees at 2,949 yards on the Cameron nine and 2900 on the Stewart were enough of a challenge, and that was proven true quickly, as the opening tee shot on Cameron found a fairway bunker. 
And remember, these courses are at sea level, although for some reason the ball seemed to fly a bit farther here than at Pine Lakes, so distances can be deceiving. By the end of the day this was indeed a wise choice because it was more about hitting your shot where you were aiming, not about slaying the beast with big drives.
But, if you are more adventurous off the tee, these particular two nines stretch out to an imposing 3,300 and 3,400 yards from the back deck.
A good thing here is the fact there are five tee boxes, with the front end being a total of 4,000 yards. Even at that short range these two tracks are still an enjoyable play and the natural way these courses flow is a real plus.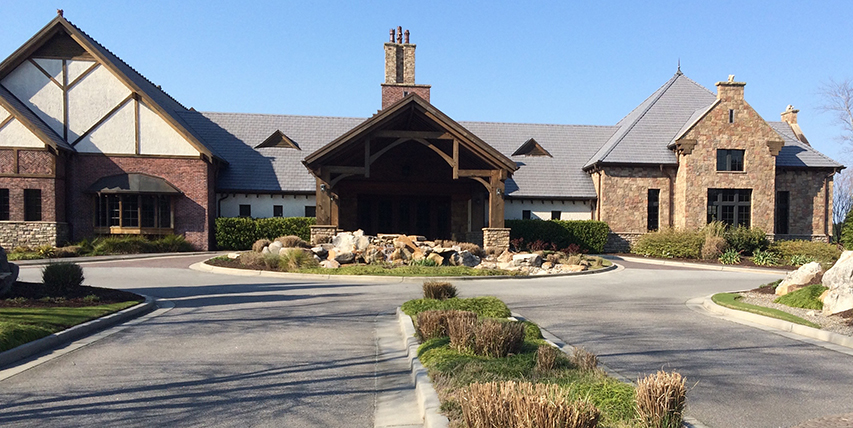 image credit gord montgomery/ ig
The Only Thing at The Thistle Club That Overshadows The Beauty Of The Clubhouse Are The Three Nine-Hole Courses That Are In Play At This Outstanding Resort About A Half Hour From Myrtle Beach, SC
As for the most scenic hole on this camera-friendly day trip, the second on the Cameron had to win that award. A shortish par-4, it demanded accuracy from start to finish. From the tee, water runs all the way down the right side and then across the front of the green.
On top of that, OB down the entire left side adds to the drama of that opening salvo. This was most definitely a fun hole that looks as nice from behind the green looking towards the tee as it does from tee to green.
As the day wrapped up, in just over three hours for our twosome for 18 holes, the words from the waitress came floating back into my memory, because indeed, this course is one you'll remember, and not only because of clubhouse, which is done in traditional Scottish styling with stucco over limestone from the early 1890s on the right side; the centre portion is finished with quarried stone used mainly in the mid-1800s and the left side of the building is red brick, a commonly used material towards the end of that century.
No, not only that, but the course itself, well, its beauty is beyond words. It's something you have to see for yourself to truly appreciate.