Luo Records 8 Birdies On His Way To Career-Best 65 On MJT Ford Series At Swan-e-Set
Details

Category: Inside Golf
Published: 2018-05-31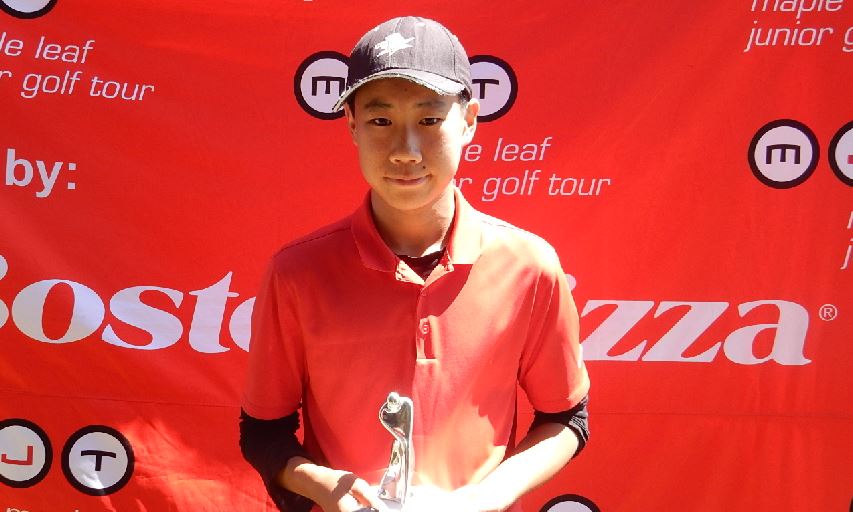 Andy Luo, Juvenile Boys Division Winner. (Photo/MJT)
PITT MEADOWS, British Columbia (MJT) — It was inspiring to see over 120 young athletes at Swan-e-set Bay Resort and Country Club in Pitt Meadows, BC, last weekend, participating in either the Maple Leaf Junior Golf Tour's MJT Ford Series Tournament or the West Coast Ford Go Golf! Junior Clinic.
The clinic offered a free introduction to golf for boys and girls ages 6 to 12, and the tournament for competitive players featured seven different age divisions, the chance to win a new Ford Focus with a hole-in-one, as well as the chance to shortlist qualify for MJT Team Canada to the JNJG International Junior Classic in Australia this October and to the Nordic Team Matches in Estonia this September.
Highlighting the results was the stellar performance in the MJT Juvenile Boys 15-16 division by Overall Champion Andy Luo, 15, of Burnaby, BC, after he fired a career low tournament round on Sunday, 65 (-7) for a two-day total of 141 (-3). Luo was resilient all Sundaymaking eight birdies. "I never gave up and I am extremely happy with how it ended," he said.  Luo trailed first round leader, Leo Harper, 15, also of Burnaby, by four shots heading into the second round. Harper shot 77 in the second round for a total of 149 to finish second.
MJT Collegiate 19-23
In the MJT Collegiate division, Esther Lee, 19, of Maple Ridge, BC, was able to 'keep focused and follow strategies' on her way to shooting 72-73 (145) for the winner's Hoselton trophy. She gave credit to the MJT's Collegiate division as it helps her "to prepare for the big tournaments in the summer. By playing, I can get into the competitive mode." Runner-up honours went to Aaron Ogrodnick, 20, of Le Pas, MB, with a two-day total of 161.
MJT Junior Boys 17-18
In MJT Junior boys, Min Kang, 18, of Abbotsford, BC, was able to beat Andy Kim, 18, of Langley, BC, in a three-hole playoff after both players recorded a two-day total of 147.  Min was able to extend the playoff after making a 35 foot putt to save par on the first playoff hole and eventually won on the third playoff hole. "I was focused on visualizing my shot, trying to execute the best play," said Kang.
MJT Bantam Boys 13 and 14
It only took three starts on the MJT for Joseph Mireault, 14, of Delta, BC, to capture his first MJT Hoselton trophy. "I started playing on the MJT Mini-Tour and enjoyed it very much," he said, referring to his beginnings on the MJT. Mireault fired rounds of 72, 81 (153) for a two-shot win over Jayden Piao, 14, of Coquitlam, BC.
MJT Peewee Boys 12U
Ryan Liang, 11, of Vancouver, BC, won his second MJT title of the season on Sunday after beating Aaron Huang, 12, of Vancouver, BC, on the second playoff hole. Liang and Huang tied at 150 and Liang's birdie from 12 feet on the second playoff hole was good enough to secure the Hoselton trophy in the MJT Peewee Boys division. Liang said he was in control during the playoff, saying 'just relax, if I make it, I make it, if not, we go to another playoff hole.'
MJT Girls U15
Richmond, BC's Tina Jiang, 13, took home her third MJT title of the young season after impressive rounds of 72-71 (143). Although Jiang has consistently found success on the MJT, she said afterwards, "There's always room for improvement, I really need to improve my putting." Second place was a tie between Erin Lee, 13, of Langley, BC and Luna Lu, 11, of Burnaby, at 156.
MJT Girls 15-18
Rebecca Jiang, 17, of Langley, stormed back on Sunday to erase a four-shot deficit and win the MJT Girls 15-18 division over Kate Choi, 18, of Surrey, BC. Jiang finished with an impressive 74 for a two-day total of 155. "I feel proud to have won my division title, there were some very good golfers playing today," she said.
For full results, please visit the MJT website, which also shows winners of the MJT Comeback Award, PLYR Long Drive, and the PLYR Closest-to-the-Pin competitions. Players who successfully qualified for MJT Team Canada to either Australia or Estonia will be announced once qualifying has completed across the country.
Next on the Maple Leaf Junior Golf Tour schedule in BC is the Interior Swing at the Okanagan Golf Club, in Kelowna, July 19-20, followed by Predator Ridge Golf Resort, in Vernon, July 23-24. Each event is part of the season-long MJT Ford Series and offer spots to the International Players Championship presented by Miura in Jasper, AB, as well as on Team West to the International Team Challenge in Niagara Falls, ON. For more information, please see www.maplejt.com.
---
About Ford
Ford of Canada employs over 23,000 talented individuals in the fields of finance, sales and marketing, information technology, manufacturing and engineering, and human resources. This diverse workforce is responsible for the manufacturing and assembly operations that bring 320,000 vehicles and 425,000 engines to market. At Ford we are proud to be Canada's longest-established automaker and remain committed to building a strong future in Canada. For more information on MJT Premier Partner, Ford Canada, please see www.ford.ca.
About the MJT
The non-profit Maple Leaf Junior Golf Tour presented by Boston Pizza is Canada's number one-played Junior Golf Tour as well as the only national junior tour run exclusively by PGA of Canada Professionals and the 'Road to College Golf' in Canada. The organization is presented nationally by Boston Pizza and supported by valued Premier, Tournament and Product Partners. The MJT hosts more than 70 events across Canada, including free Ford Go Golf Junior Clinics, the MJT Mini Tour for 7-12 year olds, the Collegiate Tour for 19-23 year olds, and multi-day events for competitive players aged 11 to 18 which are also qualifiers for international competitions. The program offers annual awards, scholarships, and frequent player incentives to help reward player's performance and participation throughout each season. MJT alumni include many Professional Tour players and PGA of Canada Professionals, as well as Canadian Amateur, National and Provincial Junior Champions. The MJT aims to develop champions, in golf and in life, promoting the game from grassroots through to provincial, national, university and professional level. For more information on the Maple Leaf Junior Golf Tour, please visit www.maplejt.com