UBC Women Reign Supreme Again At Canadian University/College Championship
Details

Category: Inside Golf
Published: 2018-06-04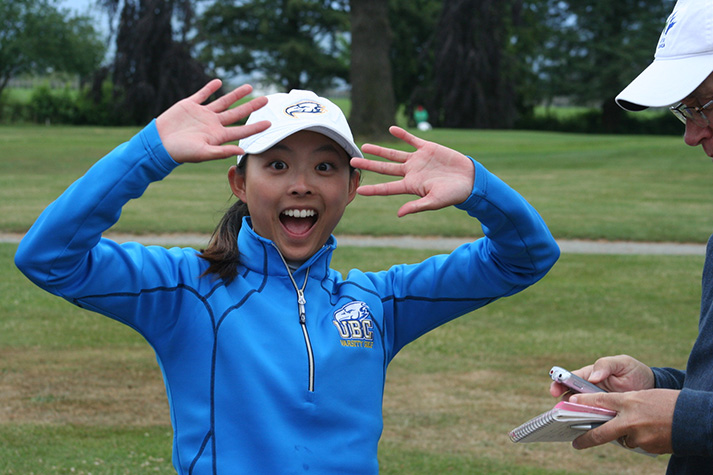 Avril Li Led The Way For The UBC T'Birds Women's Squad Winning The Individual Title At Chilliwack Golf Club. (BC Golf/Bryan Outram)
Brad Ziemer, British Columbia Golf
CHILLIWACK, British Columbia — The University of British Columbia's women's golf team did what they nearly always do by capping off their season with another Canadian University/College Championship.
It was the 13th win in the 16-year history of the event for the Thunderbird women. And it doesn't figure to be their last. The four members of Friday's winning team at Chilliwack Golf Club included three freshmen and a junior. In other words, the future is bright.
The UBC team of Avril Li, Cecile Kwon, Kelly Hellman and Shania Remandaban led from start to finish and posted a final team score of 19-over par. That was 34 strokes better than runner-up University of Victoria.
The Thunderbirds rebounded nicely from what was a disappointing finish for them at the recent NAIA Championships in Florida, where they placed seventh. "This is really good momentum going into next year," said junior Avril Li, who led the way for UBC and claimed the individual title. "Last week at the NAIA Championships we didn't do our best. I think this lets us know that we've still got it." 
Longtime UBC coach Chris Macdonald was pleased with the resilience shown by his young team. "This is a good group," Macdonald said. "They have a lot of fun together. They finished seventh at the NAIAs and really moved up the leaderboard and didn't get anything out of it (when the final round was washed out). It would have been really hard to come here and not find a championship. We have three freshmen and I think they learned a lot of skills this week about how to win. They took it seriously and ended up having a really consistent tournament.
"I think we played even better than we expected this week. I was pretty excited about the rounds we had. We had several under-par rounds on a golf course where you have to hit good shots to do that. That is exciting."
No one hit more good shots this week than Li, a graduate of Heritage Woods Secondary in Port Moody who is completing her third year at UBC. Li began the final round with a four-shot lead and extended it to seven with an even-par 72. She finished the 72-hole event at four-under par. Sarah Dunning of the University of Guelph was second at three-over par.
Li completed her round Friday in fine style, draining a 30-foot putt for birdie on the 18th green. "It wasn't my best today, but I am happy with it," Li said. "I think I hung on pretty well." Li will have a chance to return next year to try and win her second Canadian championship, something her former UBC teammate Kat Kennedy accomplished. "Let's not think too far ahead," she said with a laugh.
The win gives Li and exemption into this summer's Canadian Women's Amateur Championship at Marine Drive Golf Club in Vancouver. As pleased as she was with her individual win, Li was more happy for her three young teammates. "I am very proud of them," Li said. "We knew if we played our game things were going to fall into place. We were pretty patient this week."
Remandaban carded the low round of the day, a two-under 70, to finish tied for fourth place at 12-over. Hellman, who shot a 78 on Friday, also finished inside the top 10 in seventh place. Kwon closed with a 77 to finish tied for 16th.
The University of the Fraser Valley used a solid final round to move up and finish third in the team competition.
TOP-5 MEN'S TEAMS
1. University of the Fraser Valley Cascades (-26, 278-277-284-287 – 1126)
2. University of Victoria Vikes (-9, 295-278-284 – 1143)
3. University of Manitoba Bisons(E, 298-284-288-282 – 1152)
T4. University of Ottawa Gee-Gees (+5, 297-289-284-287 – 1157)
T4. Humber College Hawks (+5, 298-285-281-293 – 1157)
TOP-5 WOMEN'S TEAMS
1. University of British Columbia Thunderbirds (+19, 221-224-219-219 – 883)
2. University of Victoria Vikes (+53, 226-232-226-233 – 917)
3. University of the Fraser Valley Cascades(+58, 236-223-239-224 – 922)
4. Université de Montréal Carabins (+62, 223-230-237-236 – 926)
5. University of Toronto Varsity Blues (+65, 234-232-228-235 – 929)
TOP-3 MEN'S INDIVIDUAL
1. Daniel Campbell, University of the Fraser Valley Cascades (-11, 69-69-68-71 – 277)
T2. Wyatt Brook, Vancouver Island University Mariners (-7, 68-72-73-68 – 281)
T2. Baptiste Mory, Université Laval Rouge et Or (-7, 70-69-73-69 – 281)
TOP-3 WOMEN'S INDIVIDUAL
1. Avril Li, University of British Columbia Thunderbirds (-4, 72-71-69-72 – 284)
2. Sarah Dunning, University of Guelph Gryphons (+3, 73-77-67-74 – 291)
3. Ana Peric, University of Toronto Varsity Blues (+7, 75-73-73-74 – 295)
Click here for full scoring.