Southern-Style Myrtle Beach Courses Wrap Up Great Trip
Details

Category: Inside Golf
Published: 2017-03-30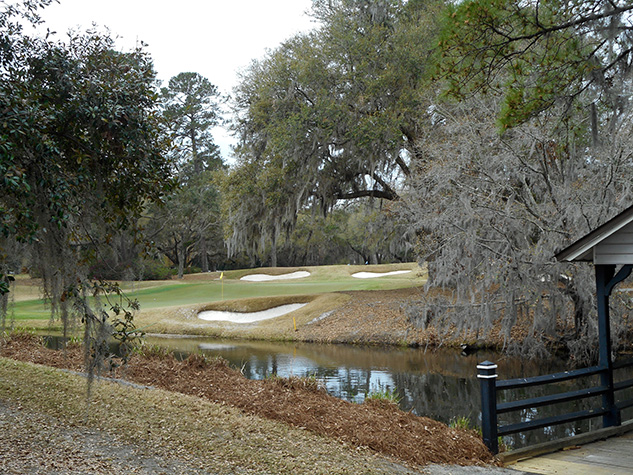 The Splendour Of Old Oak Trees And The Spanish Moss Hanging From Them Add To The Overall Beauty At Caledonia Golf & Fish Club, Pawley's Island, SC - Images Credit Gord Montgomery
By Gord Montgomery (iG)
(Murrell Inlet, SC) - There may be no finer way to end a golf trip than by playing lots of golf, so it was decided to play 54 holes within 36 hours to wrap up a wonderful journey to a golfing Mecca in the U.S.
For the final two days in Myrtle Beach, it was all about Low country golf, with rounds at Heritage Club and Pawley's Plantation in one day and then wrapping things up at the wonderful Caledonia Golf & Fish Club the next. What made this easily doable was the proximity of the first two courses and the third not much of a drive either.
The first taste of this style of golf, which has a different feel than that in the northern part of the Myrtle Beach area showed the area to look and feel, like you'd imagine Southern golf feels. The homes are magnificent and the oak trees even more so, with huge wing spans that drape over the fairways. Those limbs are draped heavily in Spanish moss adding to the look. On to of all that, the continual sightings of alligators on the shores and waters throughout the courses drove home the fact you were someplace special.
The Heritage Club, the first 18 we tested in the Southern Strand area, is a great all-round deal for golfers. For a single, reasonable price you get your round of golf on a good course and are also treated to a buffet breakfast, lunch and two beer or pop. 
The golf here is great with scenic holes at every turn, where back in the days of slavery this was home to a huge rice plantation. In the recent past, the greens have been revamped and are now  seeded with Champions Bermuda, a blend where the ball rolls quick and true. The protection for the greens comes from deep bunkers, which are plentiful.
Playing to a lengthy 6,600 yards off the back tees, and that's a even bigger number when the sea breezes come to life, this popular playpen also has boxes measuring 6,300, 5,700 and 5,200 meaning anyone and everyone can enjoy this taste of Southern golf, not to mention the great all-around deal.
Next up on the day's list of jobs-to-do was to take on Pawley's Plantation Golf & Country Club, a Jack Nicklaus signature course which combines the feel of both parkland and links styles of golf. This is one of the bigger tracks in the area, topping out at over 7,100  yards but playing to more modest numbers like 6,500 and 6,100 from the blue and white tees. The front two boxes clock in at 5,500 and 4,900 yards.
Since this is a resort course, like Heritage, the fairways here are quite generous and the greens large. Again though, there is lots of sand on Pawley's and with plenty of water as well, it becomes a course that's as much about strategy and shot placement as it is about hitting it big. After all, three of the four par 5s on this track are under 500 yards, but that doesn't take anything away from their difficulty.
As for Pawley's short holes, one of the most intimidating holes here is the shortest. The 13th test is nothing but Lowcountry marsh, reeds, water and finally, a green which sits above all of that. Lengthwise, the hole tops the scales at a meagre 150 yards, and plays as short as 40 yards from the front tee, but as the course attendant noted, "It's the shortest par 5 that Jack ever designed," referring of course to the initial tee shot of many that find marsh instead of the putting green meaning hitting three off the tee with your do-over.

What's Referred To As "The Shortest Par 5 That Jack Ever Built," The 13th At Pawleys Plantation Can Create Havoc With Your Scorecard If Your Tee Shot Tends To Be A Bit Short, Long, Or Left Of The Landing Area
A second tough par-3 comes to life on 17, and this could easily be another signature hole. It is a bit longer than its adjacent little sister but considering the tee shot again has to cover that marshy area, it's no guaranteed birdie chance. And yes, "5" is again a real possibility here.
The final stop on our Myrtle Beach swing was a beautiful setting, and the home to another former rice plantation, the renowned Caledonia Golf & Fish Club. The facility offers a great short game practice area to get you sharpened up for what awaits you on a loop that features tighter fairways than many of the courses here, and greens that are deceptively fast and tough to read.
Even though this track lost over 200 trees to the major storms in this area last fall, you  can't tell that as the fairways are heavily bordered by massive oak trees. Given its age, this is a course that isn't overly long, playing to 6,100 yards off the blue tees but, it's said, you can safely add 200 yards to that total in the manner it plays.
This is a course where it is important you play the right tees - after all, it is such a good test that playing from too far back can become frustrating given the length of the par 4 holes in particular. Only one of those holes is under 350 yards and the three par-5s here are all well over 500 yards off the blue tees on this par-70 track.
This is a beautiful course with its trees and flowers that are nicely cut into a piece of property that while once home to rice fields is now home to a great piece of golf real estate.
Now, going 36 holes in a day and 54 in 36 hours isn't an easy thing in what can be a humid and warm climate, but trust me, it's fun. And given the number of alligator sightings our group had on the final few days, it was a fun way to wrap up a memorable trip to the great courses in this part of South Carolina.
Myrtle Beach Chip Shots
Once a tough place to reach from Western Canada, the ocean shores and inland waterways, as well as hundreds and hundreds of fairways, have been opened up thanks to direct (well, sort of direct) airline service from the west to the east, courtesy of WestJet. 
A once daily flight occurs out of Pearson International Airport in the mid-morning, meaning if you want to get to Myrtle Beach,  the place known as the Seaside Golf Capital of the World, you can take a redeye to Toronto and be whaling away on any one of their almost 100 golf courses a few hours later.
But this area is more than just golf; there is of course the beaches that attract hundreds of thousands of tourists each summer; there is nearby stock car racing; world class restaurants; and great places to stay whether those are a hotel room, condo or luxury villa and year round great weather.
Following are a few notes about this area and things to do:
The first golf course here, and the birthplace of the most popular sport magazine ever, Sports Illustrated, is Pine Lakes Golf Country Club. Originally known as the Ocean Forest Hotel and CC, it is also home to the Myrtle Beach Golf Hall of Fame
While many consider this area a winter retreat, it is actually far more popular in the summer. What that means for us Canucks is good deals during the spring and fall shoulder seasons, and those include accommodations and green fees
If you like pancakes, you'll love Myrtle Beach. There is, it seems, a pancake/waffle house on every block, meaning you'll never be low on carbs on your journey
If you prefer to not travel with your own clubs, the folks at the PGA Golf Superstore, with two locations here, can help you out with a great selection of clubs to rent for reasonable costs. Or, if you want to upgrade the gear you have, this is the place to go
Myrtle Beach turned 90 in 2017 and is an easy place to get around
There a more than 100 courses, 100,000 hotel rooms and hundreds of restaurants in and around the Grand Strand
The Great Depression stopped golf course construction soon after Ocean Forest opened so no new courses were built until the Dunes Golf & Beach Club came along in 1947, a Robert Trent Jones Sr. design
The first multi-course facility was built in 1973 when Myrtle Beach National, a 54-hole   facility came on stream
After that, the Barefoot Resort opened their 72-hole wonder, including the Love, Norman, Dye and Fazio courses that all opened at exactly the same time during a major building boom in 80s & 90s in Myrtle Beach
Myrtle Beach is reputed to be the originator of the golf Stay and Play package
For more on this area and its golf packages, contact myrtlebeachgolfholiday.com