Glencoe Invitational A Great Event For Select Few
Details

Category: Inside Golf
Published: 2018-06-20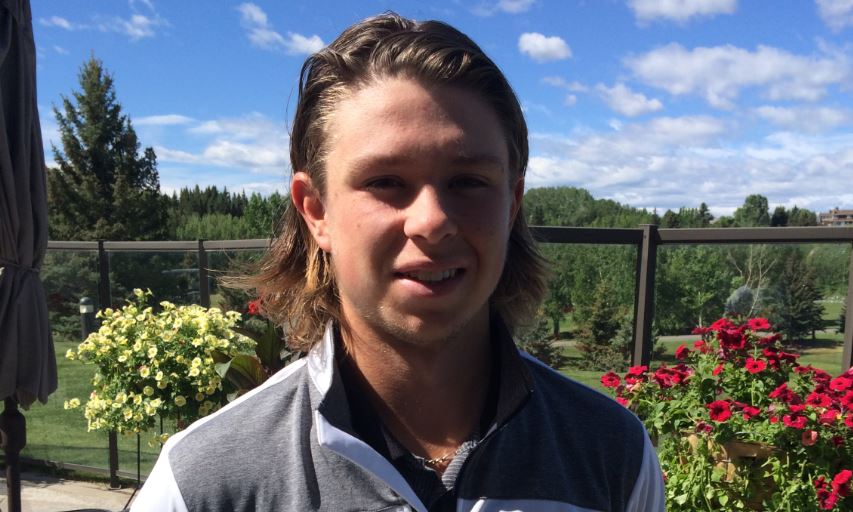 Brendan McDougall (Photo/Gord Montgomery)
By GORD MONTGOMERY, Inside Golf
CALGARY, Alberta — Seen as one of the finest club-hosted tournaments in the country, those hoping to draw into the annual Glencoe Invitational must have the golfing background to back up their hopes of teeing it up there.
The 54-hole event, played over the Forest Course at the pristine Calgary country club, has very stringent entry requirements and some of the past winners - guys like Graham DeLaet and Mackenzie Hughes who now reside on the PGA TOUR - bear that out. Speaking to how the field for the three-day dance is selected, Glencoe's head pro, Judy Forschner, said there is a criteria to be followed.
'"You evaluate their tournament performances. Basically, it's the quality of their play," she responded about the invites that are sent out to players. There are also two tourney qualifiers that are held, one for club members and another for players-at-large who feel they can measure u p. From those two events eight players are chosen and they join players who sit in the top 50 of Golf Canada's Order of Merit, provincial champions, Willingdon Cup team members, members of Canada's national team and recommendations from other clubs.
With this tournament having run since 1992, save for the three years the Glencoe was under reconstruction mode due to the flood of 2013, it says a lot about its popularity for the players and the honour it brings to the host club's members.
"The original mandate, and I think that remains true today, really what we want to do is provide a venue that gave the top-level players another championship event to play in. To help them develop their tournament experience to become better players and I think that still stands today," Forschner explained. "Having said that, our membership is a great volunteer base," who are willing, and proud, to let these young guns go at their track for three days. "I was talking to a member a few weeks ago and he said, 'I remember watching both Mackenzie Hughes and Cory Conners here, and they were both in the PGA Match Play a few weeks ago. That was pretty neat.' "
One of this year's highly touted players, Brendan McDougall, who attends school in North Carolina, is familiar with the Glencoe having grown up on its fairways. To play in the event, where he was tied for the lead last year before falling to eventual champ Pryce Beshoory, is a childhood dream come true. This year, coming off his second straight PGA of Alberta Match Play Championship, McDougall had high hopes of taking that step up to the champion's chair.
"You need confidence here. It's huge," he said about playing the Forest, a track that is firm and fast. "I gained a little bit of that, a bit of being able to perform under pressure," with his Match Play victories. "Hopefully if I'm in the position to have the chance to win, with four or five holes to play, I know that my swing can perform and do what I need it to do."
Speaking about last year's back-up on the final day, McDougall noted that scenario will help him this year, and beyond, in his competitive life.
"I don't know if it makes it easier knowing I've been there before, but as you said, I didn't perform quite as well as I wanted to. I know I can get there. I've won tournaments before so I know I can hold it together. It's just going to be a matter of composing myself as much as I can and going and playing golf."
One would think that playing for a major championship on a course you grew up on would have to be an advantage and that's true to a degree for McDougall.
"It's got to help me a little bit," he understated. "I've seen probably every pin on these greens. I've seen it play soft. I've seen it play firm. Every wind direction you could possibly have out here. In terms of that I've probably got a little more comfortability on some of these shot than other players might. But, that being said, there are guys who have been here, this is their fourth or fifth year playing this event so in terms of an advantage, I guess it comes down to trusting what I know."
While there is a tough field to top, McDougall said that just maybe there's a little extra riding on the fact there is the foursome of club qualifiers on hand and with that, maybe some tournament-end bragging rights to be had.
"The fun and games part comes after. If you beat a couple of buddies at this event, it's 'Sure, you got me then but I got you last week!' It's always fun being able to play with your friends and have fun with them," even though in this tournament with such a strong field there are no 'friends' during those 54 holes.
The Glencoe Invitational runs from June 14 to 16, 2018.