Snyder Comes From Behind To Win B.C. Mid-Amateur Championship
Details

Category: Inside Golf
Published: 2018-07-02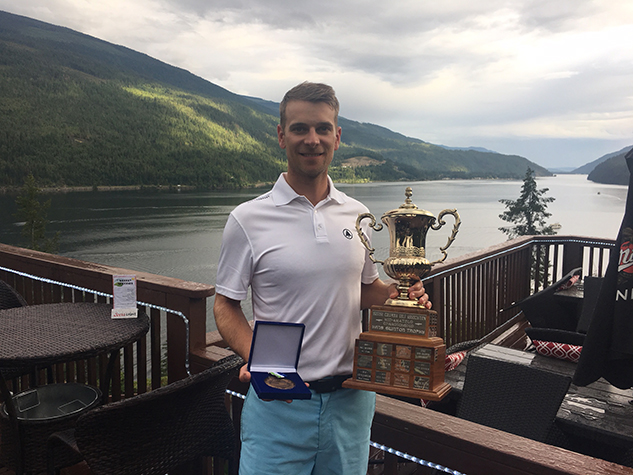 2018 BC Men's Mid-Amateur Champion Jay Snyder (BC Golf/Brad Ziemer)
By BRAD ZIEMER, British Columbia Golf
SICAMOUS -- Jay Snyder has played more tournament golf the last few weeks than he has in years and all that work paid off Thursday when he won the B.C. Mid-Amateur Championship. Now he pledges to spend more time with his wife, Sophie, who is expecting their first child in December.
"My wife right now is very unhappy with me because I was away for a week at Winged Foot (in New York), then I played the Squamish Amateur, the Marine Drive Amateur and then I played this, so in June I haven't seen a lot of my wife and she is pregnant and cranky so . . .," Snyder said with a smile. He didn't finish the sentence so we will.
He'd better put the clubs away for a while. 
Snyder shot a four-under 68 at Hyde Mountain Golf Course to come from behind and beat Cobble Hillresident Brent Wilson by one shot with a 54-hole total of three-under 213. "It's great to win a golf tournament again," said the 33-year-old Snyder, a portfolio manager with Raymond James who is a member of Shaughnessy Golf & Country Club in Vancouver.
Snyder came very close to winning a prestigious amateur tournament in early June when he and fellow Shaughnessy member Brandan Price lost in the final of the Anderson Memorial at Winged Foot Golf Club. "I feel like I have had a couple of close calls the last few weeks," Snyder said.
"Brandan Price and I played at Winged Foot in a best-ball event and we lost in the final. That was an absolutely incredible experience, but it was kind of bittersweet to walk away with second place. It is nice to win again. I play so few tournaments these days and you don't give yourself that many chances, so it's always nice to walk away No. 1."
Snyder began the day three shots behind second-round co-leaders Wilson and Dan Swanson of Abbotsford. But Snyder made up that ground when he went four-under on the front nine at Hyde Mountain in cool, blustery conditions. "I gave myself a ton of looks all day long," Snyder said. "I was 25 feet and in for birdie all day. I didn't make all of them, but I made a lot of them today."
He had to make a big one on the par 5 finishing hole. Snyder drained a 10-foot putt for par to hang onto his one-shot lead and then watched as Wilson, playing in the group behind, was unable to convert a birdie from about 25 feet.
Snyder's name might be familiar to fans who took in the 2005 Canadian Open at Shaughnessy. Snyder, then 20 years old, earned an exemption into that event after finishing second at the Canadian Amateur earlier that summer at Shaughnessy.
While Snyder rode a hot putter Thursday, Wilson was lamenting the putts that didn't drop. He closed with an even-par 72. "I played pretty good," Wilson said. "I just couldn't get the ball in the hole. I knew on 17 I needed to get one more (birdie) coming in. I just had too manny missed putts."
This is the second time Wilson has been runner-up at the B.C. Mid-Amateur, which is for players 25 and over. He also finished second in 2011 at Storey Creek in Campbell River. Swanson, a former pro who was recently reinstated as an amateur, settled for third place. He finished at even-par after closing with a two-over 74 on Thursday.
"In the end I didn't hit it good enough and I didn't make enough putts so I didn't deserve to win," Swanson said. "But I am happy to finish third. And to be perfectly honest, it's not my style of golf course. It takes driver out of my hand, which is the best club in my bag. For me to still compete and have a chance to win at a course like this was very satisfying."
2018 BC Men's Mid-Master Champion Greg Koster (BC Golf/Brad Ziemer)
The Mid-Master Championship, for players 40 and over, was also contested at Hyde Mountain. Greg Koster of Courtenay won with a one-over total of 217. That was one shot better than Victoria's Craig Doell. "It's a nice consolation prize," Koster said of the Mid-Master title. "Tee to green this week I hit the ball as good as I could have. I couldn't have asked for anything more. I hit of ton of greens in regulation and I hit it close, but my putting and chipping were a real disappointment."
The top 11 and ties earned exemptions into the Canadian Men's Mid-Amateur Championship, which is being played Aug. 21-24 at Victoria Golf Club.
Click HERE for complete final scoring
CHIP SHOTS
A two-man best-ball competition was also held during the tournament. Donald Dunfordof Kelowna and John Robertson of Courtenay won with a total of 16-under par.