Victoria Teens Walk Their Way Into Full-Ride Scholarships
Details

Category: Inside Golf
Published: 2017-04-27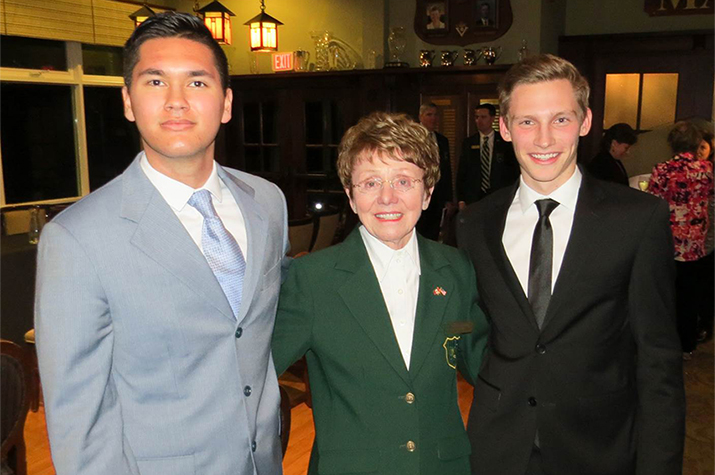 River Bristow (L) And Tim Peacock (R) Are The Latest Victoria Golf Club Caddies To Earn Chick Evans Caddie Scholarships. With Them Is Victoria Golf Club Memeber And Evans Caddie Scholarship Co-ordinator Berne Neufeld - Image Courtesy Victoria Golf Club
By Brad Ziemer, British Columbia Golf
There were times over the last four years, on those days when the wind was blowing hard and the rain pounding sideways, when the golf bags they were carrying seemed especially heavy.
But River Bristow and Tim Peacock soldiered on, knowing there was a potential pot of gold waiting at the end of their journey. And no, we're not talking about the $40 tip they earned for most of their rounds working as caddies at Victoria Golf Club.
Bristow and Peacock, a pair of Victoria-area Grade 12 students, have earned something much more substantial than that.
"Life-changing," is how the 17-year-old Peacock describes the Chick Evans Caddie Scholarships he and Bristow were recently awarded.
The Evans Scholarship will provide Peacock and Bristow four years of tuition and housing (valued at about $150,000 US each) to the University of Washington in Seattle this fall. They both feel like they have won a major championship, but Bristow and Peacock also say they have earned much more than a lucrative scholarship for their caddying at Victoria Golf Club.
"Caddying kind of changed my life, honestly," says Peacock, who is finishing up his high school studies at Reynolds Secondary. "It really opened me up to working in a professional environment. I got to work alongside these super successful people and I learned a lot about respect, being polite and working hard for what you want."
Bristow was an extremely shy 13-year-old when he entered the caddie program at Victoria, the private club that is British Columbia's oldest course and one of its best. "I don't think River hardly spoke the first year here," says Victoria Golf Club general manager Scott Kolb.
"Now, when he did his interview to get the scholarship, both he and Tim, when they stood up at the mike not only did I not think I could speak like that at 17, I don't think I could speak like that now. The maturity these kids have shown over their time here, you wouldn't recognize them. They have gone from socially awkward to now being such strong personalities. It is fun to watch."
The Evans Scholars Foundation was founded in 1930 with money donated by amateur golfer Charles (Chick) Evans. The foundation has helped more than 10,000 caddies graduate from college since 1930. These are not scholarships that go to country club kids. Applicants must come from modest means. 
"People don't think there is a lot of poverty in Victoria, but there is and it's nice to be able to help out," Kolb says. "Evans does a real thorough investigation (of applicants) to the point where they'll Google their house and see what kinds of cars are in their driveway. They don't want to be embarrassed."
Academic standards are extremely rigorous. Both Bristow, who attends Oak Bay Secondary, and Peacock are straight-A students. Applicants are also judged on their character. Peacock and Bristow are the fourth and fifth students from the Victoria program to receive Evans scholarships in the 10 years the club has been part of the program. The previous three are attending the University of Colorado.
Bristow and Peacock will attend the University of Washington, where they will live in a recently opened residence for Evans scholars. "At the beginning I never thought I'd get it (the scholarship)," Peacock says. "I thought it was far out of reach, but then I just worked really hard and by the end I was like, 'you know I can do this'. I was never fully certain, but I had a good feeling about it.
"It is kind of the best thing you can give your parents, to take that burden off them having to worry about paying for post-secondary education."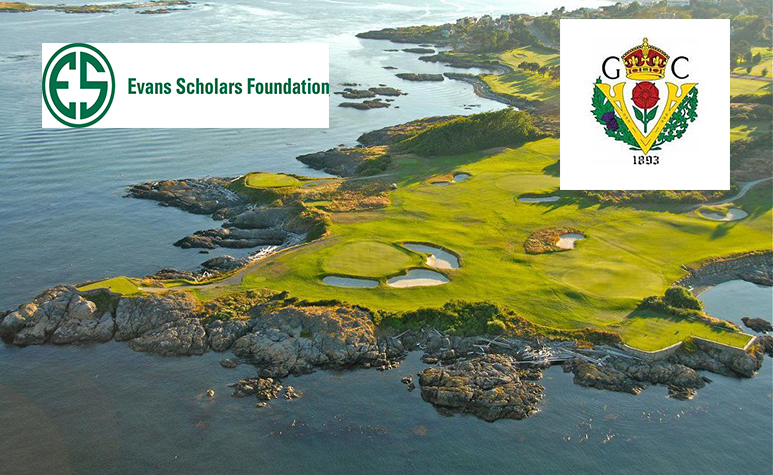 Bristow credits his mother, Suryani Sudiartha, with persuading him to apply to the caddie program at Victoria Golf Club. "An application form actually came with my Grade 8 report card," he says. "My mom took a look at it, Googled all the information on the scholarship and thought it was a great opportunity, so she brought me down to the golf course."
Sudiartha says her son has benefitted greatly from the caddie program. "He has learned to communicate with all kinds of different people," she says. "At the same time he learned how to focus and commit to the program. It has been quite a journey for him. "He would have had a huge student loan, now because of this program he will be almost debt-free when he is graduating. It is an amazing scholarship and we are so grateful for the program."
Victoria Golf Club is the only club in Canada that participates in the Evans caddie program. Kolb says the club typically has seven or eight students in the program each year. "Not all of them qualify by the end of it, but those that do get a pretty good reward at the end of the tunnel," he says. The club screens its applicants thoroughly before admitting them to the program. 
Bristow and Peacock, who have both logged hundreds of caddying hours over the last three summers, have each decided on their career paths. Bristow wants to be a doctor, so plans to major "in something like bio-chemistry."
Peacock, inspired by some of the business leaders he has caddied for over the years, plans a career in business. "Having met a ton of successful business people at the course kind of inspired me and I think that is what I want to head into," he says.
Bristow and Peacock were not golfers when they joined the program. Both now play regularly after each received sets of clubs donated by Victoria Golf Club members. "I didn't really know a whole lot about golf but as soon as I had my first summer caddying I got right into it," Peacock says. "Some members got together and actually got me a whole set of clubs just by donating them. I just started going to the range after my rounds and stuff. Now I love golf. I play every Friday."
Bristow also credits the club's members with getting him hooked on the game. "Everyone at Victoria Golf Club was really supportive, everyone made sure they taught me how to do everything properly and they taught me about the game of golf," he says. "All the members have been extremely supportive. They even gave me a free set of golf clubs. I started golfing about a year after I started caddying. It is a bit of a rage-inducing game, but I still love it. Hopefully, I will keep playing for as long as I can walk."
The Western Golf Association, located in Golf, Ill., has supported the Chick Evans Scholarship Program through the Evans Scholars Foundation since 1930. Scholarship funds come mostly from contributions by 30,000 golfers who are members of the Evans Scholars Par Club Program. Evans Scholars alumni donate more than $10 million annually and all proceeds from the PGA TOUR's BMW Championship are donated to the Evans Scholars Foundation.