Changes in Equipment Rules Unlikely Soon, Tour Leaders Say
Details

Category: Inside Golf
Published: 2015-12-24
SHANGHAI, China (Doug Feruson/AP) — Now that the R&A and USGA have updated the latest edition for the Rules of Golf in 2016, don't look for any immediate changes in technology.
Martin Slumbers, who took over for Peter Dawson in September as chief executive of the R&A, says research from the tours indicate that the average distance off the tee has increased only 3 to 4 yards over the last 10 years.
"What we are seeing at the moment is a fairly consistent percentage of some tremendous athletes who are hitting the ball further," Slumbers said at the HSBC Golf Business Form. "The percentage of them is unchanged. The average is a lot less than what the media talk about. The average has only moved 3 to 4 yards in the last 10 years. There's no burning desire on our part to make any changes."
PGA Tour Commissioner Tim Finchem concurred. He said the professional game is "as strong as it's ever been."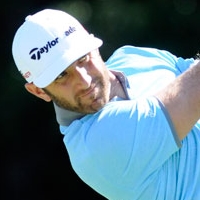 "I do think if we get to a point where 75 percent of the field is hitting it where Dustin (Johnson) is and it gets a little boring, and we see signs of it affecting the integrity of the sport, it's a different matter," Finchem said. "Right now, I agree totally. We shouldn't do anything."
Slumbers also said distance "isn't getting out of control."
"It's a single-digit number of players who hit over 320 (yards)," he said. "The average is in the mid-280s – this is run and carry. As long as it stays within those parameters, I'm celebrating skill."
Image Caption : 'If 75 Percent of the Field is Hitting It Where Dustin (Johnson) is,' Commissioner Tim Finchem Says, Then the PGA Tour Might Explore Changes to the Rules Governing Equipment Technology. (Photo/USA Today Sports Images via PGA of America)
FINALLY: A back-handed compliment in golf used to be calling a player the "best to have never won a major." It was a burden, sure, but also an indication the player was so talented he should have won a major.
Now it might be the word "finally" attached to a PGA Tour winner.
A common narrative last week in Malaysia involved Justin Thomas finally breaking through and winning his first PGA Tour event. Thomas is 22. He is starting out his second full year on tour. This was his 37th start on the PGA Tour as a pro.
Finally?
"It was funny. Everyone and a lot of media were like, 'When are you going to get that win?' I said, 'I don't know, I'll just keep trying to put myself there.' Obviously, it could have happened sooner. I'm just happy to get that done so I can stop hearing about it."
Thomas had great chances to win the Humana Challenge and Greenbrier Classic. He played in the final group going into the weekend at the Sony Open, Phoenix Open, and he was two shots behind going into the final round at The Players Championship.
Mentioned that Thomas has "finally" won, Rickie Fowler raised his eyebrows at the word and chuckled. He heard that during his first two years on tour.
"It's tough when they say 'finally,'" Fowler said. "But it's a testament and a compliment to how good players are when they're coming up."
DIVOTS: Rickie Fowler kept a busy schedule since the Presidents Cup. He left South Korea for Los Angeles, then went to Las Vegas for a PGA Tour event, then to Dallas to take part in a charity event for Jordan Spieth, back to Los Angeles and then over to Shanghai. "Luckily, I enjoy travel," Fowler said. ... The PGA Tour has signed a deal with iQIYI for it to provide more than 1,500 hours of live stream from 40 PGA Tour events. ... Ping chairman and chief executive John A. Solheim was honored with the distinguished Lifetime Achievement Award at the HSBC Golf Business Forum. Bubba Watson was at the forum to present Solheim the award.
STAT OF THE WEEK: The combined age of the last four PGA Tour winners is 90.
FINAL WORD: "If a disappointing week is shooting 14 under and finishing 19th in a PGA Tour event, then that's a good sign for me." – Anirban Lahiri of India.
'If 75 Percent of the Field is Hitting It Where Dustin (Johnson) is,' Commissioner Tim Finchem Says, Then the PGA Tour Might Explore Changes to the Rules Governing Equipment Technology. (Photo/USA Today Sports Images via PGA of America)