PGA TOUR, Microsoft Strike Three-Year Deal
Details

Category: Inside Golf
Published: 2015-12-24
PONTE VEDRA BEACH, Florida — The PGA TOUR and Microsoft have entered a three-year relationship that will focus on utilizing Microsoft solutions to create new ways for fans, players and broadcasters to engage with the PGA TOUR. The solutions will be designed to instantaneously mine the TOUR's vast video library and statistical information to enhance and simplify the way data is interpreted, providing fans, players and commentators new and engaging ways to access insight as never before.
"The PGA TOUR is thrilled to enter into this relationship with Microsoft which, at its core, is designed to produce deeper, richer and more immersive content for our fans to consume across all of our platforms," said Tom Wade, the PGA TOUR's Chief Commercial Officer. "We also look forward to partnering with such an iconic global company to continue to improve the presentation of our sport to our fans."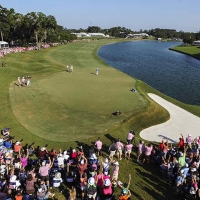 Over the next several months, the PGA TOUR is primed to adopt Windows 10, Microsoft Azure and Microsoft Office to make data analysis easier to interpret and understand for every golf fan, as well as players and broadcast commentators. Microsoft will create innovative solutions by helping the PGA TOUR analyze information faster and more efficiently, giving fans instant access to insight about players, courses and conditions.
Image Caption : Microsoft Will Provide the PGA TOUR with Engaging Technology and Media Solutions for Fans, Players, and Broadcasters. (PGA TOUR/Stan Badz)
"Through its collaboration with CDW on ShotLink, the PGA TOUR has been on the cutting edge of technology innovation and real-time insights around historical information, drives, putts and course conditions for golf fans everywhere," said Chris Capossela, Microsoft's Chief Marketing Officer. "We believe the TOUR's commitment to our Windows 10 platform and Microsoft Cloud offerings will enable fans and broadcasters to access ShotLink and other PGA TOUR content in ways that have not been previously possible across all digital devices."
There are several technology integrations underway, including the development of new apps for the latest Microsoft devices and platforms across Windows 10, Surface and Microsoft's Lumia phones. Microsoft will also utilize the 80,000-plus hours of PGA TOUR library footage and other information to deliver this content to fans and commentators in new and engaging ways.
Additionally, the TOUR will look to enhance its employee productivity and infrastructure with the addition of Microsoft's newest products as part of its backend business operation. This will include Windows 10, Office 365, Media Pilot and Cloud Services. Through this multi-faceted relationship, Microsoft becomes the "Official Operating System," "Official Analytics Partner" and "Official Office Productivity Software" of the PGA TOUR and Champions Tour.