Victoria's Hayashi Snaps Slump With Win At B.C. Juvenile Girls Championship
Details

Category: Inside Golf
Published: 2018-08-27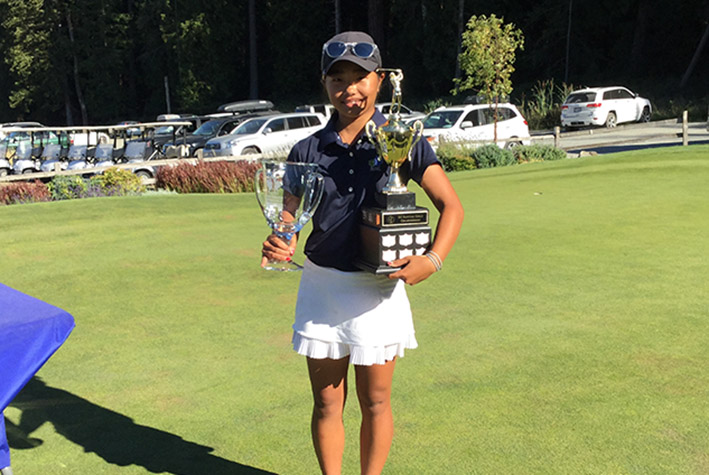 By BRAD ZIEMER, British Columbia Golf
Akari Hayashi is only 15, but that is apparently old enough to be in a slump. The Victoria teen wasn't happy with her game as she headed to Gallagher's Canyon Golf Club for the B.C. Juvenile Girls Championship. Hayashi hadn't played to her considerable potential in 2018 and hoped that might change in Kelowna. She got her wish.
The Mount Douglas Secondary School student came from behind to win the Juvenile Girls title. "I have been struggling quite a bit this past year and I am very happy to show what I am capable of at the Juvenile tournament and once again win another B.C. championship," a happy Hayashi said after her round. "I am so excited about this win."
The win follows by two years Hayashi's victory at the B.C. Bantam Girls Championship at Bowen Island Golf Course. Hayashi, who is heading into Grade 11, beat Emma Yang of Langley by one shot. Yang had led the 54-hole tournament the first two days.
Hayashi closed with a two-over par 75 to finish the event, which was open to girls 16 years old and younger, at seven-over par. Yang shot a 78.
Hayashi had to claw her way back into contention after opening the tournament with a 79 in the first round. She credited a strong tee game with helping her get the win. "You know what, I was driving it good," Hayashi said. "The course is pretty narrow but if you can hit your drives nice and straight you have a good shot into the hole. I think my driving was the best this week."
The final round felt like match play for Hayashi and Yang. The two players had separated themselves from the rest of the field and were playing together in the final group. "It did feel like match play," Hayashi said. "I didn't want it to feel like that, but it did. I really didn't care about my score. I just wanted to play good. It was really close. Emma and I are good friends and we always cheer for each other, so I think it was a good competition."
Hayashi, who plays out of Uplands Golf Club in Victoria, said she definitely felt some nerves coming down the stretch. "I'm still shaking," she said. Asked how she would celebrate her win, Hayashi said she was looking forward to eating some of her mom's food back in Victoria. "And maybe I will call my grandparents in Japan. My dad gives them links and everything so they can follow me in tournaments."
With Bantam and Juvenile provincial titles now secured, Hayashi was asked if she will now set her sights on a B.C. Junior Girls crown. "I guess so," she said with a laugh. "I guess so." Hayashi actually came close to winning a B.C. Junior Girls title when she finished second to Surrey's Michelle Kim in 2015 at Cordova Bay Golf Course in Victoria.
Click here for complete scoring.
CHIP SHOTS
Surrey's Alyssa Chang finished third at 14-over par. Michelle Liu of Vancouver was another shot back in fourth place. . .Hayashi's one-under 72 in Wednesday's second round was the only sub-par round of the tournament.