Nicklaus to Receive Muhammad Ali Legacy Award
Details

Category: Inside Golf
Published: 2015-12-24
(Brian Wacker/PGATOUR.COM) — On the golf course, Jack Nicklaus won 120 tournaments around the world, including a record 18 major championships. Off it, he was involved in everything from golf equipment and design, to wine, to ice cream — and raised tens of millions of dollars for charity, including a children's hospital that bears his name.
All are among the reasons why he has been chosen to receive Sports Illustrated's Muhammad Ali Legacy Award, which honors athletes and sports figures that have embodied sportsmanship, leadership and philanthropy. Earlier this year, the award was renamed the Sports Illustrated Muhammad Ali Legacy Award in tribute to the legendary boxer and humanitarian.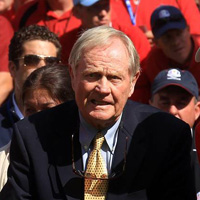 "It gives me great pleasure to know the first Sports Illustrated Muhammad Ali Legacy Award will be given to one of sports' biggest living legends, Jack Nicklaus," Muhammad Ali said in a statement. "Jack's passion for excellence on the golf course is only surpassed by his love and passion for children and their well-being. For decades, he has used his celebrity to bring awareness and support for children's health. I can not think of a more deserving person for this special inaugural award than the Golden Bear, himself."
Earlier this year, Nicklaus also became just the seventh athlete to be awarded the Congressional Gold Medal, the highest honor a civilian can receive.
"There are very few in the sporting world who are more synonymous with the word 'legacy' than Muhammad Ali, so to have his name attached to the prestigious Legacy Award is so fitting," Nicklaus said. "He is not only known universally as the 'Champ,' but he has been a wonderful global ambassador for sports and our country. This is a marvelous way to honor his contributions past and present, and to ensure that generations going forward will have the opportunity to learn, respect and admire all Muhammad Ali has done for the sporting world. That is why to be the first recipient of the Ali Legacy Award is both humbling and an honor."
Nicklaus appeared on the cover of SI more than any other golfer — 22 times — and in 1978 was named its Sportsman of the Year after winning The Open Championship at St. Andrews to become the first player to achieve the career Grand Slam three times. He also won three other times that year and in 1999 was chosen as SI's Individual Male Athlete of the 20th Century.
Other accolades include the Presidential Medal of Freedom, the PGA TOUR Lifetime Achievement Award, the Woodrow Wilson Award for Corporate Citizenship and being inducted into the World Golf Hall of Fame as well as the Ambassador David M. Walter International Pediatric Hall of Fame along with wife Barbara.
Nicklaus will be presented the award at SI's annual Sportsman of the Year celebration on December 15 in New York City.
"Jack is the ultimate ambassador for golf and the sporting world," said Sports Illustrated Group Editor Paul Fichtenbaum. "From his play, which set the standard in golf for decades and is still held up as the benchmark today, to his successful business pursuits and tireless efforts to support a range of charitable causes, Jack is one of a kind. Having spent a lifetime using his celebrity and influence for philanthropic endeavors and goodwill missions while serving as an inspiration for so many people around the world, Jack represents the ideals of the Legacy Award and stands up perfectly next to the award's namesake, Muhammad Ali."