Gaylord Golf Mecca A Great Place to Play And Stay
Details

Category: Inside Golf
Published: 2018-10-08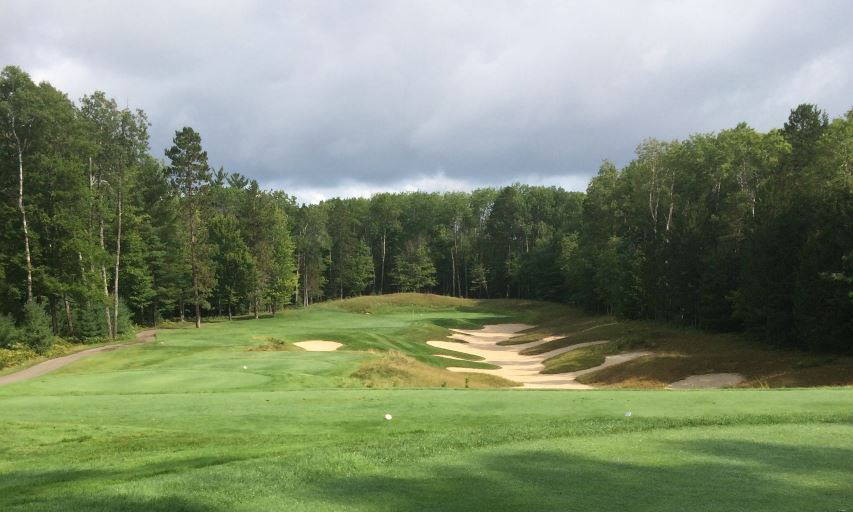 By GORD MONTGOMERY, Inside Golf
GAYLORD, Michigan — Truth be told, there is little better in life than a golf trip that includes little else but golf. In other words, something like playing 27 holes a day for four days in a row to cram all the swings you can into a limited time frame.
All that golf was played on the Gaylord Golf Mecca which encompasses a total of 15 awesome golf courses. The layouts are situated in and around the beautiful little alpine-style town, Gaylord, Michigan, in an area that sits between the Great Lakes' pairing of Michigan and Huron. This entire area is beautifully treed and features wetlands and rolling terrain which is full of wildlife including songbirds, wild turkeys and deer.
The Gaylord Golf Mecca is situated an easy two hour drive south of Sault Ste. Marie, ON., and is not only a golfing paradise with several well designed, fun golf courses but serves as a downhill ski area when the sticks are put away for the winter. That being said, I was here for the golf, and golf only, so golf I did.
---
PLACES TO PLAY
Black Lake Golf Club
The tour began at the stunningly beautiful Black Lake GC, which sits in Onaway, just a short drive from Gaylord. This course, which tips out at just over 7,000 yards, is heavily treed but features exceptional greens that greet incoming missiles with open arms (that is, they're soft and receptive). Built as an additional recreational property for the UAW (United Auto Workers) training centre that sits just beyond the course's borders this 1,000 -acre playpen was designed by the acclaimed Rees Jones, who used what nature gave him to present a fantastic layout.
The thing here is, you need to be aware of some deception from the fairways. The starter informed us that "after your tee shot, about 80 per cent of your shots into the greens are uphill, so that 6,400 yards here (off the blue tees) plays like 6,800." And no, he wasn't kidding. Played from the proper tees, this is a fun, challenging track where Jones made sure that you enjoy the surroundings as much as the course itself, which includes the eye-catching par-3 14th hole, one that is outlined all down the righthand side by a massive waste bunker, making the 163-yard shot off the white box just a little more intimidating.
For more on Black Lake GC, go to their website at blacklakegolf.com.
---
Gaylord Golf Club
Designed by Don Cherry, and no, it's not he of the ugly jackets, this is an old-style course that many people prefer in this day of big, long, tough layouts. Playing to just over 6,500 yards off the back tees, the Gaylord Golf Club offers up plenty of challenges to make pars seem like birdies. The hallmark of older facilities like this are smaller greens than you see on newer tracks and wide fairways littered with strategically placed bunkers. While the putting surfaces aren't overly large, they were exceptionally smooth and true, meaning if you hit your line with your flat stick, the ball stayed there until it dropped into the hole.
A nice thing about this track is the pace of play. As a shorter layout, it's expected that players can complete an 18-hole journey in four hours - or less - which keeps everyone happy. Founded in 1924, this is one of the elder statesmen on the Gaylord Golf Mecca routing, as well as one of the oldest in Northern Michigan and while it changed location in 1975, its rolling terrain and beautiful trees make you appreciate what is offered up.  And while this is a private club, and the course condition show that, it is open to the public for play at anytime. So if you're looking for a classic layout, that features challenge without featuring five-plus hour rounds, this is a great spot to drop in and take on the test the Gaylord Golf Club offers up on a daily basis.
For more on the club go to gaylordcountryclub.com. (Note: The name has recently been changed to Gaylord Golf Club to take away that "country club" connotation some people place on such named facilities).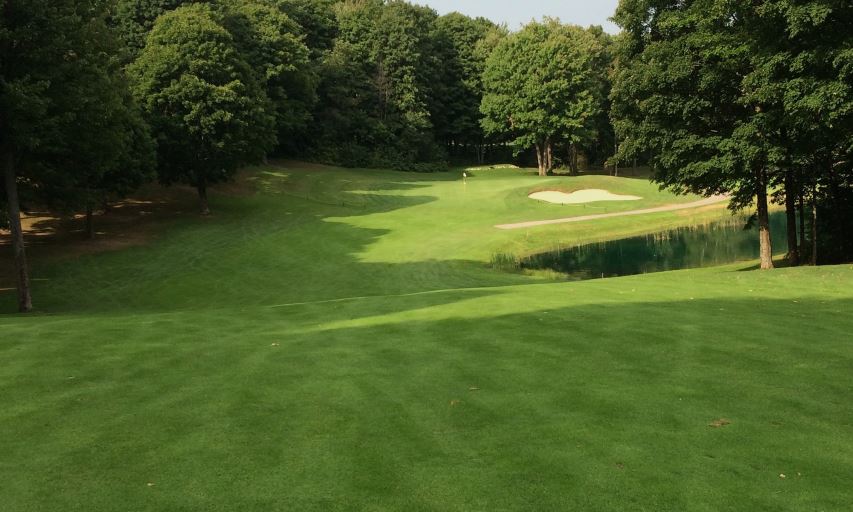 The Gaylord Golf Club Is An Old, Classic Design That Still Stands Up Well To The Modern Equipment Used By Players Today. The Fairways Are Wide, But Have Well-Placed Hazards To Make Sure One Stays Straight. (Photo/Gord Montgomery)
---
Michaywe´ Pines Course
Another beautiful layout in this area, Michaywe´ belongs to the neighbourhood home owners association and they take proper care of this track. Bracketed by forest, and where your group is more than likely to be joined at some point by a few deer, this Don Childs design was redone in 2004 with special attention paid to the tees, greens and bunkers. The  classic 18 holes take you through the gently rolling terrain with little water to swallow up any wayward shots. While all that makes the course seem like a walk in the park, it is actually anything but. It can play tough and has shown that as the two-time host of the Michigan Amateur. Here you are greeted by five tees meaning that with the wide fairways, the large greens and the peaceful surroundings anyone can enjoy their outing.
One of the interesting things here is the variance in par 4 holes, which from the white blocks range anywhere from 398-yards down to down to 292, making it a true risk/reward type of track. The other noticeable thing here is that the homes that line the course are well off the fairways so you don't have to worry about stray tee shots getting away from you.
For more on this beautiful course, go to michaywe.com.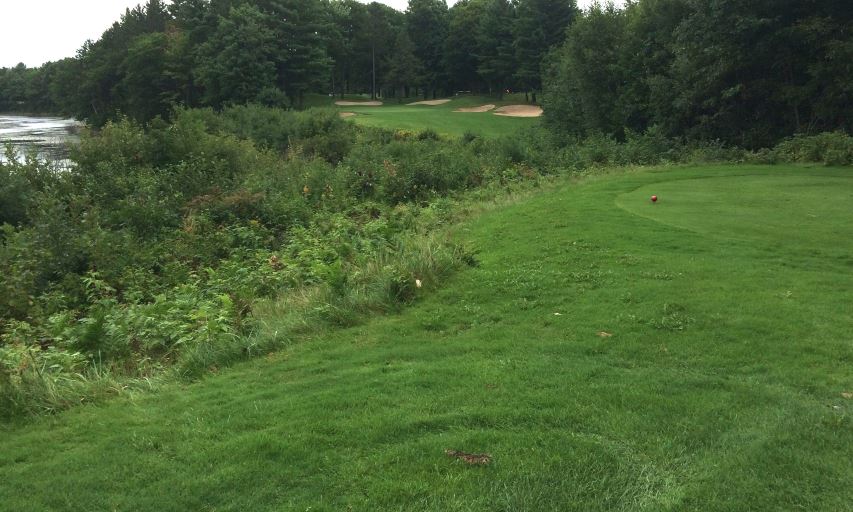 The Natural Setting Of The Michaywe GC Is Enough To Soothe One's Nerves In Its Quietness And Beauty, No Matter What Shape Your Game May Be In On The Day You Play. (Photo/Gord Montgomery)
---
The Loon
This is one of those places where you must choose your starting point on each hole with care … and not because it's a big track. Rather, it can play short - very short - off the middle deck which can lead to some interesting problems. That's borne out on the opening hole where from the silver tee the distance is 304 yards on the par 4, dogleg right. Sounds easy enough, but hit it too far on the blind tee shot and you find yourself mired in a huge middle-of-the-fairway hazard that's not noticeable from the tee. Keep it short of that however, and your second shot is an easy wedge into an elevated green with a birdie a real possibility to kick-start your round. The second hole here is also a fun test — a tee shot of 150-yards from the silver tees, over a massive ravine/hazard, to a well-guarded green with some interesting contours. Starting even par, or even 1-under is a real possibility, but you need to hit the right club to the right spot on both tee shots. The front nine ends on a par 3 with a 173 yard downhill shot, that again tests your aim as much as your distance control.
The rest of The Loon is a fun play even though from those silver blocks it is only 5,500 yards. You can stretch things out in a big way, jumping almost 800 yards more from the next blocks back, and all the way to 6,677 yards from the back tees. Since the front tees play to a yardage of 4,890, needless to say, this is one of those courses that is designed for everyone of any ability to take on …  but just beware of that opening volley on the front nine!
For more on The Loon, go to loongolfresort.com.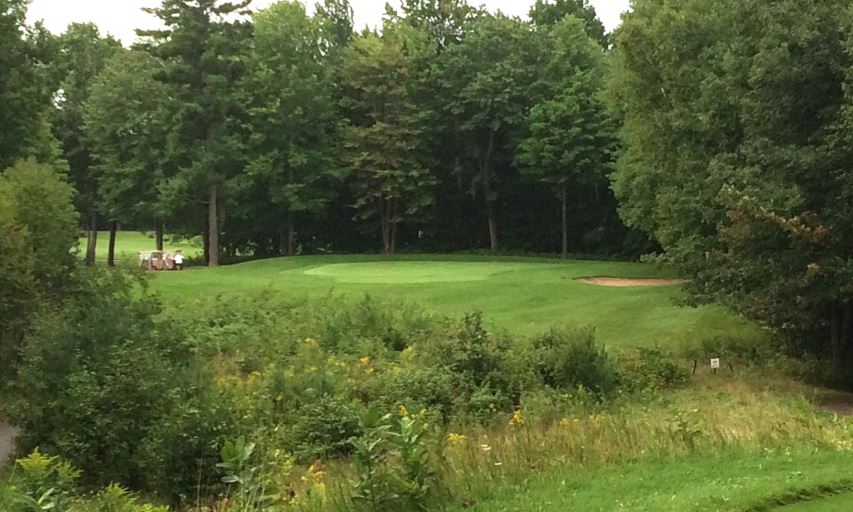 The Par-3 9th Hole At The Loon, As Well As Its Par-3 Sister, The Second, Demand Accurate Tee Shots As There Isn't A Lot Of Room To Stray Too Far Off Course. (Photo/Gord Montgomery)
---
Indian River Golf Club
Originally built with elevated greens everywhere on its first nine holes, Indian River came back to earth a bit in  the construction of the second nine. First put into play in 1923 by Wilfred Reid over nine holes, the expansion by Warner Bowen in the 1980s saw larger, but flatter greens join in. Playing to a modest 6,692 off the back blocks and all the way down to 4,300 from the front, the six tees give everyone the chance to shoot the round of their lives.
The first hole here is an intriguing view into Reid's game plan, as it only measures 314 yards from the back, but a major dogleg right to an elevated, two-tier green - virtually making your second shot a blind one - make up for the short distance. While some of the four-pars are short, there are those that make up for it, including a trio of those on the newer back nine, thanks to Mr. Bowen. The par-3's here though are a bundle of fun, including the great ninth, a downhill chip shot of 142-yards to a large green sitting side-by-side with the clubhouse … so you don't want to yank/push one right here! Highlighting the fun factor here is the fact Indian River GC has been rated as one of Northern Michigan's Best Places to Play by Golf Digest as well as receiving four of five stars from Golf Advisor. The cemetery, which includes a few Civil War tombstones, also sits alongside the ninth hole and is worth a quick visit.
For more on the Indian River GC, go to indianrivergolfclub.com.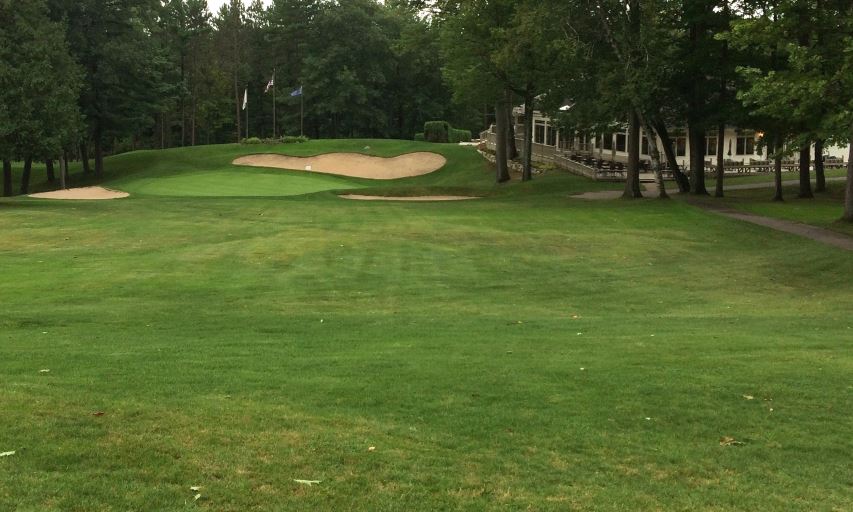 The Par-3 9th Hole Is A Short One, At Only 124-yards Off The White Tees But Any Sort Of Hook, Or Slice, Depending What Side Of The Ball You Stand On, Can Lead To Some Interesting Interaction With The Nearby Clubhouse. (Photo/Gord Montgomery)
---
Threetops (Treetops Resort)
As unappealing as a par-3 nine hole course may sound to many, this is one you don't want to miss. From the fun opening hole of 143-yards to the spectacular 219-yard, 145-foot drop third, this is one fun, challenging, laugh-filled layout. It's a quick round-trip, taking only about 90 minutes or so but it can be tough if you're short irons are even a bit off. Many of the greens here, while large, are well protected by bunkers and fescue grasses. Top that off with some elevation going in, and you can find yourself often left with even shorter, and even more challenging approach shots, where you can only see the top of the flag, if at all.
Since opening in 1992, Threetops has been given acclaim by Golf Magazine, Golfweek and others who have often ranked it as the No. 1 par-3 course in America. It once hosted the ESPN Par-3 Shootout (Lee Trevino had a memorable ace on No. 7 to win $1 million in 2001). If you are in the area, be sure you don't turn your nose up at this little gem, tucked beautifully into the woods and well worth the few minutes it will take you to tour it.
For more, go to michigangolf.com/courses/gaylord/treetops-threetops or Treetops.com.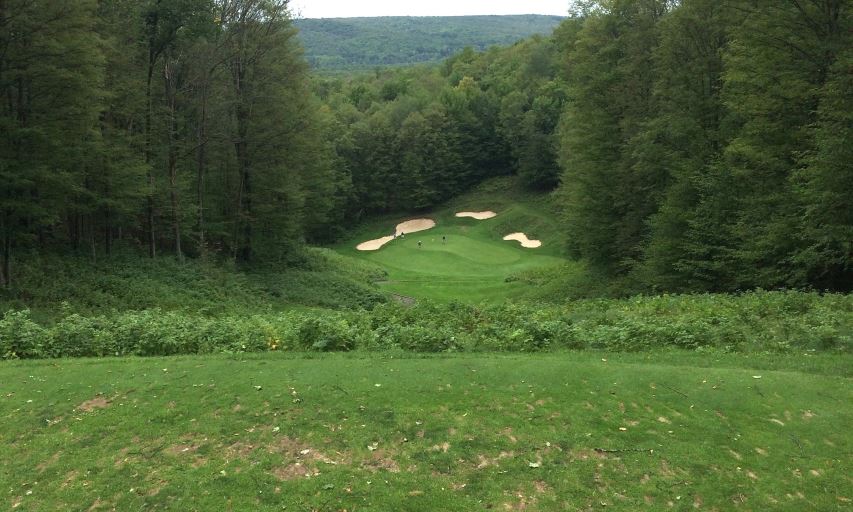 As One Of The USA's Top Par-3 Courses, Threetops At The Treetops Resort Offers Plenty Of Exceptional Tee Shots, Including This One That Features A Vertical Drop Of 140 Feet. (Photo/Gord Montgomery)
---
The Natural at Beaver Creek
Again, a heavily wooded layout that is beautiful in every sense of the word, from the first tee to the last. This is one of the shorter 18-hole tracks you come across in Northen Michigan but that certainly doesn't take away from its appeal, right from the clubhouse onward. Architect Jerry Matthews used the natural rolling terrain to sculpt a creative piece of work, featuring several doglegs over its 6,330 yard total off the back tees. So yes, while short, this is a course where even the slightest off-line shot can cost you.  While it's a fun play, perhaps the proudest thing that The Natural can say about itself is that it was constructed to lay alongside, but not interfere, with the gorgeous wetlands that wend throughout the property. Care was taken to bring those areas into play, but to not hinder their natural ability to survive and thrive, making this place one of those courses that you likely take as many pictures of as you take swings at your golf ball.
For more on The Natural, go to thenaturalgolfcourse.com.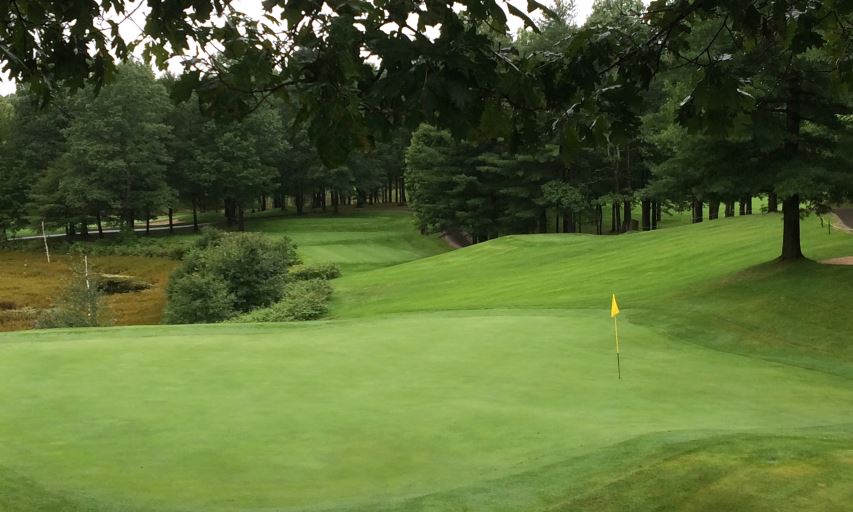 Another Beautiful Course, The Natural At Beaver Creek Throws You Into A Tree-Lined Setting With Some Tricky Greens To Test Every Part Of Your Game. (Photo/Gord Montgomery)
The Masterpiece (at Treetops)
Really, other than having the man, Robert Trent Jones, Sr., state this track, located in the Treetops Resort area, was his "crowning glory; his masterpiece," you don't need much more persuasion to tee it up here. Yes, The Masterpiece is a big layout - over 7,000 yards from the back tees but it is brought down to a more manageable level of 6,063 off the Blue/White combo. But don't let those numbers faze you — this course is about hitting good shots and being rewarded for them, because as head professional Erik Crowley advises, "Hit it long and hit it straight!"
This is a design with one of those dramatic holes - the par-3 sixth - where as you stand on the tee you look off into the distance at tens of thousands of tree tops, thus the resort's name, and take aim at a green 120-feet below you. Dependent on nature, this shot can require anything from two to three clubs less than you'd normally use on a 180-yard shot to that many clubs up, if the wind happens to be in your face. This was Jones' final design in the state of Michigan and he left nothing to the imagination in laying it out, making use of the hills and valleys, the marshalands, and yes, of course, the trees! While tough, this is a course anyone can take a good swing at, as it has five individual tee boxes along with three combo boxes, so the correct yardage, which one must play to fully enjoy the challenges here, can be found.
For more on The Masterpiece at the Treetops Resort, go to treetops.com.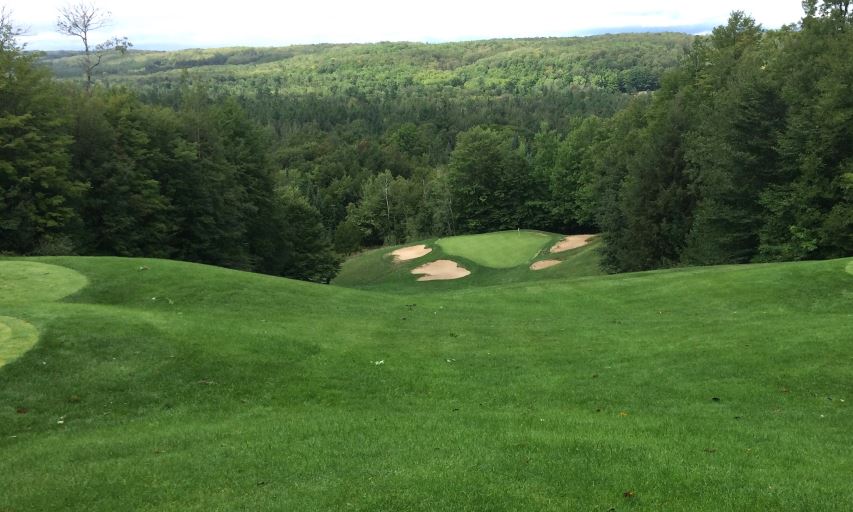 The Last Design By Robert Trent Jones, Sr., In Michigan, Is A True Beauty And One He Called His "Crowning Glory." (Photo/Gord Montgomery)
Signature (at Treetops)
One of five courses at the fabulous Treetops Resort in Gaylord, Michigan, this 18-hole charmer is a great way to wrap up a memorable golf journey. The Signature offers what seems like almost unlimited elevated tee boxes, six in all, on over 18 holes that can play anywhere from 4,600 yards up to almost 6,700 yards. As well, there are a variety of combo boxes to play, making this another track where everyone can tee it up and feel at ease. Not that you're going to find this Rick Smith track an walk in the park, scoring-wise. While it was his first 18 hole design, Smith used all the natural elements he was given right from your opening tee shot on the downhill par-4 to the closing stretch, where keeping your head about you can result in a good score. Lose focus for even a bit though, and some big numbers can make an unwelcome appearance on your scorecard.
One area Smith helps the average player is in the wide targets he presents off the tee box. The majority of the holes are straightaway and with large greens in play, it's all about hitting the right club at the right time here. Interestingly enough, Smith also pieced together the fun Treetops, mentioned earlier, so if you got to play that little beauty first, you know what kind of fun, and challenge, you're in for on the par-3 course's big sister. As well, Signature has been voted as one of the 50 Best Courses for Women, meaning that everyone should take a swing at this course, a fund and beautiful journey, much like every other course in Northern Michigan that has been reviewed here.
For more, go to treetops.com.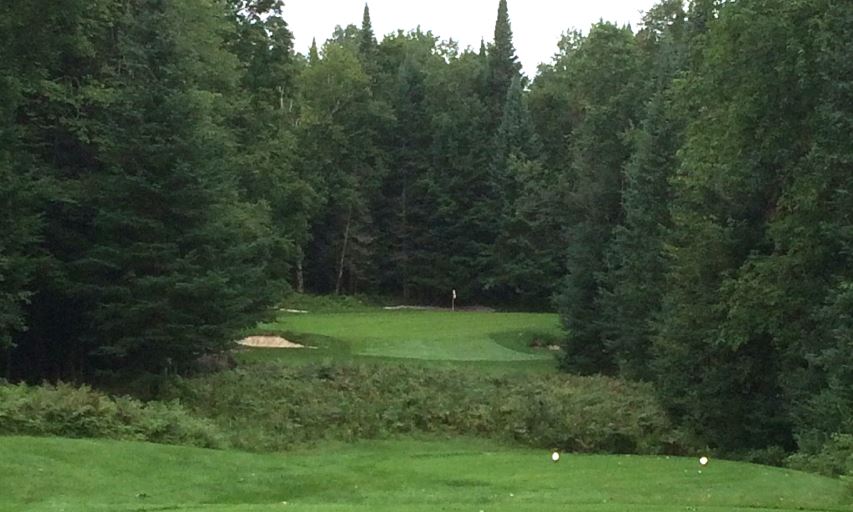 This Rick Smith Design Features An Amazing Amount Of Elevated Tee Boxes Over Its 18 Hole Layout, Making For Some Memorable Tee Shots. (Photo/Gord Montgomery)
---
PLACES TO STAY
Hilltop Lodge at Otsego Resort
Of course you can't golf all the time, no matter how appealing that sounds. After all, you do need to sleep and there are some great places to lay your tired body at the end of the busy day in Gaylord. One of those is the Hilltop Lodge at Otsego Resort, a year-round facility that can host any size party from a buddy foursome to a large-scale group planning on a tournament and some sightseeing in this area. The rooms here are all comfortably appointed, especially the condo units, where several bedrooms are connected via a common area that makes it easy to socialize without bothering others.
Each of the eight guest rooms has a king-size or two queen beds. Room amenities include free high-speed Internet access, telephone and voicemail service, flat screen LCD television, free in-room coffee, microwave and refrigerator, iron and ironing board, and hairdryer. The spacious bathrooms feature either an oversized tub and/or a shower with soothing spa amenities. The setting for this venue is peaceful and if you're into walking it provides plenty of outdoor area to do so. Adjacent to both a golf course (didn't play there but reputably a great track) as well as the area's ski hills and the fun, pleasant downtown area.
For more on the Otsego Resort go to otsegogolfclub.com/stay.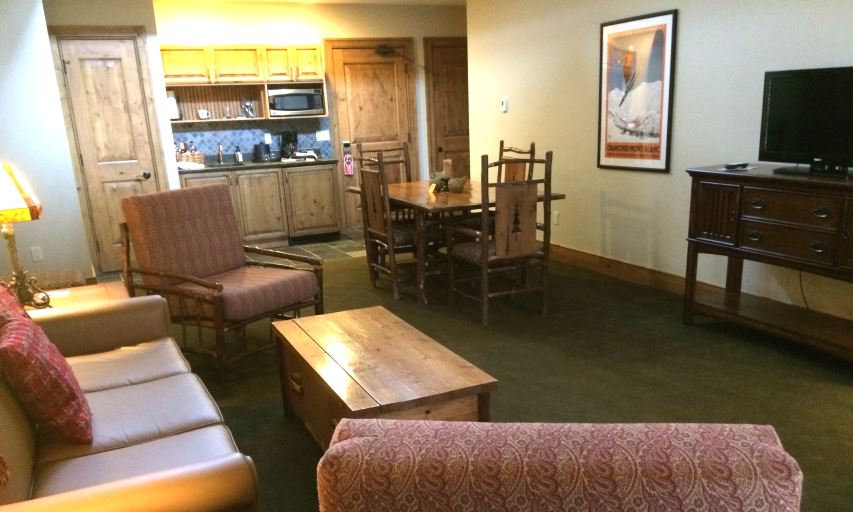 Well-Appointed Rooms At The Otsego Resort Greet Guests Who Are Looking For A Comfortable Stay. (Photo/Gord Montgomery)
The Ridge at Loon Golf Resort – Copenhagen Lodge
Another great spot for multi-guest lodging, this is an updated facility where again you find everything you need for a comfortable stay with lots of amenities nearby. The rooms here are spacious with great views of the surrounding area. Each is well appointed with all the usual hotel room fare, including TV, fridge, microwave and eating utensils. This 11-unit facility is again connected by a large common area for late-evening, early morning gatherings. They also offer several Stay & Play options that are well worth checking out.
For more, go to loongolfresort.com/lodging.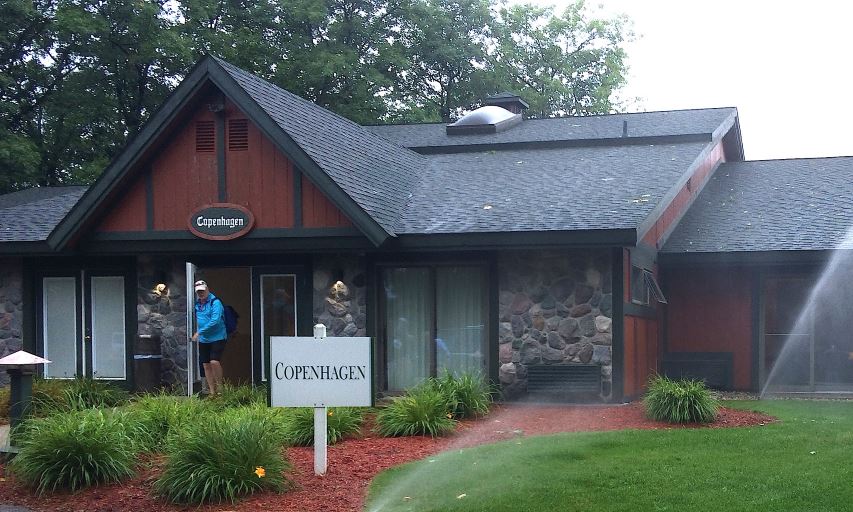 This Multi-Unit Building At The Loon Offers Plenty Of Common Space, And Private Rooms, To Host Any Size Of Gathering. (Photo/Gord Montgomery)
Treetops Resort
This is yet another service-oriented facility in the Gaylord area that offers guests everything they could want … and perhaps even more. The staff here are friendly and helpful and the seating area around the massive front entry fireplace surrounded by comfortable leather furniture that is enough to warm anyone's heart and soul. True, it is a bit of a walk, uphill, to the restaurant but there is a bar on-site to quench your thirst after that jouney. Treetops also boasts accommodation choices for larger parties including the Inn, Chalets, Jones Cabin and condo units. Here there are all sorts of room options to choose from, including Lodge Queen, Queen Deluxe, King, Accessible, and Presidential. Again, these rooms are spacious with a comfortable couch for relaxing and catching some TV after a tough day on the course. There are also a number of on-site amenities including a great heated swimming pool,  a fitness centre, full-service spa, guest laundry, a business centre, free WiFi and a resort shuttle if that climb to the restaurant is a little too far at the end of a busy day.
For more on the Treetops resort, go to treetopsresort.com/lodging.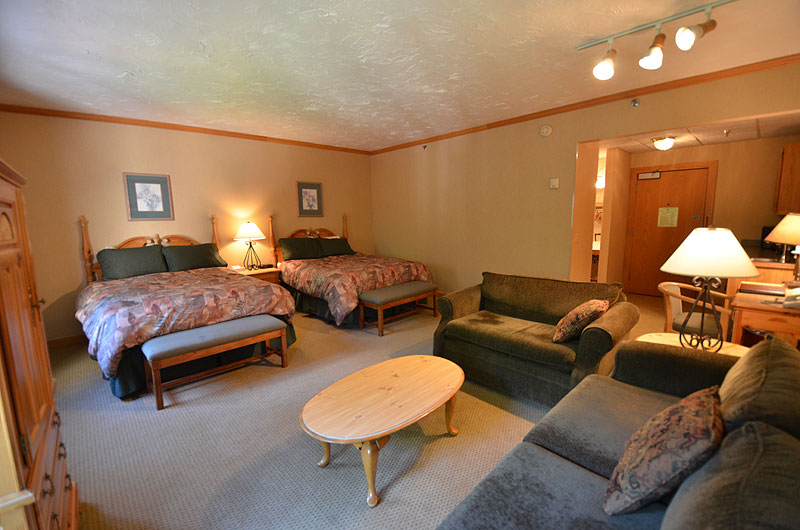 The Rooms At The Treetops Resort Are Comfortably Furnished Making A Stay Here As Relaxing As Can Be In This Modern Facility. (Photo/Treetops)
For more on the entire Gaylord Golf Mecca area and its 15 member clubs and 20 lodging sites, go to gaylordgolfmecca.com.
---
About the Writer
Gord Montgomery is a retired sports editor of two weekly newspapers in the Edmonton area and is a member of the Golf Journalists Association of Canada. He is now in his 10th year of writing for Inside Golf.
He can be reached at This email address is being protected from spambots. You need JavaScript enabled to view it.. He's also on Twitter at @gordinsidegolf and on Instagram at gordinsidegolf2.