Unbelt Looks To Cinch Up Deals Within Golf Industry
Details

Category: Inside Golf
Published: 2018-11-12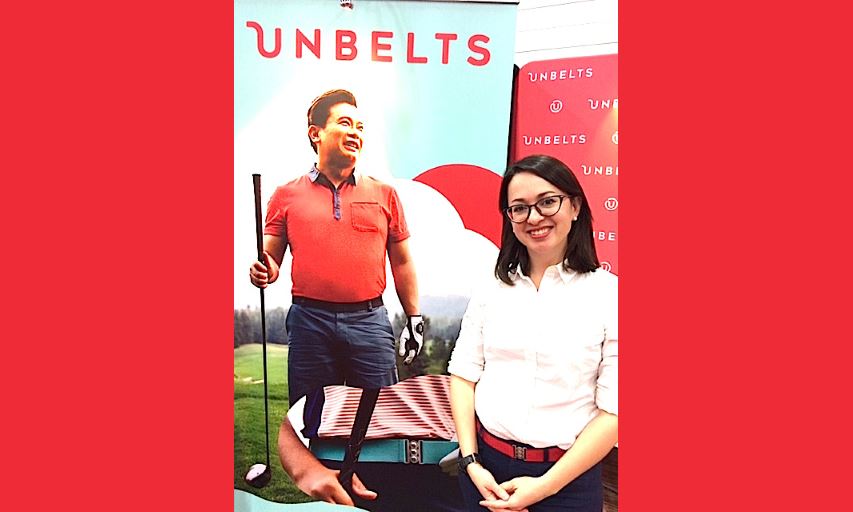 By GORD MONTGOMERY, Inside Golf
EDMONTON, Alberta — Breaking into the world of golf isn't easy, especially in the clothing/apparel end of the business. But, there are companies that are willing to hitch their dreams to the industry, especially those that have seen prior success.
That's the case for the Unbelt, a pants-holder-upper that not only firmly holds up your pants, it doesn't hold you up at airport security lines.
Making its first appearance in front of golf professionals and managers at the recent PGA of Alberta Buying Show in Edmonton, Unbelt's founder, Claire Theaker-Brown, explained that her newest product, the Intrepid, is an offshoot of the popular women's line known as Classic. The thing with the latest innovation though is that it's unisex and is not only a good fit for just about everyone, it's also a good fit for the environment.
This idea was hatched in a kitchen about six years ago without much, if any, thought given to the world of golf. But as word of the original design spread, it caught on with golfers because of the belt's ability to move with the body.
"We did a lot of research and found there wasn't a lot available for all genders who wanted a comfortable fit with their pants and shorts. So, we thought we'd fill that niche," explained Theaker-Brown on her venture into the golf industry.
That's where the Intrepid came into play. It's unisex and fits waist sizes from 24 to 58 inches. It is washable within a garment's belt loops; is airport safe as the buckle is made of a mix of metals of which there are none in the amount that sets off a metal detector; it's made of recycled pop bottles; comes with a secret inner pocket; is ethically made and carries a lifetime warranty.
Theaker-Brown noted that while breaking into a new market is tough for any businessperson, she feels she has an upper hand from having already introduced her women's Classic line into the fashion frenzy. Thus, she knows the pitfalls one faces in bringing a new line to the public's attention.
"When we started it took a lot of explaining, a lot of story telling, to help women understand that instead of leggings, they could put their jeans back on and with a really comfortable belt it would make those jeans fit perfectly. We've been through that and built a base of super loyal retailers who have customers who love their Unbelt and are coming back and buying more of them.
"We know it's going to be a challenge to introduce a new category of belt to the golf world, but we're so excited for the moment when we get the critical mass of people putting on the Unbelt and going, 'My gosh! This thing really is dang comfortable!' When we hear people say, 'What do you mean I don't have to take it out of my belt loops when I wash my pants? What do you mean I don't have to take it out of my belt loops when I go through airport security? This thing is awesome!'"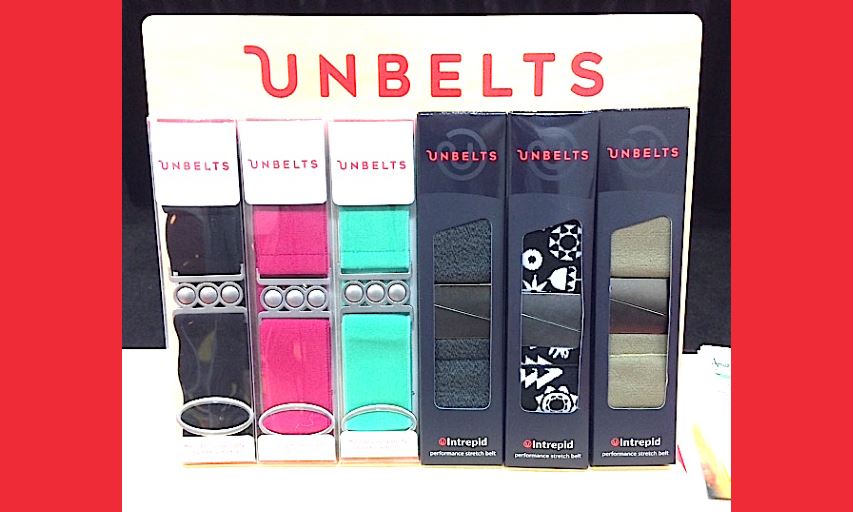 While New On The Market, The Unbelt Comes In A Wide Variety Of Colours And Styles.
The Unbelt is manufactured in Edmonton when plastic bottles are compacted and then shattered into pellets. Those are then spun at high heat into a yarn that is knitted into an elastic base.
"Every one of our belts contains about eight, 600-ml pop or water bottles. We are so committed to being a more environmentally and socially sustainable company," which is a One Percent For The Planet Certified company. "So, we're doing what we say we're doing and we're really proud of that," said Theaker-Brown.
The belt fastens with a tension clasp meaning there are no snaps, no magnets, "no fiddly parts at all that could ever break," with the tension from the two sides of the elastic holding the Unbelt firmly in place.
As for any possibility of the elastic in the Intrepid wearing out, there's little to no chance of that, the company founder continued.
"We've sold over 100,000 (Classic) plastic belts and have repaired fewer than 100," meaning the precursor to the latest line demonstrates the care taken in product production. "The elastic in the Intrepid is industrial grade. We have it custom made, so it's nice and soft. They're made to last!"
If your golf course doesn't yet carry the Intrepid Unbelt, you can order them online, with free shipping anywhere in the world on purchases over $50. The Classic, with an 18 month warranty, retails for $39 and the Intrepid costs $79, with its lifetime warranty.
If the cost throws you, Theaker-Brown noted, "We find compared to a leather belt, ours are super affordable. Given the quality and the cost per wear, ours are the cheapest on the market. They're meant to be worn every day and with that in mind, people are loving the price."
As for that claim of one-size-fits-all, where many of us have found that really doesn't always ring true, be assured that is in fact close to being the case with the Unbelt.
"We call the Unbelt the belt that doesn't judge. It does not care if you're pre-turkey dinner or post-turkey dinner. Or if you are a 10-year-old boy or a woman that's nine months pregnant. Our belts fit no matter what shape or size you are.
"It's important to us to realize that people come in all sorts of awesome shapes and sizes. And, while we can never say one size fits every human we try to fit most humans and fit them comfortably."
For more on the Unbelts line, go to their website at unbelts.com or call them at 780-271-7437.
---
About the Writer
Gord Montgomery is a member in good standing of the Golf Journalists Association of Canada. He is now in his 10th year of writing for Inside Golf. He can be reached at This email address is being protected from spambots. You need JavaScript enabled to view it.. He's also on Twitter at @gordinsidegolf and on Instagram at gordinsidegolf2.