PGA of BC Announces Speakers, Schedule For 2019 Education Series Events
Details

Category: Inside Golf
Published: 2018-12-10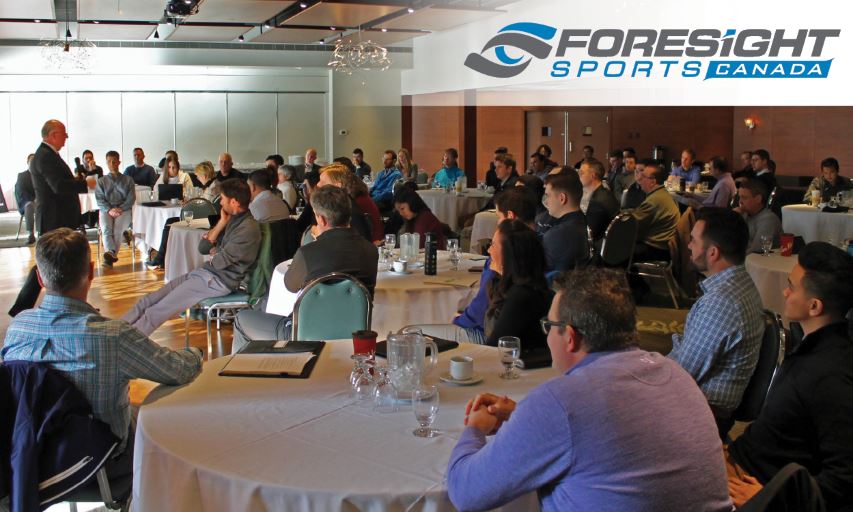 By THE PGA OF BC
RICHMOND, British Columbia — The PGA of British Columbia is pleased to provide Golf Professionals across the province with a wide range of professional development opportunities through the winter and spring of 2019 via the return of the PGA of BC Education Series presented by Foresight Sports Canada.
Featured speakers from a variety of golf-industry backgrounds and areas of expertise, including many from within the PGA of BC membership, will cover a number of topics and issues relevant to all Golf Professionals at events taking place in four of the Association's geographical regions, starting January 21, 2019, at Richmond Country Club and concluding April 29 at Fairmont Hot Springs Resort.
Further events are scheduled for February 26, 2019, at Victoria Golf Club and March 5 at Gallagher's Canyon Golf & Country Club.
As part of the upcoming Education Series, we are proud to have three of the Association's 2018 provincial award recipients — Dick Munn Golf Professional of the Year Cindy Soukoroff (St. Eugene Golf Resort & Casino), Jack McLaughlin Junior Golf Leader of the Year Jennifer Greggain (Chilliwack Golf Club) and Jack Westover Coach of the Year Sean Richardson (The Harvest Golf Club) — among those delivering talks for their colleagues, as well as 2017 Alvie Thompson Teacher of the Year Mac McLeod (Royal Colwood Golf Club).
Topics of focus will include approaches to coaching and instruction, golf fitness, customer service, targeted marketing, turf care, and more.
The following presentations will be featured at each stop on the Education Series:
Richmond Country Club
January 21, 2019
10:00 a.m. to 2:00 p.m.
"Friend or Foe?: Perceptions in the Golf Fitness Industry" – Nick Mueller; Director of Golf Performance, Innovative Fitness
"By the Numbers: Data-driven Storytelling" – Mark Strong; Executive Professional, Richmond Country Club & Jared Siminoff; Class "A" Professional, Point Grey Golf & Country Club
"Marketing Your Facility to Chinese Golfers" – Cyrus Janssen; PGA of America
Victoria Golf Club
February 26, 2019
10:00 a.m. to 2:00 p.m.
"New Technologies in Turf Care" – J. Paul Robertson; Links Superintendent, Victoria Golf Club
"Understanding Gear Effect" – Mac McLeod; Class "A" Professional, Royal Colwood Golf Club
"Planning Effective Practice Sessions" – Jennifer Greggain; Candidate for Membership, Chilliwack Golf Club & Colin Lavers; Class "A" Professional, Seymour Golf & Country Club
Gallagher's Canyon Golf & Country Club
March 5, 2019
10:00 a.m. to 2:00 p.m.
"The Business of Instruction: Providing Efficient Coaching and Better Service to Students" – Norman Baufeld; Head Teaching Professional, GolfTEC Vancouver
"Building the Complete Athlete" – Sean Richardson; Teaching Professional, The Harvest Golf Club
"Cannabis at your Course: Developing a Golf-Facility Marijuana Policy" – David Cram; Professor, Okanagan College Faculty of Business
Fairmont Hot Springs Resort
April 29, 2019
10:00 a.m. to 2:00 p.m.
"Making Every Moment Matter" – Cindy Soukoroff; Head Professional, St. Eugene Golf Resort & Casino
"Community Engagement: Why Giving Back is Rewarding for your Facility" – Scott McClain; Head Professional, Copper Point Golf Club
Click each event's heading to learn more about each featured speaker and the content of their respective presentations. 
Registration is now open for all four events. Find the registration link on each event page or via our 2019 Schedule of Events. 
Members are reminded that they will earn Professional Development Program points toward their 2019 total by attending Education Series events, receiving four (4) points for events located within their respective PGA of BC geographical region and six (6) for events outside their region.
Furthermore, the Association's administration team and Education Committee is in the midst of finalizing details for the 2019 PGA of BC Spring Education Seminar, which will be held February 11-12, 2019, at Tsawwassen Springs Golf Course. An announcement of this year's speaker lineup is anticipated to be released later this month.
We look forward to seeing you at one or more of our educational gatherings in the months ahead.
---
About Foresight Sports Canada
Foresight Sports Canada provides full-service design, supply and installation for commercial golf studios and in-home simulators. With world-leading products trusted by the game's best players and leading manufacturers — including Foresight Sports Launch Monitor, Swing Catalyst 3D Force and Pressure Plates, and K-MOTION 3D motion analysis — Foresight Canada has products to fulfill any home entertainment or commercial academy needs.