SWEDGE Golf Training Aid Receives U.S. Patent Award
Details

Category: Inside Golf
Published: 2018-12-11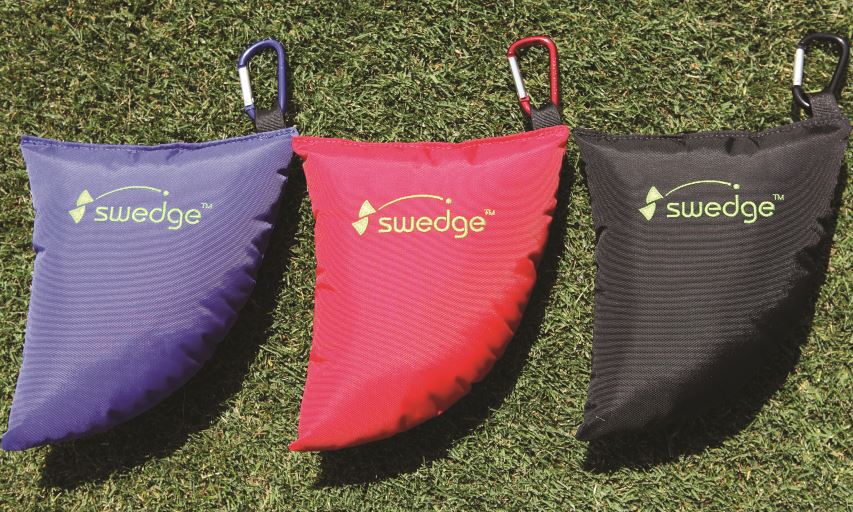 Avid Golf is pleased to announce the recent issuance of a United States Patent Award for its award-winning Golf Teaching Aid.
After years of research and development, LPGA Teaching Professional, Winnie Sewell and Amateur Golfer, Dana Clark, Ph.D. worked together to bring the SWEDGE swing training aid from concept to development by introducing a surprisingly effective and simple training tool designed to help relieve the "flying elbow" habit that so many golfers struggle with. For the first time ever, golf instructors now have a recognized training aid that is easy to use for performing one of the oldest drills in golf to help players focus their attention on keeping their arm in the proper position; thus, correcting many swing flaws simultaneously.
"There are many outstanding golf training products out there, so for the SWEDGE to be awarded a U.S. Patent means a great deal to me," said Dana Clark, CEO of Avid Golf and co-inventor of the SWEDGE. "My goal now is to get the SWEDGE out there and available to all golfers worldwide to use anytime they need a quick swing fix."
---
About the SWEDGE
The SWEDGE by Avid Golf is a simple and affordable training aid that is uniquely shaped in a "wedge" for the perfect underarm fit to cure your hook/slice, keep you connected and improve your overall accuracy. It is a small, washable half-moon shaped pillow covered with a durable nylon casing and comes in three universal colors, blue, black and red and has a convenient clip that attaches right to your golf bag for easy accessibility and use. It has been previously recognized with a Best New Product Award from the International Network of Golf, and received the Seal of Excellence after being independently tested by GolfTest USA. The SWEDGE is very portable and fits both right and left handed golfers. It is designed to give you instant feedback and helps your shoulders turn your arms instead of your arms turning your shoulders. Even when the SWEDGE was compared against a head cover/towel it was not even a contest. Never has a new swing golf training aid been so simple; and yet, so effective in yielding positive results.
With the SWEDGE, your swing will become much more compact and your short game much more consistent. So practice with the SWEDGE today and start playing better golf tomorrow!
Right now for the Holidays, the SWEDGE is available online for US$19.99 at www.avidgolfusa.com.