Sun Shines On 2018 Media Golf Classic In Phoenix
Details

Category: Inside Golf
Published: 2019-01-07
By JIM CLAGGET, Inside Golf
There may be a few golfers out there who are of the opinion desert golf is basically the same from course to course with some slight change in the number of saguaro with golf ball holes in them. To them I say, au contraire mon ami.
Just hop on a plane and head to the Valley of the Sun (Phoenix if you prefer) and you will see what I speak of.
This hot spot (pun intended) of golf has as much variety in the game as it does communities which populate the Sonoran Desert.
You have cities/towns from Apache Junction to Wickenburg, Buckeye to Scottsdale and all those in-between. I will take you on a quick tour of what I experienced in early December 2018.
We started the latest version of the Media Classic at the Mountain Shadows Resort in Paradise Valley along East Lincoln Drive.
This iconic property has Camelback and Mummy Mountain casting their shadows each afternoon on the building which is a classic exterior teamed up with a very modern interior.
The doors opened back in January of 1959 and underwent a makeover starting in 2014 with work completed in 2017. You can still see traces of the resort's history as you take a ride in the elevator with pictures of Lucille Ball and Bob Hope decorating the inside.
The original footprint was updated in 1960 to contain a par 56 golf course and today you can knock a ball around the 18-hole par three Short Course which will take you about three hours to walk, but you can ride. You have holes which range from 75 to almost 200 yards with a back-tee total length of 2,300 yards.
Now before you think this is a walk in the park, get your putting in shape as the greens will test you from front to back and side to side. If there was an elephant population in this region at one point in time you will see exactly where many of those pachyderms are buried.
It would be a simple task to play from one set of tees in the a.m., have a great lunch at Rusty's or Hearth '61 on the property, then head back out for another 18 from a different set of tee boxes. It's a great start to your golf trip.
The first day of our friendly tournament officially started at Papago Golf Course which opened in 1963 under the gaze of the photogenic Papago Buttes.
Papago has had a reputation as one of the best muni's in the region and it lived up to that claim. In 2008 it underwent some $5 million dollars in renovation work which included a new irrigation system, work on fairways, greens, tee boxes and bunkers as well as removal of some trees which was more of a thinning out, keeping the original routing in place.
With four tee boxes at your disposal you can play Papago from 5,404 yards to 7,333 and it won't let you down when it comes to challenge. The fairways are generous enough to allow a few wayward shots in your round, but the greens have enough undulation to force you to pay attention to the short game.
After the round we dined on the tasty and varied food from Lou's Bar and Grill, named for the auto dealer Lou Grubb who made his mark with a soft sales pitch and had a life-long affair with the game of golf.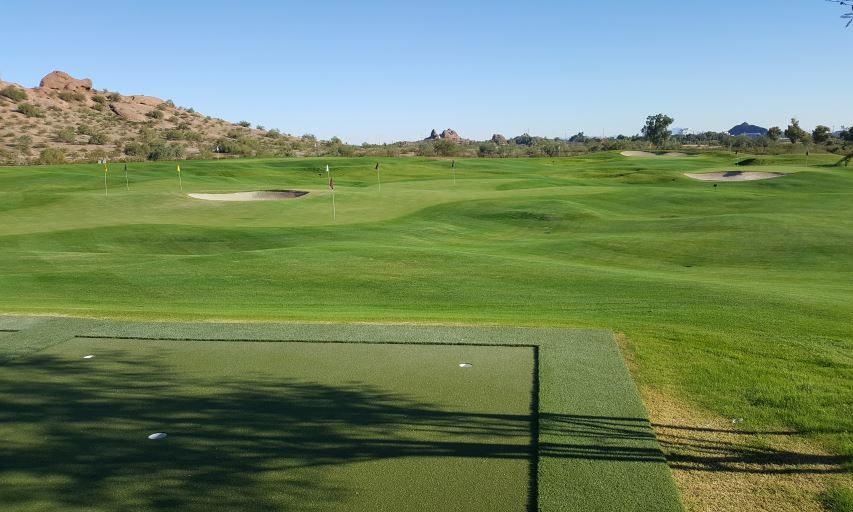 ASU Training Centre
The course is also home to the Arizona State University golf team whose members have a state-of-the-art facility to practice on. It was designed in part by ASU alum Phil Mickelson with all the bells and whistles to help these young men and women hone their game.
Next up for our tournament was Wickenburg Ranch which is a good hour drive from where we were based but it was certainly worth the hike.
This 18-hole par 71 plays from 4.500 to over 7,000 yards and it is spread out over your typical desert landscape with views of Vulture Peak and Prescott National Forest. One of the interesting numbers with Wickenburg Ranch is 6-5-7, as in six par 3's, five par 5's and seven par 4's. Now before you get ahead of yourself by thinking all those par 3's will translate into a lower score, pump the brakes on that thought!
We played #13 Big Water from 193 yards out and while the green is generous, the water dominates your thoughts and swallows a few golf balls I would imagine (yep, I donated on that hole). Then you have the uphill par 5 #9 aptly named Big Hill as a Sherpa would come in handy to assist you if you walk this monster which is over five hundred yards from any tee box except the forward reds. This is not your father's gentle incline.
Wickenburg also boasts a great facility which grows the game of golf called Li'l Wick. This 9-hole par 3 course is ideal for beginners who can take their time hitting shots while listening to music coming from the Watering Hole. If you take too much time (which is fine on this track) you need not worry as four holes can be played under the lights.
We were treated to a scrumptious cowboy cookout with the brisket as the highlight of the night for me, although the smores construction station got visited more than once.
Our final stop on the tour was an old course made to feel new - The Phonecian. The course was shut down for about ten months to allow architect Phil Smith to work on taking a 27-hole layout and paring it down an 18-hole track.
The previous fairway corridors were maintained in order to reroute the course which provides ample space for those of us who tend to stray a tad left or right off the tee. Some fairways had some work done to them along with greens being rebuilt and resurfaced. In all The Phonecian reduced its turf number by 45 acres which makes for better water conservation.
Smith made a point of explaining about how you will not get a nasty surprise making your way around the course. He said everything is in front of the player with no blind hazards or bunkers hidden from view.  Four tee boxes allow for play ranging from almost 4,600 yards to just over 6,500 yards. The result is a fair test of your game on a track which allows resort guests to get around in enough time to be able to take in all the other amenities The Phonecian offers.
Of course, we were treated to another superb feast at the end of the day whipped up by the staff. Even if your golf game was not up to par the food most certainly was.
It was a fitting end to a perfect blend of golf, food, beverages and people. I recommend you try it out for yourself.