PGA of BC Names Top 100 Professionals
Details

Category: Inside Golf
Published: 2019-01-09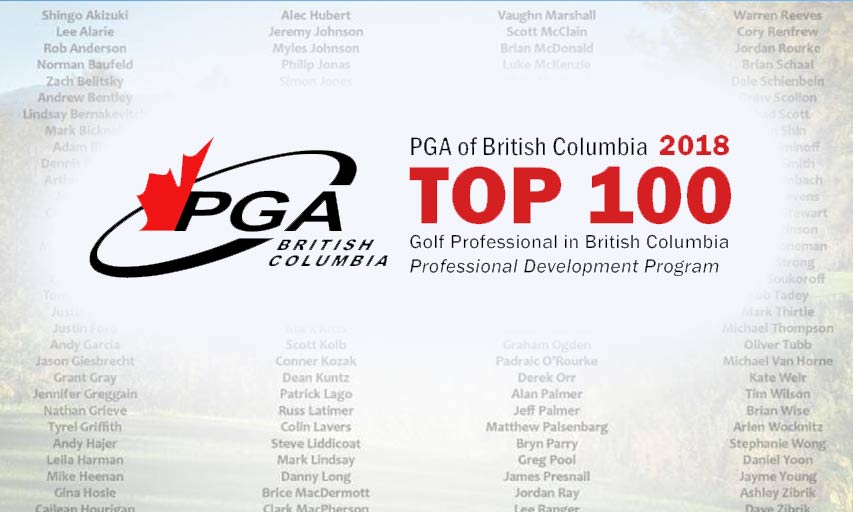 The PGA of BC has announced its Top 100 Golf Professionals of 2018 based on their Professional Development Program (PDP) presented by Sunice and Bobby Jones.
The Professional Development Program (PDP) is an annual Order of Merit designed to recognize PGA of BC members who make outstanding contributions to the Association, their communities, the province's golf industry and, most importantly, themselves. Through participation in continuing education, competitions, the PGA of BC Awards Program, annual Buying Show and various forms of volunteerism, the PDP provides an equal avenue to showcase strengths of the diverse membership.
"Sunice and Bobby Jones proudly support the Professional Development Program, as we feel it is important to acknowledge individuals working to elevate the overall profile of PGA of BC Professionals and who are actively involved in service to the Association," said Stephen Graham, British Columbia sales representative for Sunice and Bobby Jones.
"The Top 100 Golf Professionals of 2018 are once again an impressive group of individuals demonstrating key qualities such as leadership, professionalism, and dedication to their craft."
Thanks in large part to the support of Sunice and Bobby Jones, a total bursary purse of $6,400 will be divided among those finishing among the top 10, providing financial opportunity to pursue further professional development and education. The PGA of BC is pleased to announce that Sunice and Bobby Jones have committed to continuing as presenting sponsor of the Professional Development Program in 2019.
Matthew Palsenbarg from The Tour LAB @ Northview was the top finisher of the 2018 PDP Order of Merit and you can see that story HERE
Also click HERE to view the final standings for 2018.