Ziemer's B.C. Golf Notes: Allenby Heads to Point Grey on a Roll; UBC, UVic Men at NAIA Nationals; Hadwin Records Top-30 Finish at PGA
Details

Category: Inside Golf
Published: 2019-05-22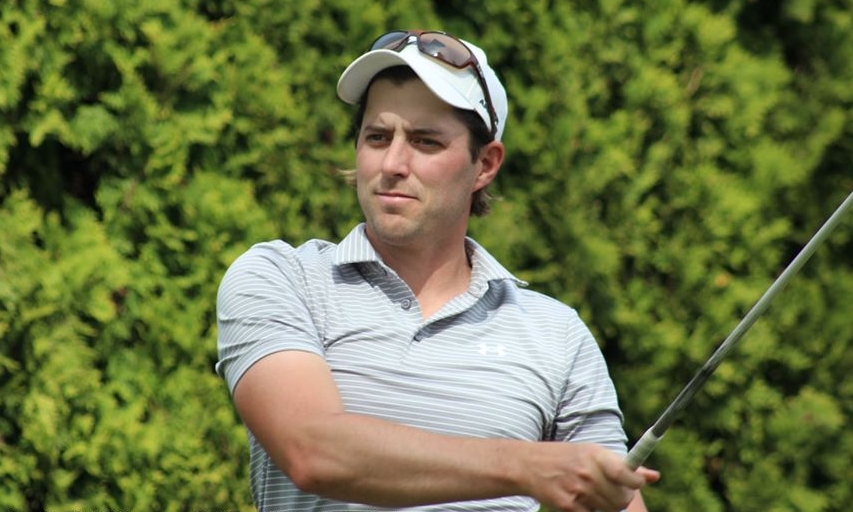 By BRAD ZIEMER, British Columbia Golf
James Allenby's last four competitive rounds of golf have been nothing short of amazing. He now hopes he's got four more of the same for this week's Canada Life Open at Point Grey Golf & Country Club.
The Langley resident has a sponsor's exemption into the season-opening event on the PGA Tour Canada-Mackenzie Tour circuit and to say he is on something of a roll would be an understatement.
Here is a summary of Allenby's last four competitive rounds:
He fired a seven-under 65 to win a RBC Canadian Open regional qualifier at Kings Links in Delta
He followed that up with a 10-under 61 to win a one-day Vancouver Golf Tour event at Mission Golf Club
Allenby then fired a nine-under 63 at Sandpiper Golf Club and an 11-under 61 at Chilliwack Golf Club to win the VGT Players' Championship, where he earned a cheque for $2,200
Add it all up and Allenby is 37-under par in his last four rounds
Allenby has no status on the Mackenzie Tour so he'd love a top-20 finish this week, which would get him into the tour's Victoria event the following week. The $200,000 Canada Life Open starts Thursday at Point Grey.
WANG ON POINT: The Vancouver Golf Tour is awarded one exemption into the Canada Life Open off of its Order of Merit and this year's spot goes to Li Wang of Sahalee Golf Club near Seattle. "He travels two-and-a-half hours every event to play," says VGT commissioner Fraser Mulholland. "He even played 12 events on our winter tour. He will represent our tour well." Wang finished in a four-way tie for third place at the VGT Players' Championship at 13-under par.
NICE PERK: The winner of the Canada Life Open and next week's Bayview Place DCBank Open at Uplands Golf Club in Victoria will earn an exemption into the RBC Canadian Open, which is being played June 6-9 at Hamilton Golf & Country Club.
OFF TO NATIONALS: The University of B.C. and the University of Victoria both have spots in this week's NAIA Men's National golf championship tourney at Las Sendas Golf Course in Mesa, Ariz. UBC enters the event seeded 12th overall, while Victoria is seeded No. 17.
UBC coach Chris Macdonald hopes his men's team can follow in the footsteps of the UBC women, who last week won their NAIA National Championship tourney in Oklahoma City. "I tease our guys, I call them the desert dogs because they have played well every time we have gone to the desert," Macdonald said. "They just seem to love the desert air, so I am pretty excited they are having that tournament in the Phoenix area. "I don't want to get ahead of myself, but I am pretty excited about their chance to play well there." The 72-hole event runs Tuesday through Friday.
IN THE BLACK: After missing the cut in his first two appearances at the PGA Championship, Adam Hadwin played all four rounds at Bethpage Black. Hadwin fired weekend rounds of 70 and 73 to finish at five-over par and tied for 29th. That is Hadwin's second best finish at a major. He tied for 24th in his lone Masters appearance in 2018. Hadwin is taking this week off, but fellow British Columbians Nick Taylor and Roger Sloan are both in the field for the Charles Schwab Challenge at Colonial Country Club in Fort Worth, Tex.
TITLE DEFENCE: British Columbia will look to defend its title at the 33rd North Pacific Junior Ladies Team Matches, which will be played May 25-26 at Quilchena Golf Club in Richmond. Modeled after the Curtis Cup matches for amateur women, the North Pacific Junior Ladies Team matches feature six-player teams from British Columbia, Washington, Oregon and Idaho. 
All competition is match play with the front nine being worth one point, the back nine one point and the 18 being worth one point. Six four-ball matches will be played on Saturday with six four-some (alternate shot) matches played Sunday.

B.C. Will Be Represented By (Clockwise From Top Left) Chaewon Baek Of Langley, Euna Han OfCoquitlam, Angela Zhang Of Vancouver, Tiffany Kong Of Vancouver, Lauren Kim Of Surrey, And Angel Lin Of Surrey (Photo/BC Golf, File).
At last year's matches played at Rock Creek Country Club in Portland, B.C. edged Washington by half a point, finishing the competition with 11.5 points.
SHELTON SIZZLES: It has been quite the three weeks for Robby Shelton, who won the 2017 GolfBC Championship at Gallagher's Canyon in Kelowna. Shelton on Sunday won the Knoxville Open for his second Web.com Tour victory in the last three weeks. The Alabama native now leads the Web.com Tour points list and has clinched a place on next year's PGA TOUR.
Dan McCarthy, the 2016 GolfBC champion, also won on the Web.com Tour this year and is also PGA TOUR bound. West Vancouver's Seann Harlingten tied for 57th place at the Knoxville Open. Harlingten is in the Canada Life Open field this week at Point Grey.
TOP 20 IN CHINA: Vancouver's Stuart Macdonald tied for 16th at the Qinhuandao Championship on the PGA Tour China circuit on Sunday. Macdonald finished at nine-under par, nine shots behind winner Luke Kwon of the United States. Myles Creighton of Digby, N.S., finished one shot back in second place. North Vancouver's Eugene Wong tied for 53rd at one-over par.