Medicine Hat and Area Rich in Golf Courses
Details

Category: Inside Golf
Published: 2019-06-10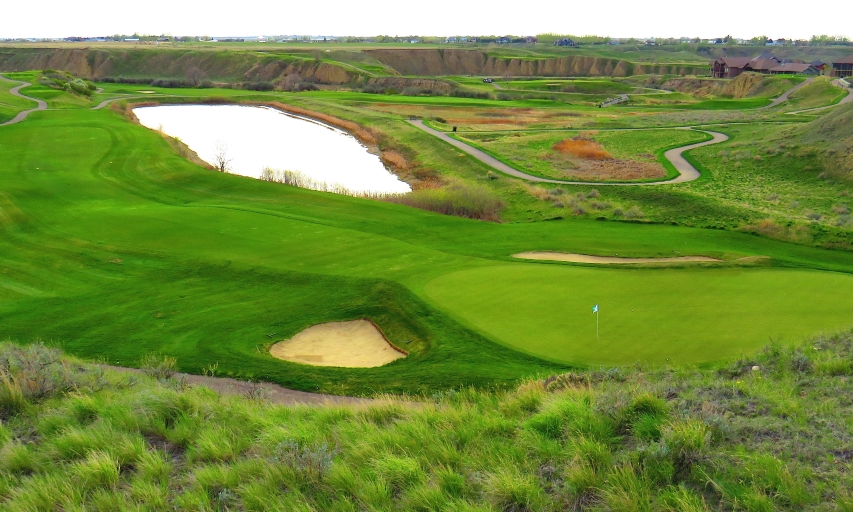 By GORD MONTGOMERY, Inside Golf
The city of Medicine Hat is referred to as Gas City but it could really be called 'Golf Central.' After all, there are six golf courses serving a population of around 65,000 in this southern Alberta locale, so getting a tee time isn't all that tough.
What this smorgasbord of tracks has to offer is everything from roast beef to shrimp ... uh, make that a par-3 course to executive length layouts to a massive, links style playground ... meaning there is something to please everyone's taste here in this pretty little community.
---
Paradise Valley
Set down in the coulees that meander through this area, this little par-3 design offers up the opportunity for one and all to sharpen their short game prowess. With holes ranging anywhere from 87 yards up to 177, there's the opportunity to use every high-numbered iron in your bag, as well as the occasional lower-numbered ones.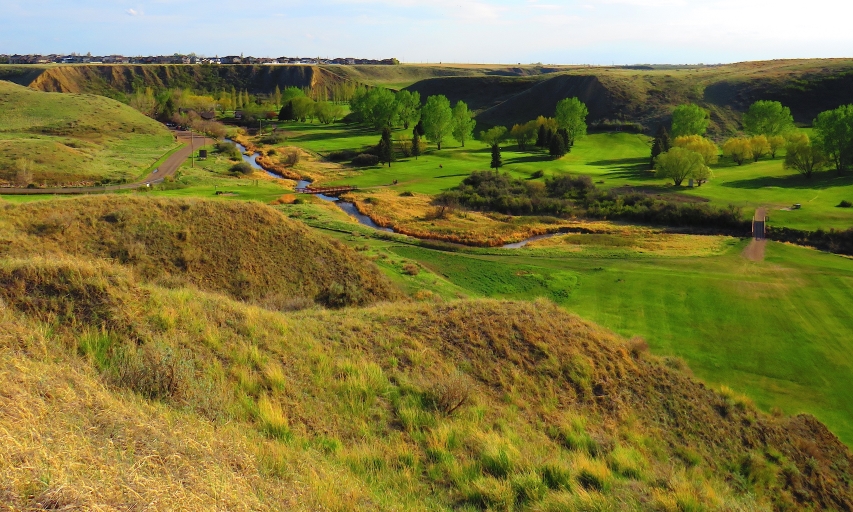 From High Above, The Par-3 Paradise Valley Golf Club Offers A Stunning Visual Against The Backdrop Of The Southern Alberta Coulees. (Photo/Gord Montgomery)
The fairways are wide here, and the greens are of a good size, so hunting for that elusive "1" on your scorecard is a possibility on all of the 18 holes over the 2,500-yard layout. This is a course that is walkable and that's Rule No. 1 here, unless you are classed as a senior or have a disability.
Noting this course is for everyone, manager Kim Bronson said, "We have a lot of seniors that play here, plus families with young kids who are looking at having the kids grow up into the bigger courses. We're a friendly, fun course."
For more on this fun little course, go to ParadiseValleyPar3.com.
---
Cottonwood Coulee Golf Course
Over its 18 holes, this little beauty offers players a wide variety of interesting shots and views, especially if you play off the back tees. As an executive length layout, Cottonwood Coulee isn't going to test you with long par-4 holes and daunting par 5s, but it still tests your skills with every club.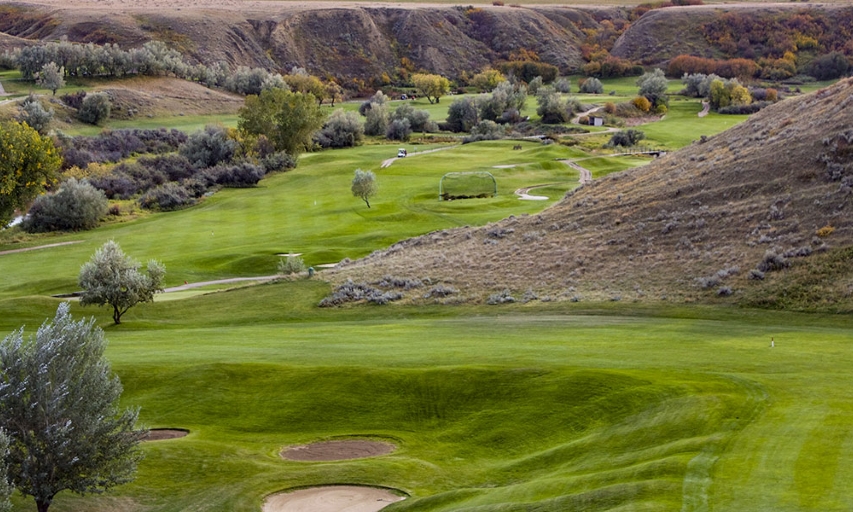 (Photo/Cottonwood Coulee Golf Course)
"Our course is a little shorter than most ... about 5,000 yards," said manager Mac Baker, "but there is lots of challenge."
While a short course doesn't sound like much of a test, that's not the case here. In fact, if players try to let loose with their tee shot on many holes, there is lots of protection scattered about in the form of trees and water. There are also a number of elevated tee shots, some stunningly dramatic, that can add to your score in a hurry if enough care isn't given to what you're doing.
"There are a number of holes that have big drops," understated Baker. "Our signature hole, No. 12, is (153-yards) over water and offers a lot of challenge. At our big tournament last year with 120 players, all pretty good golfers, only four of them hit the green," due to the hole's difficulty magnified by strong winds.
For more, go to CottonwoodCoulee.golf.
---
Riverview Golf Club
While this 18-hole combination sits outside of Medicine Hat proper, it isn't all that far out of town and is worth the short drive to get there. Situated on the bluffs high above the South Saskatchewan River, don't be surprised by the wind that may buffet your ball or if you see the occasional foursome of deer wandering around enjoying the lush grasses to the sides of the fairways.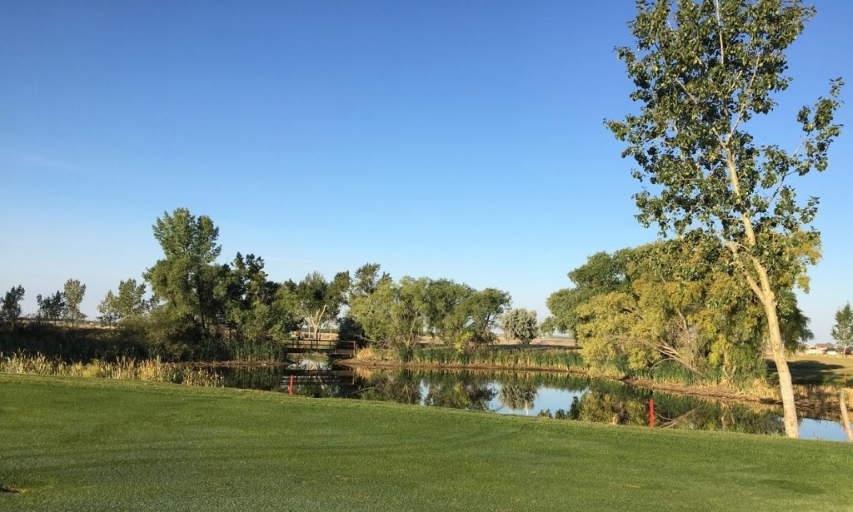 (Photo/Riverview Golf Club)
General Manager Doug Braithwaite noted the course that went through a rough time a while back is now on solid ground again and looking forward to hosting everyone from juniors to seniors.
"One of our biggest assets here is we want people to come out and have a very player-friendly golf course and that's exactly what we have here," he began. "We're always interested in getting new people out to our golf course and we love to see different people come out, from all across Canada."
Riverview offers a variety of different pricing structures to entice people to make the short drive out there, including a special Military Rate. Among other benefits are letting kids under 16 play for free during the 2019 golf season.
In speaking to how his course plays, with "strategically planted trees," Braithwaite noted, "You have to put your tee shots in good places," on some of the holes, "but other than that, it's wide open. And, we have one of the best sets of greens around here, around Medicine Hat."
For more on this course, go to GolfRiverview.com.
---
Connaught Golf Club
Set right in the heart of the city, this is one of the oldest courses in this part of the province. Yet, Connaught can stand up to the best players of today simply because of its elegant, age-old design of inviting fairways but tricky greens.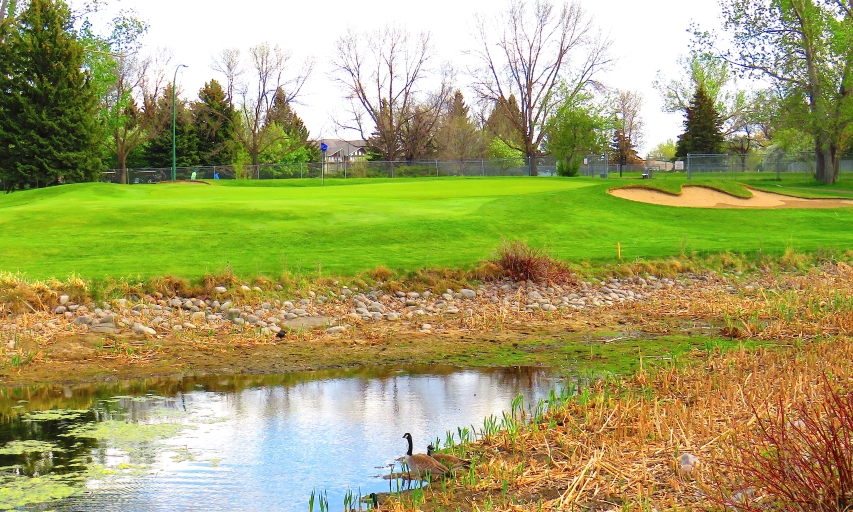 Although It's Set Right In The City, The Connaught Golf Club Serves Up Some Interesting Natural Areas, Including This Pond Area That Comes Into Play On The 4th Hole. (Photo/Gord Montgomery)
Executive professional Trevor Ellerman said his course is of a classic design that many golfers still hold dear to their hearts these days.
"It's a traditional parkland course, lots of trees, a few forced carries over water. It's actually quite scenic once you're in the confines of the golf course."
While Connaught sits within a residential area, the pro noted that isn't something that should scare off the average golfer. "For the most part, it's safe," he commented about the homes being set well back from fairways and greens.
Interestingly enough, while wind can be a factor on any of the courses here, it doesn't appear to be a large problem at his layout, Ellerman explained. "Here with the wind, you don't notice it too much because the trees give you a lot of protection. There are probably three of four holes on the golf course that you'll notice the wind but for the rest of the time, it's up there," and while not noticeable at ground level, it can play havoc with your shot while its airborne.
For more on this course, go to ConnaughtGolf.com.
---
Medicine Hat Golf & Country Club
As the oldest course in the community, the Country Club has set the standard for the other five courses in the city to live up to. While its fairways are wide, and inviting, if you wander even a little bit from your intended line here, you'll find yourself immersed in old growth trees. From there, often the only play is to take your punishment and chip out to the short grass to continue your journey toward the green.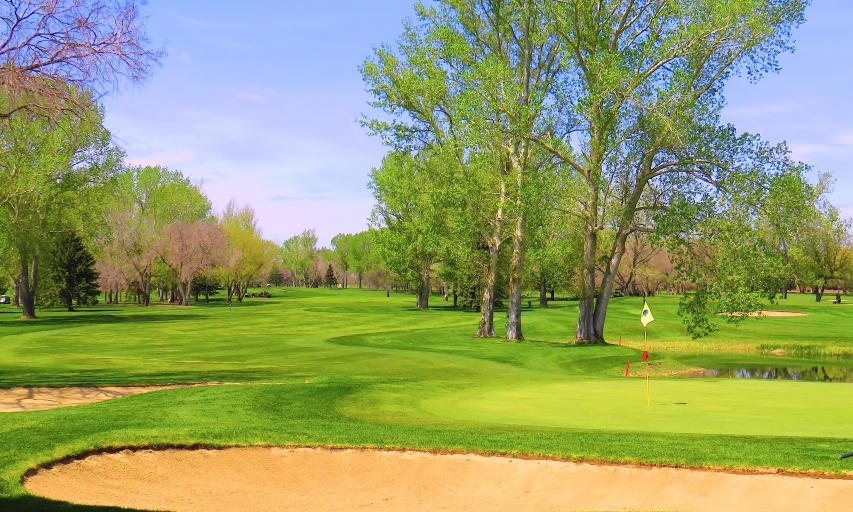 The Medicine Hat Golf & CC Offers Up An Old-Style Of Layout With Mature Trees Bordering Almost Every Fairway Over Its 18 Holes. (Photo/Gord Montgomery)
"There are lots of trees out there. It's a real mature, country-club kind of layout," said general manager Cam Jacques.
The one thing about his track, Jacques continued, is that it's "golf course, wall to wall," meaning there aren't any issues with finding your ball and hitting it again, unless of course it ends up in a water hazard. "You can play 18 holes here in three and a half hours, three hours and 45 minutes."
In closing, the GM noted while this course isn't long by today's standards, it still offers a good challenge. He explained that the National Junior Boys Championship was held there recently, and after play was concluded, the winning score was 1-under-par, meaning that a course doesn't have to be long, or young either, to stand up to today's game.
For more on this course, go to MedicineHatGolf.com.
---
Desert Blume Golf Course
As the newest course in this area, Desert Blume often offers up all anyone wants, needs, or can handle over 18 holes. Located in the coulees, and often swept by wind, Desert Blume is a links-style layout that has a bit of everything spread out over its 6,900 yards.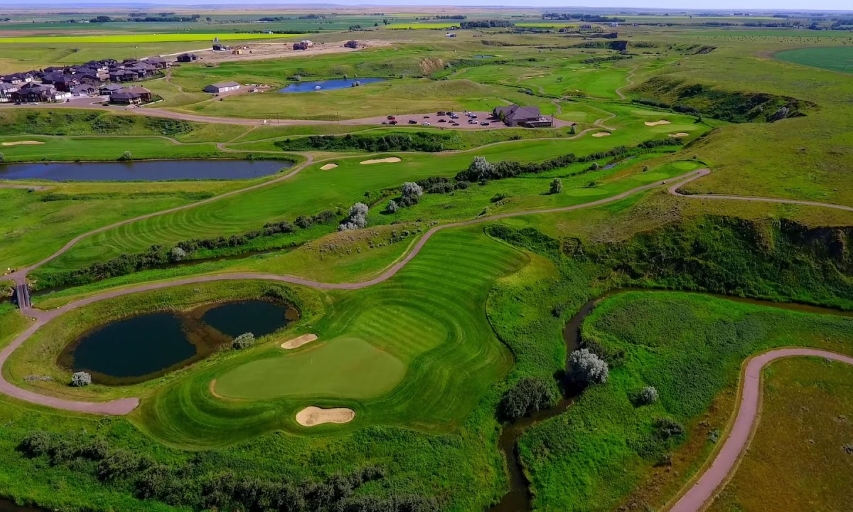 (Photo/Desert Blume Golf Course)
This is one track you want to definitely make sure you get on the right tee box because if you don't, it can be a very long, trying day. When you start from the right launching pad though, you're in for a treat. Bill Bishop, the GM at the course, said that the course's difficulty is sometimes overstated and thus this track shouldn't be overlooked.
"With the prevailing wind here, and if you're not playing the correct tees, the forced carries (on some holes) can be way, way too much," he agreed. "If you play the right tees, it's very playable."
As a links style of layout, what a player can do when they come up 15 or 20 yards short of the green is a testament to that sort of game — simply pull your putter out and scoot the ball up toward the flag rather than hitting those tough chip shots.
"That's huge. With that wind blowing, and the greens are elevated a little bit, when you can keep the ball down and get it rolling, it's that much easier," the GM agreed
Of course, "easier" is a state of mind but when you're in Medicine Hat you'll definitely want to see how your game stacks up on this layout, one of those that's earned the title of "Must Play."
Fore more on this course, go to DesertBlume.com.
---
Where to Stay
Medicine Hat Accommodation Association has worked out two great Stay and Play packages with the six courses above, and those come in two different levels: The Championship Golf Package with golf at Desert Blume, the Country Club or Connaught and the Executive Golf Package, with play at Cottonwood Coulee, Riverview or Paradise Valley.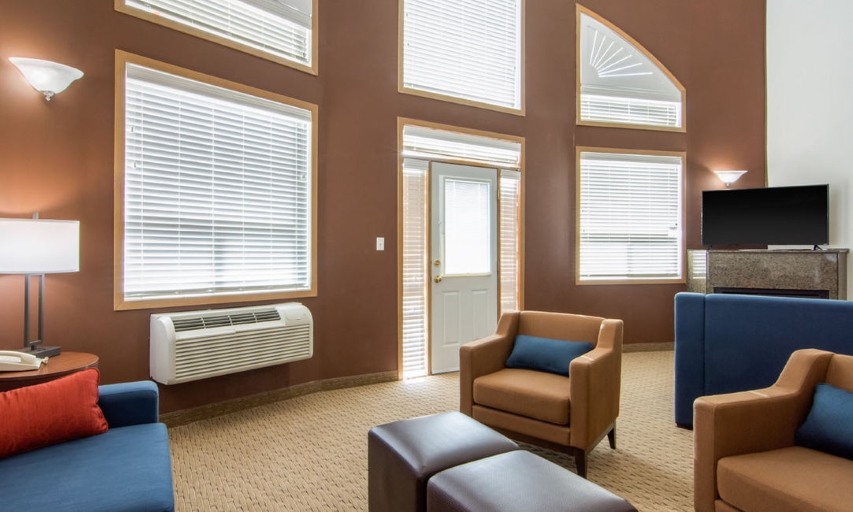 The Honeymoon Suite Has Everything You'll Need For A Memorable Getaway. This Spacious Loft-Style Guestroom Provides Just The Right Ambiance, And Features A King-Size Pillow-Top Bed, Heart-Shaped Jetted Tub, Fireplace, Balcony, And 1.5 Bathrooms. (Photo/Comfort Inn & Suites)
We stayed at the Comfort Inn & Suites, and were more than pleased with the accommodation and the free, daily breakfast. Our room, a queen suite in this case, was clean, comfortable and included a fireplace and jacuzzi tub for relaxing after a gruelling day on one, or two, of the above courses (we played all six, by the way, and enjoyed them all).
Speaking to her hotel, the Comfort Inn & Suites, and what it has to offer General Manager Carrie Bruce said, "We're a newly renovated, Gold-Award winning property. We take part in a wonderful golf package, where (green fees and a room) are cheaper together than purchasing them separately, on your own. We have 100 rooms, from basic single queens and kings, to King Suites and a King Jacuzzi suite and we have one room that's actually a two-level Honeymoon Suite."
As for their location in the city, it's a tough one to beat. They are situated beside the Trans-Canada Highway and are within 15 minutes, at most, to any of the six local golf courses. On top of that, Tim Hortons is one of their next-door neighbours with a Perkins restaurant the other. The Medicine Hat Mall is at the rear of the hotel, about a three-minute walk. "Everything is within walking distance here," said Bruce.
The staff at the Comfort Inn & Suites is second to none when it comes to service but Bruce noted, "They do take training, but honestly, customer service just comes naturally to the staff we have here. They treat you like you're at home here!"
For more on the Comfort Inn & Suites, go to ComfortInnMedicineHat.com.
These Stay and Play packages include two 18-hole rounds of golf plus a standard hotel room (although I recommend a suite if you're staying for a few days). For more trip planning tips, visit TourismMedicineHat.com. 
---
About the Writer
Gord Montgomery is a member in good standing of the Golf Journalists Association of Canada. He is now in his 10th year of writing for Inside Golf. He can be reached at This email address is being protected from spambots. You need JavaScript enabled to view it.. He's also on Twitter at @gordinsidegolf and on Instagram at gordinsidegolf2.