Helijet & Nanaimo Golf Club Team Up For One-Day Golf Getaways
Details

Category: Inside Golf
Published: 2019-06-18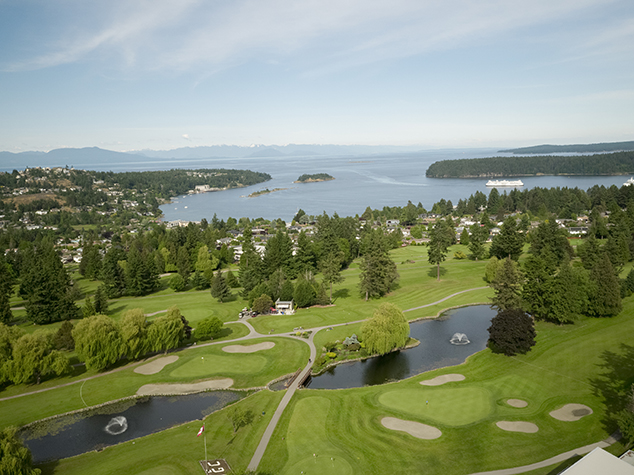 The Nanaimo Golf Club Is A Hidden Gem Designed By A.V. Macan And Will Celebrate Its 100th Birthday Next Year - All Images Courtesy Nanaimo GC/Helijet
By Brad Ziemer, British Columbia Golf
I told my wife it was going to be a tough day at the office, but she wasn't buying it. She knew I was golfing. Again. And she knew this little one-day golf getaway was going to be different from all of the others.
After all, I was travelling in style. My day began at Helijet's Vancouver Harbour terminal, where I boarded the 8:40 a.m. flight to Nanaimo. Did I mention the sun was shining? As luck would have it, it was one of those picture-postcard kind of days when we West Coasters really appreciate where we live.
The views were outstanding as our chopper flew low over the Lions Gate Bridge and out over the Strait of Georgia. Not even a couple of double-bogeys were going to spoil this day.
Just 18 minutes later -- yes 18 minutes -- we set down at Helijet's terminal at the Nanaimo harbour. I was shuttled for the 10-minute trip to Nanaimo Golf Club, where my real work for the day was to begin.
I have been fortunate to play a lot of golf all over British Columbia, which is blessed with so many good courses. I had never played Nanaimo. Like many others, I suspect, I had driven by it a million times on my way to other parts of the Island but never stopped to play.
Now I know what I had been missing. Nanaimo Golf Club truly is one of B.C.'s hidden gems. "A lot of people really don't know Nanaimo Golf Club and it is kind of sad because it is such a beautiful golf course," says general manager Ryan Woods. "I think a lot of it was due to Nanaimo itself. Nanaimo was always a place you drove through, not to. But that is changing."
It was Woods and Scott Speakman, Helijet's manager of sales and community relations in Nanaimo, who hatched a plan to bring golfers from the Vancouver area to Nanaimo Golf Club. The course has an active membership of about 600 players, but welcomes green fee play. Woods wants to get the word out about the club, which will be celebrating its 100th anniversary next year.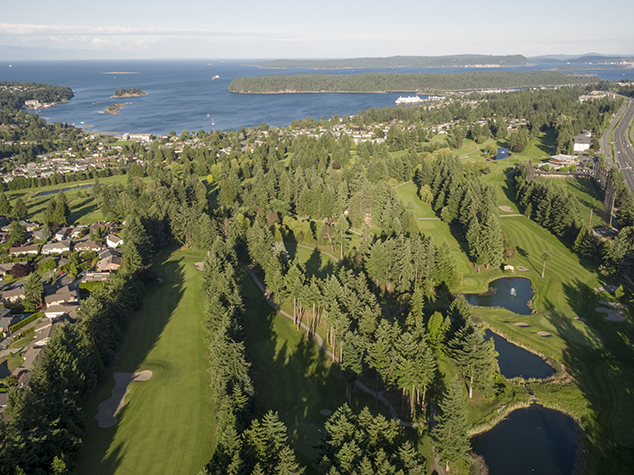 Nanaimo GC Offers Some Great Views Of Departure Bay
"We are trying to be innovative right now, just trying to create a buzz and put that social vibe back into the golf course," he said. The first thing you need to know about Nanaimo GC is that it was created by legendary designer A.V. Macan, who did so much good work in the Pacific Northwest area. The course sits on a beautiful piece of property and offers some outstanding views of Departure Bay, where golfers see the ferries heading in and out.
The course has five sets of tees ranging from 4,940 to 6,667 yards and plays as a par 72. Although its fairways are predominantly tree-lined, it is eminently playable. "It's a very walkable, very playable golf course," says head professional Chris Wilson. "There is no real distance from green to tee, there's a little bit of a side slope on the back nine, but I don't think most people notice it too much. The key to playing well here is keeping the ball in play and being up around the green to give yourself an opportunity to putt for par."
Speaking of playability, despite a couple of wayward drives I managed to play my entire round with just one ball, which I can assure you is not normal for a guy struggling to maintain his 15 handicap. Some of British Columbia's best amateur golfers will gather at Nanaimo Golf Club for this year's B.C. Women's Amateur Championship, which goes July 9-12.
They will discover, probably much more quickly than I, the importance of placing your ball on the right spots of the greens. The putting surfaces are fast and there is considerable slope on some of the greens, particularly on the back nine.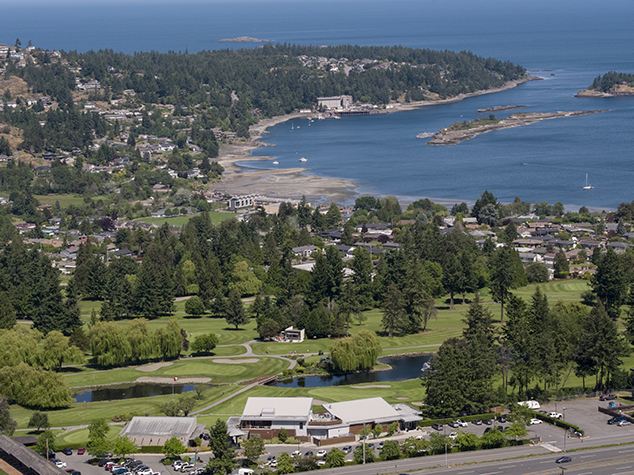 Aside From The Views Nanaimo GC Is Well Known For Its Outstanding Course Conditioning
Nanaimo is renowned for its great course conditioning, thanks in no small part to the work of superintendent Garth Sjolie, who has been at the course for 31 years, and his crew. Back in 2013, Nanaimo opened a new clubhouse, which includes a patio that is a popular 19th hole stop where players can soak up more of those great views.
Woods and Helijet's Speakman have just put this package together and don't really know what to expect. It will cost about $325 all-in, which includes Helijet flights from Vancouver and back, a round of golf with power cart, lunch and shuttle service between the Nanaimo Helijet terminal and the golf course. 
Woods and Speakman said it's possible that packages could be expanded to include other Island courses. "The market will dictate what it is," Woods said. "Right now we want to say, hey, you can get out of the city for seven hours, fly over, play golf, have lunch and be back in the city by 5 o'clock."
Woods, who joined Nanaimo recently after a stint at Shaughnessy Golf Club in Vancouver, has been talking with some of his Vancouver friends about the package. "I was over at Shaughnessy and Point Grey speaking with some of the members and said, get out of the city for a the day, and they were like, that sounds fantastic.
"Eventually, we are hoping to do the full loop as this kind of evolves. People will be able to fly into Nanaimo, golf here and then head south and maybe pick up two or three days at Bear Mountain or Royal Colwood and fly back to the same heliport. We don't know yet. It depends on how popular it is. I think it has endless possibilities."