PGA TOUR Wives Pitch In To Help Neighbors Loving Neighbors
Details

Category: Inside Golf
Published: 2017-07-10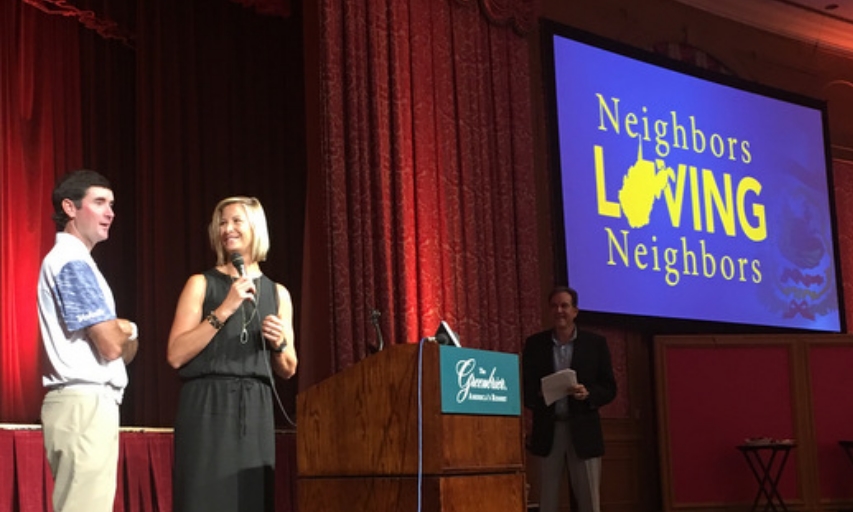 WHITE SULPHUR SPRINGS, West Virginia (Dave Senko/PGA TOUR) — When The Greenbrier Classic gets underway, it will be a celebration of sorts for the thousands of residents of White Sulphur Springs, Greenbrier County and the great state of West Virginia.
It was just over a year ago, June 23 to be exact, and just days before the 2016 event, that a devastating flood roared through the area with deadly consequences. Nearly two dozen area residents died, homes were destroyed and hundreds of residents were displaced when nearly 10 inches of rain in less than a day battered the area. White Sulphur Springs, home of The Greenbrier Resort, was the hardest-hit area in the state.
Out of this tragedy came a campaign called Neighbors Loving Neighbors. The original plan of the campaign was to have fans bring a can of food or donate to those in need in exchange for a daily ticket during tournament week. However, the flood changed everything.    
On Tuesday, more than a hundred people who played a role in the recovery efforts or were touched by the tragedy heard many feel-good stories from many of those people, including Bubba and Angie Watson, CBS sportscaster Jim Nantz and Major General James A. Hoyer, head of the West Virginia National Guard.  During the luncheon, the PGA TOUR Wives Association donated $5,000 to the Neighbors Loving Neighbors campaign.
The Watsons witnessed the flooding first hand. The couple have a house in White Sulphur Springs and were at home when the flash floods struck. What they saw had an impact on the couple, married since 2004.
"It was just overwhelming for me, as a golfer, and everybody else," Bubba Watson recalled. "It just happened so fast. When [the rain] started I thought, Hey, it's just a thunderstorm, and it will be over in 45 minutes. It wasn't like a major disaster was coming, or we didn't think one was coming. But it quickly changed."
Spurred to act, the Watsons, like many others, immediately sprang into action.
The next day Bubba was in The Greenbrier owner Jim Justice's office along with first responders, members of the West Virginia National Guard and volunteers. It was through everyone's effort that many lives were saved and some semblance of order was restored.
This week's tournament will be a testament to the hard work and resiliency of the residents of this area that helped spur the amazing comeback from the devastation from a year earlier. 
"You know, it's weird to say, but this is a celebration. This is a celebration of some hard-working people of the state of West Virginia and now Governor Jim Justice," Watson said. "What a privilege and an honor to say I have a home here. This is my summer home, and my kids are going to grow up here and be a part of it. The dedication and drive the people had, to come from nothing after that storm, and still survive and rebuild, what could be better. It's neighbors loving neighbors; that's what the true definition we should all be doing. Not just in West Virginia, but everywhere in the world. We should love all people and help all people."
Nantz, the long-time voice of CBS Sports, was also touched by the story.
"This is going to be a weekend that is much bigger than a golf tournament. This is a story that has a huge heartbeat to it," Nantz said. "It's about a community rallying together to help one another. It's really an American success story about the rebuilding of an area, about neighbors coming together and how this great charity has helped out in so many different ways. This is what America was built on, people helping others."