#TeeTalksLive Update
Details

Category: Inside Golf
Published: 2019-09-18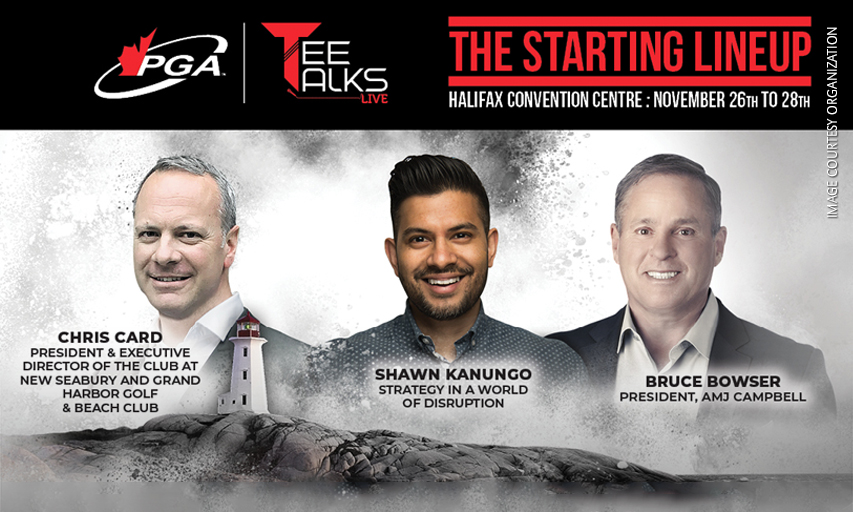 By PGA OF CANADA
The third annual multi-day professional development conference takes place November 26-28, 2019, at the Halifax Convention Centre, with the host hotel at the Prince George.
Building on a successful 2018 campaign, this year's conference promises to include more networking opportunities, more interaction and more great speakers.
PGA of Canada Members and Apprentice Professionals can take advantage of exclusive early-bird pricing (which ends September 30) of:
$350 for Class "A" Members
$200 for Apprentice Professionals
Once early-bird pricing closes, regular pricing (through November 15) kicks into effect, which is:
$500 for Class "A" Members
$300 for Apprentice Professionals
Both PGA of Canada Members and Apprentice Professionals can take advantage of an amazing room rate of $139/night at the Prince George Hotel. This savings of $70/night is available until October 24th. To book your accommodation, click here.
Golf Away Tours will once again be on hand at this year's conference in Halifax as presenting sponsor for one of two cocktail events on hand at Tee Talks Live. To view all of our sponsors this year, please click here.
Interested in what the three-day conference looks like? To check out the schedule, click here.
PGA of Canada member and renowned magician Trevor Moore will emcee this year's conference with a star studded line-up of speakers such as of Bruce Bowser and Shawn Kanungo. Recently, Steve Graves, Tracey Moffatt and Tim Brennan have all been added as speakers. To view a full list of speakers, click here.
For more information about this year's amazing Tee Talks Live, click here.