Heffernan Lays Another Golf Ghost To Rest With National Victory
Details

Category: Inside Golf
Published: 2019-09-22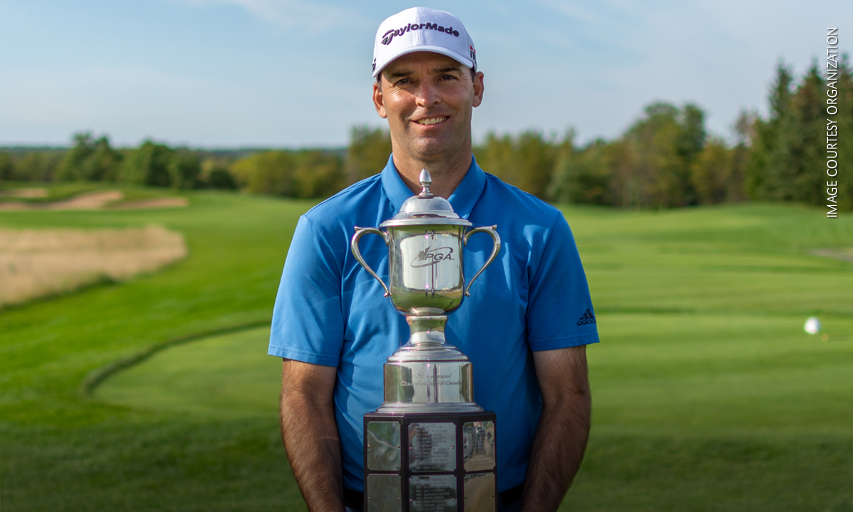 BY GORD MONTGOMERY, Inside Golf
TORONTO, Ontario — There's no stopping a guy on a roll. Or in Wes Heffernan's case, a guy on a mission.
That was the season-ending story for Heffernan, as he put another notch in his belt by taking the title at the PGA of Canada's Assistants' Championship, played at TPC Toronto at Osprey Valley.
As he likes to do, the Calgary teaching pro came from behind on the final day of the 54-hole event to pick up the win, surprisingly his first-ever national title of any kind.
Heffernan, 42, from the Dynamic Motion Golf Performance Centre and one of the really good guys in the golf industry, trailed by two strokes entering the final round, a spot he admits he likes to be in.
He tied things up after the first nine holes and then did what he needed to finish the event at minus-19, thanks in large part to the last day's 8-under score.
That included five birdies on the home stretch, something he had to do to keep pace with, and pass, both Oliver Tubb
(B.C.) and Yohan Benson (Que).
Interestingly enough, the champ arrived at the host site after the official practice round, but along with buddy Riley Fleming, took a quick 18-hole tour of the Doug Carrick design.
That, Heffernan said, didn't play havoc with his game plan at all.
And, he was going in with confidence.
"I haven't actually played well in any of these championships," with his top finish being seventh last year in Calgary, "so it was kind of nice to go in with some confidence," he noted in relation to winning the PGA of Alberta's Fall Championship recently.
"I knew the course was pretty wide," he said of all the info he had going in.
"Riley and I showed up, went out, and were the only two players on the course. Riley smoked me in the practice
round! Maybe to a fault, I don't put too much on practice rounds. I just kind of check where not to hit, where they might put the pins and that's about it rather than spend six hours out there. The idea with a practice round these days is go out, have some fun, and get a feel for the golf course."
As it turns out, he had the feel alright. Heffernan toured the course he'd never seen before the Monday jaunt about as perfectly as possible.
Over the 54 holes he didn't make one single bogey with rounds of 66-67-64 (197) on the par-72 venue to win by three.
"I was never in trouble off the tee and fairways were really wide so that just set me up on every single hole where I was just hitting wedges all week. My second round wasn't great on the final nine, so for the final I just wanted to make sure I was hitting it pretty close. I made one long putt on 12, after hitting it into a thick lie. The rest of the round I was pretty close."
Tied after nine in the final round, things took a turn on the 10th hole when Heffernan made a 20-foot birdie putt while Tubb and Benson each settled for par. From there, the Calgarian stepped on the gas to put the title in his pocket.
Even when you've played as much golf, and as much good golf as this guy has, there's always something that happens for the first time.
This time out, it was that non-bogey trail the winner found himself following.
"I don't think I've ever been bogey-free," for a three-round tourney, he noted.
"Usually at some point I'll 3-putt but I've been putting a lot better over the last six weeks. It was nice to be putting for birdies a lot of the time and not having to worry about making par putts."
As to finally putting his name on a national golf title, Heffernan said this definitely ranked up there in all the things he's accomplished during his career.
"I've never won anything on that national scale. I've won things like the Alberta Open and some other events that definitely mean a lot to me but those were in Alberta," and mainly against provincial foes.
"I haven't won outside Alberta since 2008 on the McKenzie Tour, so that means a lot to win something this big. And, there's a lot of cool names on that trophy, so it means a lot, for sure."
For the win Heffernan earned $9,000 while runner-up Benson earned $5,500 and Tubb, who placed third got $3,715. Riley Fleming (National Golf Academy Dome), also from Calgary, finished T8 and earned $1,450 while Eric Locke from Priddis Greens was 15th, cashing in a cheque for $1,000 for his efforts.
Other Alberta pros finishing in the money included Adam Bruce (Glendale G&CC) and Craig Gibson (Scirroco GC) who tied for 19th; Samuel Kirkness (Priddis Greens) T31; Dustin Risdon (The Players Shack/Harvest Hills GC) T35; Blaine Kruger (Stony Plain GC) T37; David MacComb (Blackhawk GC) T41; and Kent Fukashima (Redwood Meadows G&CC) T43.
---
About the Writer
Gord Montgomery is a member in good standing of the Golf Journalists Association of Canada. He is now in his 10th year of writing for Inside Golf. He can be reached at This email address is being protected from spambots. You need JavaScript enabled to view it.. He's also on Twitter at @gordinsidegolf and on Instagram at gordinsidegolf2.