Vernon Knocks Your Socks Off With Great Variety Of Courses (Part 1)
Details

Category: Inside Golf
Published: 2019-10-01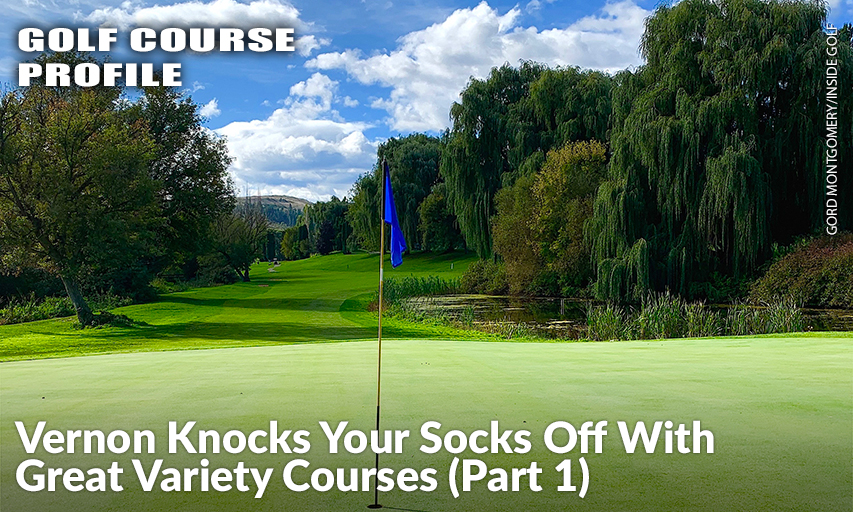 By GORD MONTGOMERY, Inside Golf
VERNON, British Columbia — Whether you choose to hit the links in Vernon, B.C. in the spring, summer or fall, you can be guaranteed one thing: You're going to have your argyle socks knocked off.
This city, located in the northern end of the famed Okanagan Valley, is resplendent with top-end golfing playgrounds and whether you're a fan of parkland, mountain, or hybrid-links style of challenge there's something to fit you, and your playing partners, in this vibrant community.
You see, Vernon is a small city with a big city feel. With a population of around 42,000 life seems to run at a more leisurely pace here. After all, as someone noted, "A traffic jam here is when there are five cars lined up at a stoplight!"
That being said, Vernon offers all the upscale amenities one wants during a time away from home including cuisine choices from around the world to small, intimate coffee shops. Add in a quaint downtown core offering all you'd want in unique small-scale stores topped off with some big-city shops as well and you can find whatever you want in this welcoming city.
As for physical activities, again, they've got all the bases covered in this four-season recreation mecca. In the winter there's skiing, snowboarding, fat biking, ice skating and snowshoeing to begin with. When the weather warms, there's the golf, biking and hiking trails galore, excellent fishing at dozens of local lakes. Given the moderate climate here, those activities can run well into the cooler months of fall. Then, you simply haul out your winter gear and start that cycle of activities all over again.
One of the major draws in Vernon is the golf, and the golf is outstanding. With five courses here, running the gamut of layout styles, Vernon has anything, and everything, you're looking for when you tee it up.
While you can play the courses in any order you wish, we're going to 'ease' you into the challenges presented here. This isn't saying any one course plays softer than the others. Rather, with the following order you go from fairways that may be a little easier to find to shots demanding dead-eye accuracy, depending of course on your swing and your ball flight.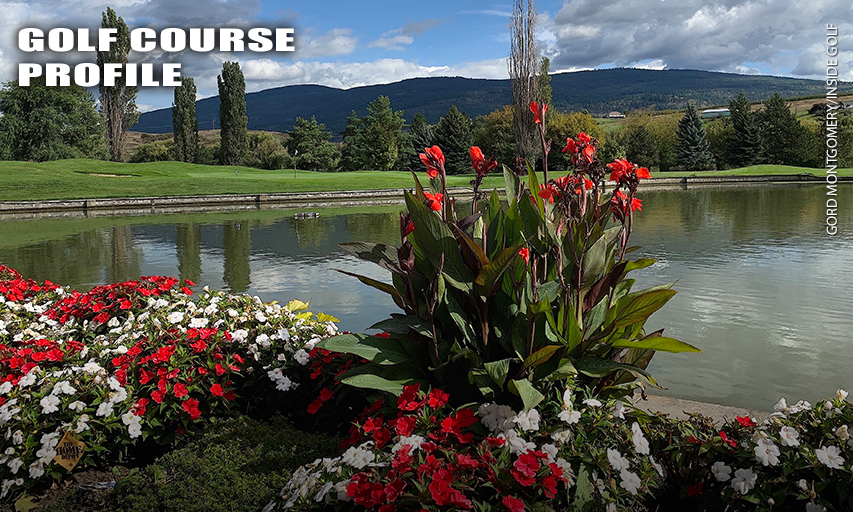 From The Safety Of The Patio At Spallumcheen It's Easier To Appreciate The Large Water Hazard On No. 18 
Spallumcheen Golf & Country Club
This semi-private track on the north end of the city offers its challenges in a variety of ways, including some interesting twists and turns and water …. plenty of water. While not overly noticeable on several holes, the liquid mayhem found on close to half the holes here can present a real challenge for your game. Overall, Spallumcheen rolls out to 6,400 yards from the tips, working down to lengths of 6,200, 6,000 5,600, and 5,300 yards.
Speaking to the characteristics of his course, GM Tyler McCracken commented, "I think we offer something unique in our area. There are lots of great golf courses in our area, but we're very walkable," allowing the 'old guard' variety of golfer to have a nice stroll in the park while chasing their shots. "That's what sets us apart from a lot of our competition. People can come out here and have a great time. We're not stuffy. We're relaxed, so you're not expected to be in perfect golf attire or be perfect golfers."
There is a lot of character to the Spallumcheen Golf & Country Club with its old-growth trees and lush conditions that can easily be toured in four hours. One hole that stands out as a great test here is the fourth, a par-4 that plays to 359 yards using the Blue/White tee combo. It's a slight dogleg right with an elevated green. While that may not sounding overly intimidating, if you miss in the area of the trees on the right side of the fairway your approach can be blocked off meaning your score can add up. Another great hole is the closing par-5 which has trees flanking the landing area on both sides and water protecting the front left of the green.
Public tee times at Spallumcheen Golf & Country Club, which also includes a 9-hole executive course of 2,600 yards, are available every day. To book a slot, call the pro shop toll free at 1-866-545-5824 or locally at 250-545-5824. Their web address is SpallumcheenGolf.com.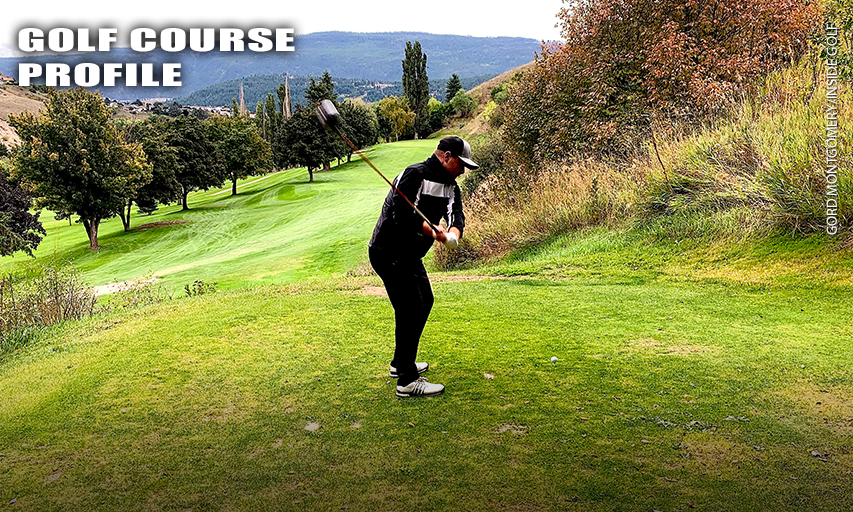 Vernon Golf & Country Club Head Pro Brad Jones Unleashes A Drive On A Short, But Tricky, Par 4 Hole That Slopes Severely From Right To Left
Vernon Golf & Country Club
Another walkable course, if that's your style, is the oldest track in the area, the esteemed Vernon Golf & Country Club. Founded in 1913 your tour of this property takes you up and down gently rolling hills that are bordered by massive old-growth trees. Designed over 100 years ago, this layout tips out at 6,600 yards, but every one of those is hard-fought on your way to par, or better.
Head pro Brad Jones had this to say about this treasured recreational facility and the public's ability to access it, "We have one public time per hour every morning except Saturday and Wednesday and then after our member draw is completed, it's fully open to the public. That allows us to accommodate a lot of people."
While it may be the oldest entity in the valley that doesn't mean the Vernon Golf & Country Club lacks in upscale playing amenities and customer service. The course prides itself on guest friendliness and that shows through superb service right from the young guys that clean your clubs after the round, to the pro shop staff, to the food and beverage folk.
In describing what you'll find when you stroll around this pretty layout located in the south end of the city, Jones basically indicated this is a club that worked well in the 1920s and still does in today's high-tech golfing world.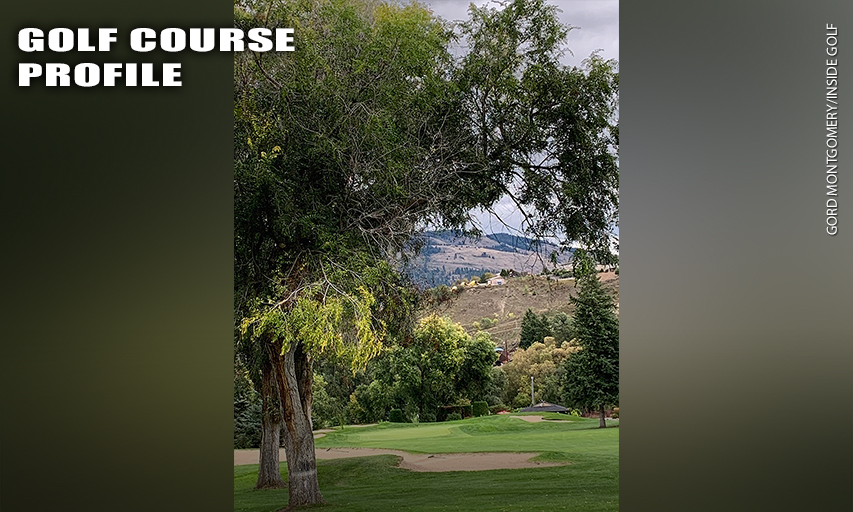 A Large Part Of The Vernon Golf & Country Cub's Protection Is Afforded By The Beautiful Old-Growth Trees That Border A Number Of The Fairways
"On our golf course you're going to get tree-lined fairways, well kept greens with lots of slope and in that way it's a traditional golf course," he explained, adding that the greens, and yes, those monster trees, are what protects this course's reputation from having anyone go too low. "This is a golf course that's playable. You're not going to lose a whole lot of golf balls but you are still going to be challenged."
And speaking of challenge, the closing three-hole stretch here, when played from the Blue tees, likely provides as big a strain on a player's ego that anyone would ever want. The inward three toss a player a par-4, 435 yard monster with a tree blocking the middle of the fairway on your opening volley; then a lengthy par-3 of 168 yards with a sloping green; topped off by short, but tight little dogleg par-4 of 335 yards over a creek that is well protected by sand, and more water near the putting surface.
So while the Vernon Golf & Country Club may be the granddaddy of courses in the area it's certainly more than capable of handling the big hitting sharp-shooters of today's golf world. For more on the course, go to their website at VernonGolf.com. To book a tee time, call the pro shop at 250-542-9126.
For more on the Vernon area, check out Tourism Vernon's social media sites including TourismVernon.com as well as on Facebook, Instagram, Twitter, YouTube, Pinterest and WordPress.
In Part 2 of this journey to the relaxed world of life and golf in Vernon, writer Gord Montgomery visits the Big 3 — The Rise along with Predator Ridge's The Ridge and The Predator. And yes, he did lose a few balls on these properties, so if you find them feel free to keep them — after all, it seems they didn't like his company much!
---
About the Writer
Gord Montgomery is a member in good standing of the Golf Journalists Association of Canada. He is now in his 10th year of writing for Inside Golf. He can be reached at This email address is being protected from spambots. You need JavaScript enabled to view it.. He's also on Twitter at @gordinsidegolf and on Instagram at gordinsidegolf2.