Gamble Sands A Safe Bet For Any Golfer
Details

Category: Inside Golf
Published: 2019-10-04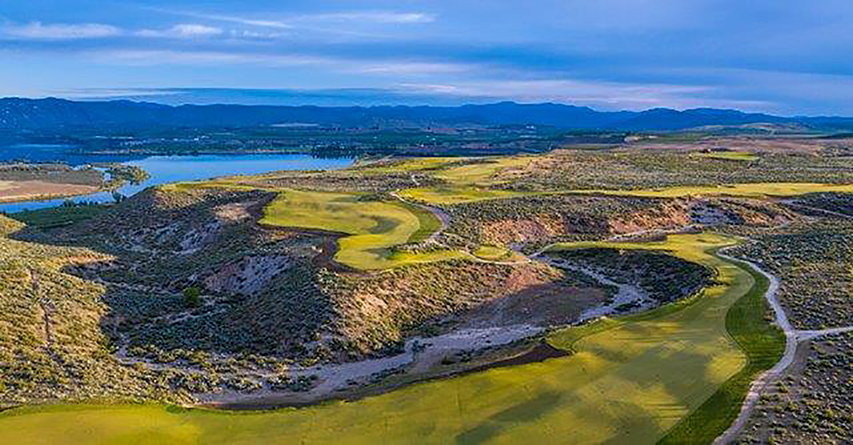 An Aerial View Of The Gamble Sands Layout (All Images Courtesy Facility)
By Jim Claggett
As far as golf courses go, Gamble Sands near Brewster, Washington is relatively young, having opened for play in 2014. However, it hasn't taken very long for the 115 acres of fescue grass to garner a positive reputation which is spreading.
Words like playable, strategic, dramatic and adventurous are tossed around by those who have just walked off the massive 18th green at David McLay Kidd's example of what pure golf can be. But, Brian Benitz, Director of Operations at Gamble Sands has one more adjective to put in play - fun.
"Getting here is part of the fun. The drive in, the drive through the orchards like the last few miles and - just fun," he said. "Fun should be in every description of the golf course because that's what we hear every day."
Benitz related a story about Gamble Sands which illustrates that thought and has a Dr. Phil feel to it. He said a man came to him, saying the course saved his marriage.
He explained his wife has never once asked for a replay rate to go for another 18 holes. This time she came off # 18 and asked can we play again. "In 30 years, she has never asked me that so thanks for making me fall in love with her all over again," the husband told Benitz. This course is that good and that much fun, but I can't speak for the couples counselling angle.
It does come complete with an interesting back story. It began with Dan Gamble backpacking from Nova Scotia to make it rich during the Gold Rush in 1885. The gold didn't pan out, but he did manage to establish a hotel, lumber mill and planted the first orchard in the region.
His daughter Martha married John Gebbers and between the two of them, John working the cattle and orchard ventures with Martha overseeing the fruit packaging and the sawmill. Martha's legacy remains with Gamble Sands as her signature from an old cheque is what appears on the score card. Once you have digested that information it's time to tackle the most recent piece of history for the area.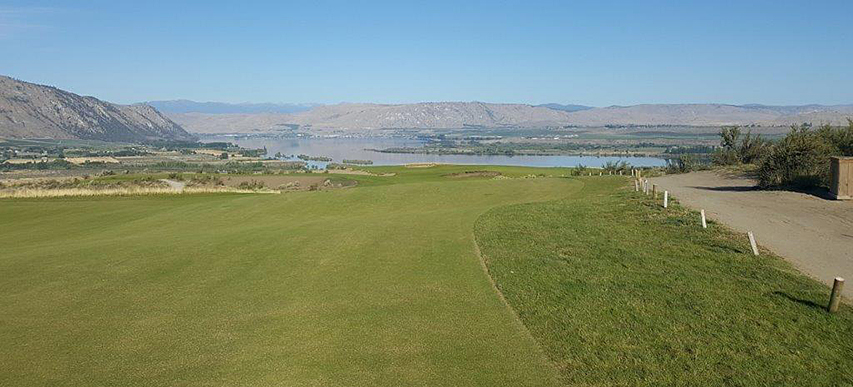 Gamble Sands Second Hole View
It doesn't take long to grasp the feeling of being in a place where you are going to experience something special. The second hole provides a frameable picture with the Columbia River as a backdrop and a quick turn to the right will allow you to grab a great shot of the North Cascades mountain range.
A mere two holes later you can have that rare experience of using a putter off the tee on the 145-yard par three 4th. Sure, you can play it the old-fashioned way with a wedge, but I guarantee it won't be nearly as fun or rewarding to say you three-jacked for a par on a par three. I know, technically you are off the green with the first putt but work with me here!
There are a couple of blind shots to contend with so make sure you pick up the yardage book or download the 18 Birdies app which will give you a better idea of where to place a shot off the tee. It also provides some talking points from the architect, McLay Kidd.
Gamble Sands is one of a myriad of revenue streams for the very successful Gebbers family. It slides into place amongst the orchards and cattle business quite easily as both agriculture ventures provide menu items for the Danny Boy Bar and Grill on site.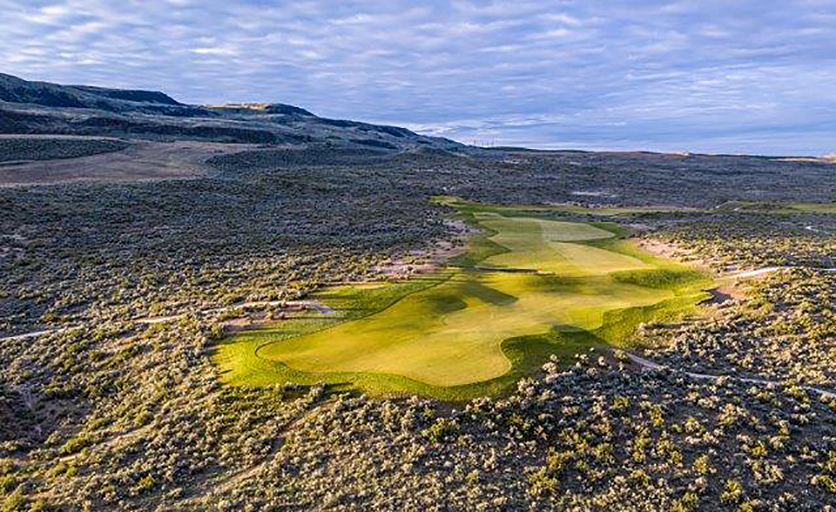 Hole #13
But the golf course must stand on its own, so any expansion plans need to really make sense in the moment and down the line. Like farming, the course makes hay during the five- or six-month season and then needs to survive the rest of the year so the math must add up.
"It's an exercise in cash flow. It's an exercise in money control and financial management," said Benitz, adding, the Gebbers family is very cautious and they don't rush into things. "The family is on its sixth generation of ranchers and farmers. You can imagine how many snake oil salesmen have come down the path saying, 'here's what you really need'. They don't get pressured into things."
A par-three putting green course and another full-length 18-hole track is what the future holds for the property which David McLay Kidd described as, "A once in a lifetime site that every designer dreams of". Benitz figures by September of 2020 they could be putting the finishing touches on the par three course and looking over the canyon at the full-length course.
Gamble Sands is a great place for out-of-towners to come for a couple of rounds, however, there needs to be more. He says 75 per cent of their play comes from Seattle but the plan is to work with other courses around Washington State in order to attract the players from overseas or further east, creating a Washington Golf Trail idea.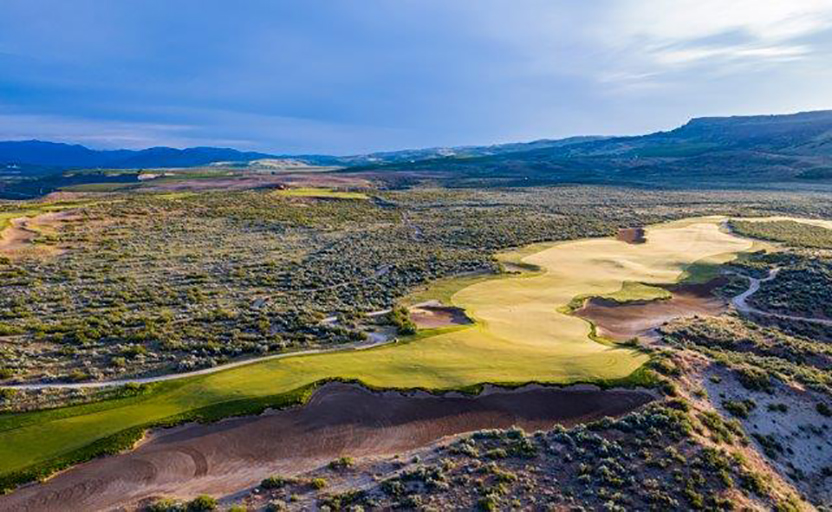 Hole #15
"If someone is going to come here from China or somewhere, they're going to do it for 10 or 12 days. They're not just going to play Gamble Sands," he said. You can tailor your own experience through the affordable Stay 'N Play packages, Buddy Trips leadership team retreats, group business and corporate outings.
It's hard to refer to Gamble Sands as a "best kept secret" after they did 20,000 rounds this season, but Benitz says there are still a lot of golfers who simply don't know who they are. With the proposed changes happening soon there is a real buzz around Gamble Sands these days and it will only get louder. It's about the only distracting noise you might hear while on the course. "It's a very welcoming golf course for people who either don't play golf or have never played golf. This is a heck of a place to take them to make them fall in love with golf," said Benitz.
One thing you can always count on is to play for the roll on basically every hole and man does that come into play on #18. If you can manage to stripe a drive on the par five finishing hole and catch the right angle off the ridge in the fairway, you will pace off the drive of your life.
No matter what tee you play from (there are five to choose from) players may notice the absence of a feeling of intimidation. Instead, you will likely feel more relaxed with what is in front of you. This is as close to a looking-out-over-a-driving-range feeling you may ever experience while not being on a driving range. Can you say generous fairways?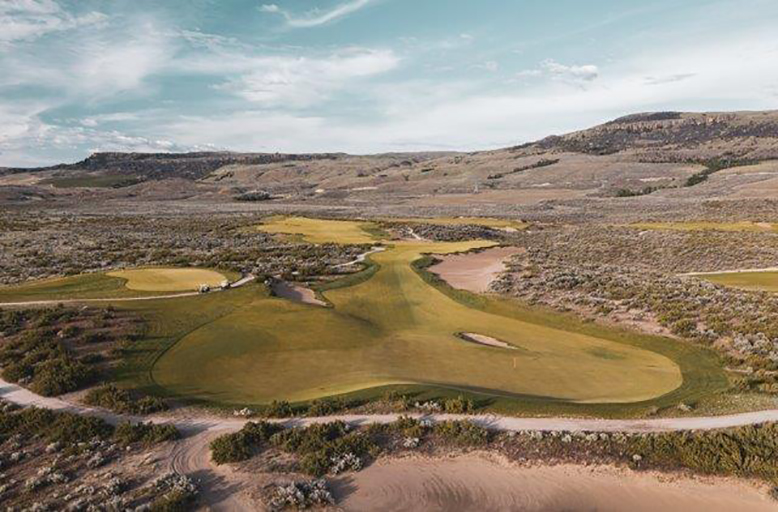 Hole #16
One piece of sage advice which came from Benitz was for me to practice my 100-foot putts. You will have some monsters where you need to have a healthy backswing with your putter to give it an outside chance of reaching the hole. Of course, you can also use a three wood, five iron or a hybrid to run your ball along the fescue. It's another part of the fun experience which Gamble Sands offers up to players.
"There's shots out here that you have to hit that you can't hit at home. There's shots out here that you just kind of want to hit that you can't hit at home," said Benitz. "It's almost like a NASCAR track where the car just kind of drives straight and the bank is what makes the car turn. On some of those par fives you ride the contours and it's just cool to watch your ball roll and run."
With all these ingredients to play with it's no wonder there is a very relaxed atmosphere around Gamble Sands. Benitz related one story about a man celebrating his 85th birthday who was challenged by staff to shoot his age and the group would get their round taken care of. "He shot 40 on the front and he was going to do it and he blew up on 16 and then 18 and we said we'll buy everyone a round of beers anyway," said Benitz.
"It was fun because everyone was in it and when was the last time this guy was legitimately competitive. It was probably years that he was nervous on the tee in a fun way."
That is part of what Gamble Sands delivers - encouraging people to do more than just work their way around 18 challenging holes of golf. The course is the rock star lead singer of this group, no doubt. But the solid back-up singers and musicians are the 37 outstanding 500 square foot rooms facing west (you can also get a suite which is double in size). The rooms are very comfortable and not over the top glitzy. No charge for the outstanding view.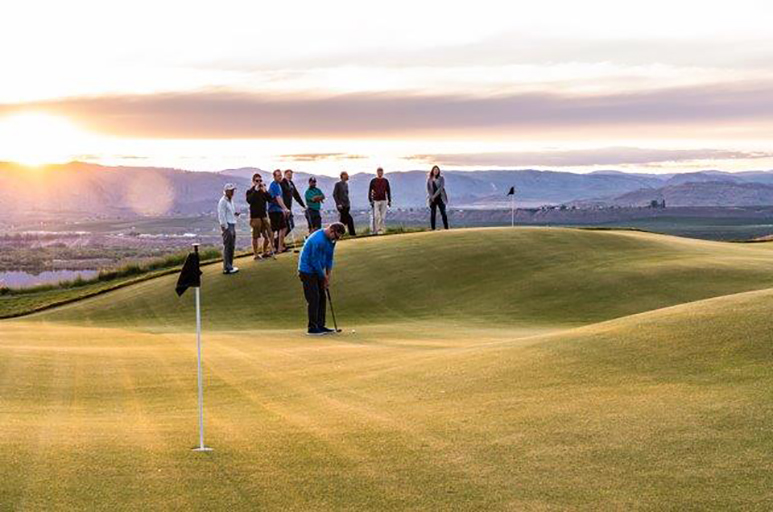 The Very Challenging Cascade Putting Course
Outside your window is a putting green which resemble elephants buried under the turf. The Cascade Putting Course will make you laugh and shake your head at the same time as you try to negotiate the humps, bumps and rolls. It's a great place to settle any outstanding bets from the previous round or to really test your putting skill.
The down-home kind of vibe at Gamble Sands continues throughout the property. You won't find a massive clubhouse, a pro-shop with thousands of square feet covered in golf gear, a restaurant where it takes your waiter five minutes to walk across the room with your order or a grand entrance into the hotel lobby to check in. Gamble is simply a functional place on all levels.
For more please visit their website GambleSands.com