SFU Men And Women Win Concordia Invitationals
Details

Category: Inside Golf
Published: 2019-10-10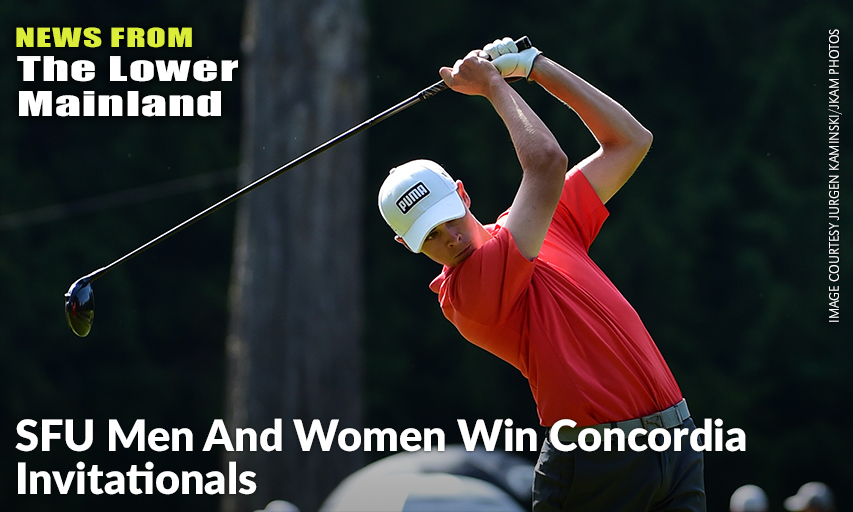 PORTLAND, Oregon — The Simon Fraser University men's and women's golf teams both turned in amazing performances to win the Concordia Invitational, although the men needed a tiebreaker to take the title. The women won the tournament outright by 10 strokes.
The victories continued an impressive start to the season for both teams—it was the second tournament win of the fall for both teams. The SFU men won the SMU Invitational and finished second at the Western Washington Invitational while the SFU women opened the season winning the inaugural True North Classic and then finished second at the Dixie State Invitational.
At the Concordia tournament, the SFU men won a tiebreaker against UC Colorado Springs to claim the team title after both schools finished at six-over-par 858 in the three-round tournament, shooting 290, 277 and 291 at the par 71, 6,697 yards Columbia Edgewater Country Club in Portland, OR.
The men placed three golfers in the top 11, led by Aidan Goodfellow, tied for third at 2-under-par 211 after rounds of 71, 65 and 75. It was the third top 10 finish for Goodfellow, a sophomore.
Isaac Lee (71-69-75 215 +2) and Ryan Stolys (74-71-70 215 +2) tied for 11th with 2-over-par 215. SFU's Michael Crisologo (74-68-71 213 E), competing as an independent, finished sixth at even-par 213.
Julius Kreutzer of Academy of Art won individual medalist honours after a 5-under-par 208.
The SFU women won by 10 strokes over Western Washington after placing five golfers inside the top 11. Senior Jaya Rampuri came closest to medalist honours, falling two shots back of the winner, after rounds of 73 and 78 to finish at 7-over-par 151. Claire Lovan (76-76 152 +8) was sixth and Frida Ehnebom (76-77 153 +9) and Emily Leung (75-78 153 +9) tied for eighth and Estee Leung (78-76 154 +10) tied for 11th.
Cammie Decker of Concordia University, who won a playoff hole against Claire Shubin of Dominican, captured the tournament. She finished tied with Shubin at 5-over-par 149.
As a team, SFU shot 31-over-par 607 after rounds of 300 and 307 on the Riverside Country Club par 72, 5,995 yard layout.