Antigua Summer 2017 Women's Golf Collection
Details

Category: Inside Golf
Published: 2017-07-13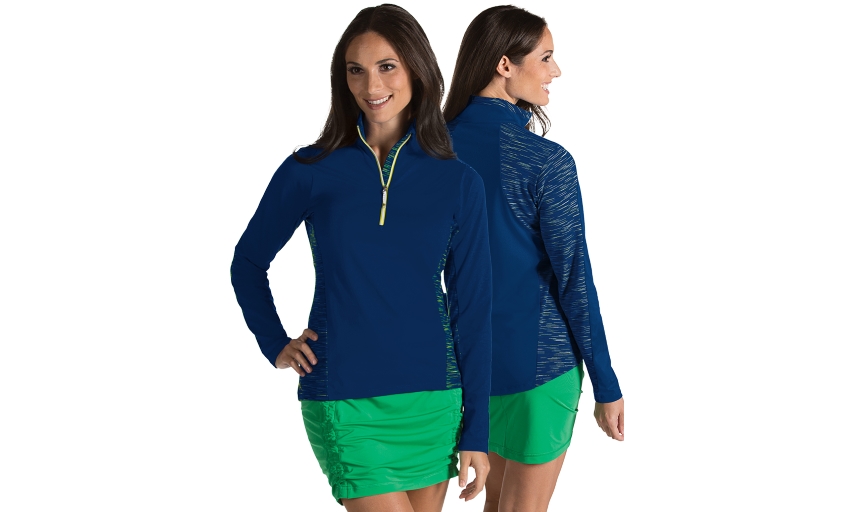 PEORIA, Arizona — The Antigua Group, Inc. debuted its 2017 Women's Golf Collection.
"The 2017 ladies golf collection is a continuation of the simplicity that the '16 line embodied," says Danielle Dellios, Antigua women's designer. "In the new collection, fabrics and colors play a key role versus styling and silhouette. The market was calling for a fresh take on primary color, which was made possible by mixing colors together. Thus, each grouping consists of two primaries. For example, our new green color, Cypress, is mixed with a bright blue color, Cabana. There are a total of four color combos, each mixing two primary colors. Every printed, striped or colorblocked style within the collection mixes the two colors, instead of using traditional neutral accents like grey or khaki. Combining two complementary primary shades really pops. Prints are as strong as ever in the marketplace, which meant creating unique artwork that could also be used to mix colors and give new life to basic styles."
One of the new sleeveless styles, Mischief, features an asymmetrical fabric blocking detail using a printed geometric pattern run at an angle across the top of the garment and a solid poly mesh fabric for the bottom half. Not only does the multi-color print allow women to wear multiple different-colored bottoms, the print's asymmetry perfectly highlights a logo.
Another unique style, Sterling, is a long sleeve, half-zip pullover. It features ultra-soft peached jersey fabric, run in solid color for the body, and a space dye pattern for the insets. The space dye fabric incorporates two primary colors along with black and white, and also offers a new type of "heather" effect with the start and stop of the multi colored yarn.
Trust features an ultra-light, high-stretch woven fabric, along with a few feminine details such as rounded tail bottom and pin-tucks at the top shoulder. "For the first time ever, we've introduced a lightweight stretch woven polo," says Dellios. Trust is a prime example of the big on-and-off-course trend currently going on. A woman can wear this stretch woven polo on the course and also on the weekends. It's casual enough to don running errands but also sophisticated enough with its no-stitch self-fabric collar and covered button placket.
The ladies sleeveless Jewel style features Antigua's one-of-a-kind geometric jacquard Desert Dry moisture wicking knit fabric. The textured face and flat-back fabrication is smooth against the body and allows for optimal wicking performance at the face. The sleeveless Jewel is one of Antigua's best-selling pieces because the fabric has a unique drape that women of any age find flattering. The hidden ribbon and snaps at the top shoulder seam are great for holding a bra strap in place for a worry-free swing.
Haven is one of the line's more technical styles, combining a few simple details that make it appear more sporty and athletic. Silicone printing has been popular for a while. "But instead of running an all-over print, I used a single line of printed color around the zipper placket and collar," says Dellios. "The color silicone print is placed on an all-white-bodied garment. The print on the collar gives the illusion of tipping with the tech feel of silicone, while the pointelle mesh pattern insets and sleeves ensure that the garment keeps the golfer cool and dry."
Rogue is the most creative and fun polo style in the '17 line. It mixes the entire color palette in an all-over linear sublimation print. This style can be worn with any color of our bottoms, along with any white or black bottom that a woman might already have at home. "Since the print is bold, I kept the styling traditional with a button placket and open cuff," says Dellios. "I also ran the bold print from Rogue in our knit skort called Cinch. We have carried Cinch in solid colors for years, and it's one of our best-selling bottoms, so it was a given to run it in the print."
Leggings has become a popular trend in golf wear -- many women prefer to wear leggings on the course, either by themselves or with a skirt over. "With the ath-leisure trend still big, I decided it would be a good opportunity to put a basic legging and skirt in the line," says Dellios. The Backspin legging features a heavy peached jersey that provides maximum coverage and soft handfeel. It comes in solid black and black heather. Its counterpart is the Enclave skirt, a basic, lightweight stretch woven with a high-low hemline and zipper hip pockets at the front. It comes in black only.
---
About Antigua
Headquartered in Peoria, Arizona, The Antigua Group, through its license sports division, holds license agreements with National Football League (NFL), Major League Baseball (MLB), Minor League Baseball (MiLB), Major League Soccer (MLS), National Hockey League (NHL) and the National Basketball Association (NBA), along with numerous American universities and colleges for men's, women's and children's apparel, headwear and luggage. Antigua additionally designs, produces and supplies product for corporate America and specialty retail managed under its corporate division. Its golf division also holds license agreements with the PGA TOUR, LPGA and the PGA of America
Find Antigua on the web at www.Antigua.com and ShopAntigua.com.
Like Antigua on Facebook at facebook.com/Antigua.
Follow Antigua on Twitter at twitter.com/AntiguaWear.
See Antigua YouTube videos at youtube.com/AntiguaWear.
For more information on The Antigua Group, visit them online at www.antigua.com or contact Mary Beth Lacy at This email address is being protected from spambots. You need JavaScript enabled to view it. or call(760) 346-6942.