PGA of BC Names Recipients Of Six 2019 Awards
Details

Category: Inside Golf
Published: 2019-10-15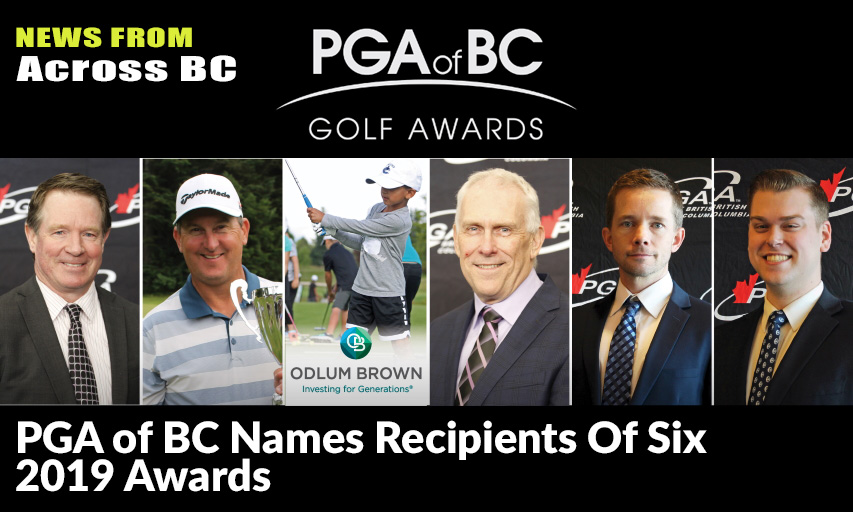 By PGA OF BC
RICHMOND, British Columbia — The PGA of BC is proud to name four recipients of the Association's 2019 Awards, as well as this year's PGA of BC Community Leadership Bursary and Jim Gibson Scholarship beneficiaries. These honours are designed to recognize leaders in the golf community exhibiting qualities such as volunteerism, selflessness, passion, and dedication to the game.
These honourees, along with the recipients of 11 other Association awards, will be recognized at the PGA of BC Awards Celebration presented by Replay Golf Supplies & Tribal, taking place Oct. 16 at the River Rock Casino Resort:
DUNC SUTHERLAND DISTINGUISHED SERVICE AWARD
Presented by DGL Sports Enterprises Ltd. 
2019 Recipient: Gordon Mink, Hi-Knoll Golf Centre
The Dunc Sutherland Distinguished Service Award presented by DGL Sports Enterprises Ltd. is awarded to a PGA of BC member who demonstrates exceptional commitment to the Association by supporting and promoting the Association's brand, events and initiatives. This year, the PGA of BC is pleased to present this award to Gordon Mink, Head Teaching Professional at Hi-Knoll Golf Centre. 
Mink has established himself as a consummate PGA of BC Professional through his extensive work in teaching, his dedication to professional development, competition and volunteerism. The 65-year-old has been a Class "A" member of the PGA of Canada for more than 20 years, helping his students improve their games while affiliated at golf facilities in British Columbia and Ontario throughout his career. Mink is perennially one of the leaders on the PGA of BC's Professional Development Program Order of Merit due to his participation in virtually all of the Association's events and initiatives. He is a regular competitor in PGA of BC and PGA of Canada-conducted championships, volunteers his time to the Association on multiple occasions throughout the year -- including as a presenter on behalf of the PGA of BC at the Vancouver GolfExpo, in addition to volunteering for the National Golf Course Owners' Association at that event -- and is a fixture at PGA of BC educational gatherings, showing his dedication to honing his craft.
JIM GIBSON PATRON OF THE YEAR AWARD
2019 Recipient: Odlum Brown Limited
The Jim Gibson Patron of the Year Award is presented each year to a person, group of people or organization that demonstrates an exceptional contribution to the Association's initiatives. This year, the PGA of BC is proud to present this award to Odlum Brown Limited. 
Since 2014, Odlum Brown Limited has been the exclusive presenting sponsor of Canucks Junior Golf Week, which has evolved into one of the province's premier initiatives for youth golf thanks to the investment firm's generous support of the program. Odlum Brown's contributions have allowed more than 4,500 girls and boys in British Columbia to learn the game's fundamentals from PGA of BC Professionals in a fun, affordable setting. Approximately half of the program's participants had their very first golf experience through Canucks Junior Golf Week, and Odlum Brown's patronage has ensured that thousands of youth are introduced to our sport with lasting memories and take-home gifts fostering enthusiasm for the game. As the PGA of BC's sole Platinum-level Preferred Partner, Odlum Brown's support of the Association as a whole is tremendously appreciated by Golf Professionals across the province.
STAN LEONARD PLAYER OF THE YEAR AWARD
Presented by Steve Nash Fitness World & Sports Clubs
2019 Recipient: Bryn Parry, Seymour Creek Golf Centre
The Stan Leonard Player of the Year Award presented by Steve Nash Fitness World & Sports Clubs recognizes a PGA of BC Professional who realized the greatest success in competition among all Association members over the past season. This year's recipient is Bryn Parry.
The veteran competitor takes home the honour for a record eighth time following a tremendous 2019 campaign in which he topped the PGA of BC Order of Merit. In August, Parry won his fourth PGA of BC Championship crown, tying Scott Minni for the most titles in the event in the Association's modern era. He also picked up two victories on the Lower Mainland's regional G&G Tour, a T2 finish at the circuit's Tour Championship, and a fourth-place result in the PGA of BC Assistants' Championship. Parry, who celebrates his 48th birthday today, was also a force at PGA of Canada national championships once again this season, including a third-place finish at the PGA Championship of Canada. He also placed fourth at the PGA Assistants' Championship of Canada while helping BC's squad at the event to a victory in the Inter-Zone team competition.
ARV OLSON MEDIA PERSONNEL OF THE YEAR AWARD
2019 Recipient: The Sunday Morning Golf Show
The Arv Olson Media Personnel of the Year Award recognizes a media member or organization that has made a significant contribution to the PGA of BC over the past year. This year, we are proud to present this award to The Sunday Morning Golf Show on TSN 1040.
A weekly highlight for golf fans in British Columbia throughout the season, The Sunday Morning Golf Show deftly examines the issues and individuals at the forefront of our province's golf community. Hosted by PGA of BC Professional Fraser Mulholland, Bill Wilms and Andrew Wadden and produced by Andy Cole, the show has provided significant exposure to PGA of BC members and member facilities. During its 26-episode run in 2019, The Sunday Morning Golf Show featured more than 20 guest appearances by PGA of BC Professionals or administration team members to discuss a variety of topics, including outstanding achievements in competition, exciting initiatives at their local golf facilities, and their unique perspectives on major industry stories. Through Mulholland's involvement with the broadcast, this marks the first time the Arv Olson Media Personnel of the Year Award will be presented to a PGA of BC member.
PGA of BC COMMUNITY LEADERSHIP BURSARY
2019 Recipient: Myles Johnson, Hillview Golf Course
The PGA of BC Community Leadership Bursary recognizes an individual or member facility within the Association that demonstrates an extraordinary desire and passion to make a difference in the lives of others, setting an example of "giving back" with which all PGA of BC members are proud to be associated. This year, we are pleased to award this bursary to Hillview Golf Course Head Professional Myles Johnson. 
Johnson, who received his own introduction to golf as a junior at Hillview, has helped maintain a thriving program for youth golfers at the par-56 course in Vernon since moving into his current role there earlier this year. The facility's junior program is designed to welcome young players through a multi-faceted approach, including spring lessons, summer tournaments and a general culture meant to encourage juniors and their families to enjoy the sport. This includes lowering the cost barriers for youth golfers wherever possible through equipment trade-in initiatives, free instruction that focuses on fun and etiquette, a junior food-and-beverage menu with all pricing less than $2, and no-entry-fee tournament play. Bursary funding will ensure that Hillview's junior programming remains affordable for youth in the community while enhancing offerings such as tournament prizing and junior-equipment availability.
JIM GIBSON SCHOLARSHIP
2019 Recipient: Jared Siminoff, Point Grey Golf & Country Club
The Jim Gibson Scholarship is named in honour of the late Jim Gibson, a longtime supporter of the PGA of BC who valued education in his role as a Golf Professional and was extremely well versed in the game. The recipient of this scholarship exemplifies volunteerism and demonstrates a passion for furthering their education for their community's benefit. The PGA of BC is proud to award the 2019 scholarship to Jared Siminoff, Class "A" Professional at Point Grey Golf & Country Club. 
As statistical analysis in sport has surged to prominence in recent years, Siminoff has been at the local forefront of this movement in golf. The 28-year-old spent countless hours poring through the scoring records of PGA of BC championship tournaments and regional G&G Tour events going back several years to produce new insights on how performance can be measured in competition. Siminoff then shared his findings with his peers when co-presenting at a PGA of BC Education Series event early this year, and introduced revealing statistics such as scoring differentials and individual hole difficulties to the G&G Tour in his role as co-commissioner. The Jim Gibson Scholarship will enable Siminoff to attend the 2020 MIT Sloan Sports Analytics Conference, a world-renowned forum for sports-industry researchers and professionals to discuss advancements in statistics.
We congratulate each of the above on their achievements, and look forward to recognizing them, along with other awards recipients at next week's PGA of BC Awards Celebration presented by Replay Golf Supplies & Tribal. Click here for a complete list of nominees.
Limited tickets to the event are still available for purchase by clicking here.