PGA on Wheels Gaining Momentum With New Players, Partner
Details

Category: Inside Golf
Published: 2017-07-13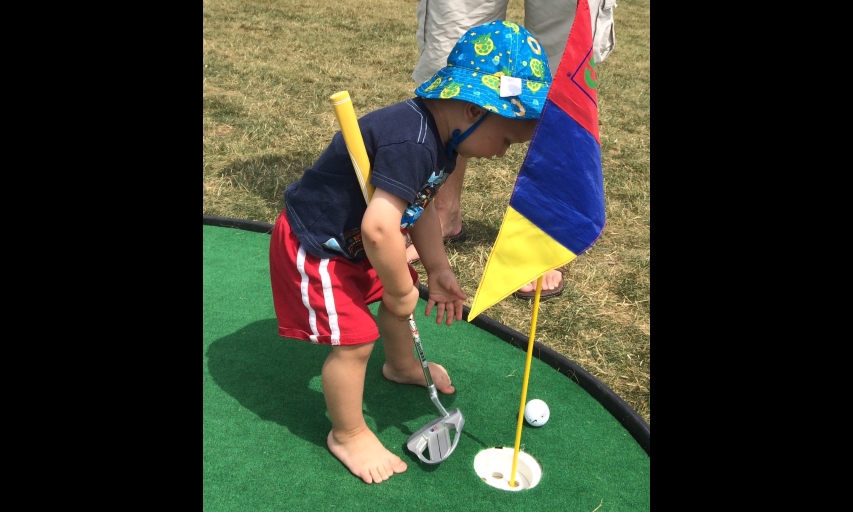 A Spruce Grove Youngster Gets An Early Life Lesson On How Hard Making Those Short PUtts Can Be During The PGA On Wheels Stop On Canada Day. (Photo/Gord Montgomery)
SPRUCE GROVE, Alberta (Gord Montgomery/iG) — When the PGA on Wheels rolled into the city of Spruce Grove on Canada Day, hundreds of kids and even a few adults got a taste of something that could well last them a lifetime … and we don't mean the lifelong desire for chowing down on mini-donuts!
Rather, those happy folks were introduced to the game of golf in a friendly, relaxed setting where newbies were welcome to whack away to their hearts content with oversized plastic SNAG (Starting New At Golf) clubs and targets. And while doing so, they were able to gain valuable swing assistance from PGA pros and trained volunteers.
Speaking to the hubbub of activity in the golfing area, Trevor Rioux, the Tournament and Communication Manager for the PGA of Alberta, said it was exciting to see so many people taking the time to explore the game, perhaps for the first time. He also noted that working alongside Alberta Golf, who supplied the practice gear, meant there was more ways for participants to experience the game and learn what the provincial bodies do to promote the game.
"It's our first time here and it's been a great response - introducing the game, our professionals, getting them in front of the people here," Rioux stated." And Alberta Golf, as of last year, joined us and added another level to what we do. Having them here, along with our pros and volunteers is a big help and makes the event even better."
Rioux noted getting the kids involved in the game early on, no matter how they participate, is key to growing the game.
"It's our mandate," he said of getting youth interested and involved. "When we can introduce this to kids who haven't played before, they get to see how fun it is and that it's something they can do. These community events are huge for us as we see hundreds of kids throughout the day and the more swings we can get them doing, the better the industry is going to be."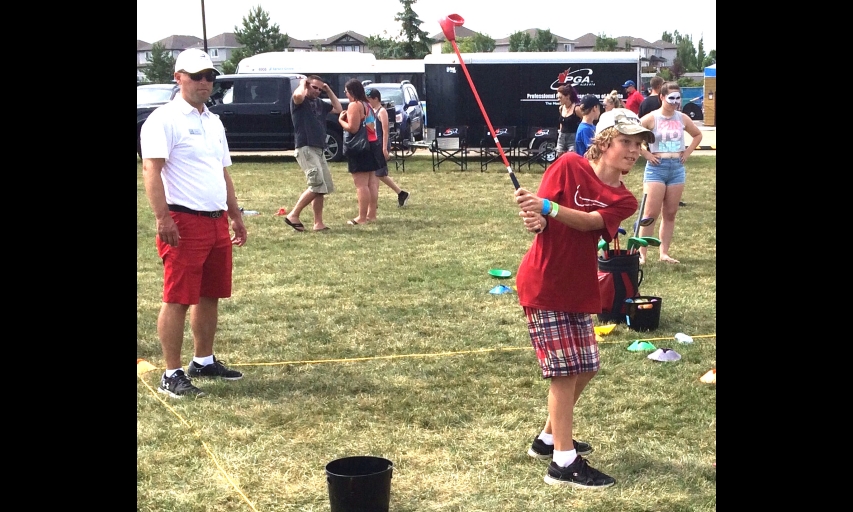 Trevor Goplin (Left), The President Of The PGA Of Alberta Board Of Directors, Looks On As A Young Man Takes A Healthy Cut With the Alberta Golf-Donated SNAG Equipment At The PGA On Wheels Stop In Spruce Grove On Canada Day. (Photo/Gord Montgomery)
Phil Berube, the Executive Director with Alberta Golf was also on hand in Spruce Grove, answering questions from parents about what his association does for amateur golf in the province and the events they sponsor each year. He noted his association was delighted to team up with the PGA of Alberta in order to put on events like this.
"We both want to grow the game and this is a great way to do it," he said as dozens of kids milled about the area, whacking away at targets and receiving helpful hints from the pros on hand, getting that early taste of the game that means so much.
Berube also pointed out that despite what some may think, the game is experiencing a rebound from a bit of a downturn and the number of people participating in the game is once again on the upswing, thanks in large part to events like the PGA on Wheels.
The PGA on Wheels visits four Alberta communities each year and they always kook at focusing on areas they haven't visited in the past, said Rioux.
"It's something we look to move around every year. Hitting new markets. Hitting new people. We're always looking at 'Where can we go next?'"
So if you want your community to be one of those that are next on the list in having the PGA on Wheels roll into town, contact Rioux at This email address is being protected from spambots. You need JavaScript enabled to view it. or call the PGA office in Calgary at 403-256.8894.
And as for trying out those mini-donuts from the food trucks that were scattered around the Spruce Grove park, well, let's just say anyone who had a few after taking their first-ever journey into the world of golf certainly deserved the treats!