Hyemin Kim Donates Entire Winner's Check to LPGA*USGA Girls Golf
Details

Category: Inside Golf
Published: 2017-07-13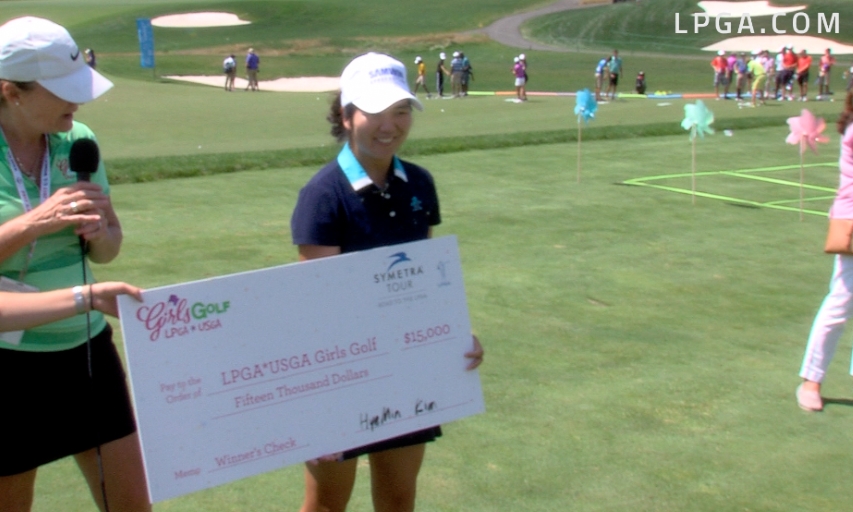 (Video Screen Grab From Symetra Tour)
Hyemin Kim, a top ranked player on the Symetra Tour, announced at the U.S. Women's Open that she is donating her entire winnings from her victory at the POC Med Golf Classic ($15,000) to LPGA*USGA Girls Golf.
After four years on the Symetra Tour, the 29-year-old earned her first victory on April 9 in Windsor, Calif. The following day, she notified the Symetra Tour staff that she felt a calling to use her winnings to help make an impact.
"My mom (Inja Park) and I always talked about donating the paycheck from my first win to charity," explained Kim. "I remember growing up in Korea and first being introduced to the game. I just want to help the next generation of girls and my hope is that this donation helps bring more girls to golf that don't have the means on their own."
LPGA*USGA Girls Golf will use the $15,000 to directly benefit the girls in the program by providing equipment, quality instruction and scholarship dollars to participate in Girls Golf sites around the United States.
"We are so thankful and excited that Hyemin has selected LPGA*USGA Girls Golf," said Kiernan Schindler, Director, LPGA Foundation. "It's so important for our current LPGA and Symetra Tour to become ambassadors and help us continue "Changing the Face of the Game" and Hyemin's unprecedented gesture will go a long way."
Kim is currently having the best year of her career on the Symetra Tour. She ranks 15th on the Volvik Race for the Card money list in 13 starts and is coming off a tie for sixth in French Lick last week at the Donald Ross Centennial Classic. She has seven career top 10 finishes on Tour. She started her career on the KLPGA and has one career win in Korea.
There are 408 LPGA*USGA Girls Golf sites around the country and the program has grown to over 70,000 girls, a 1000 percent increase since 2010.