One-on-One With Roger Cleveland Talking About Importance Of Wedge Play
Details

Category: Inside Golf
Published: 2019-11-07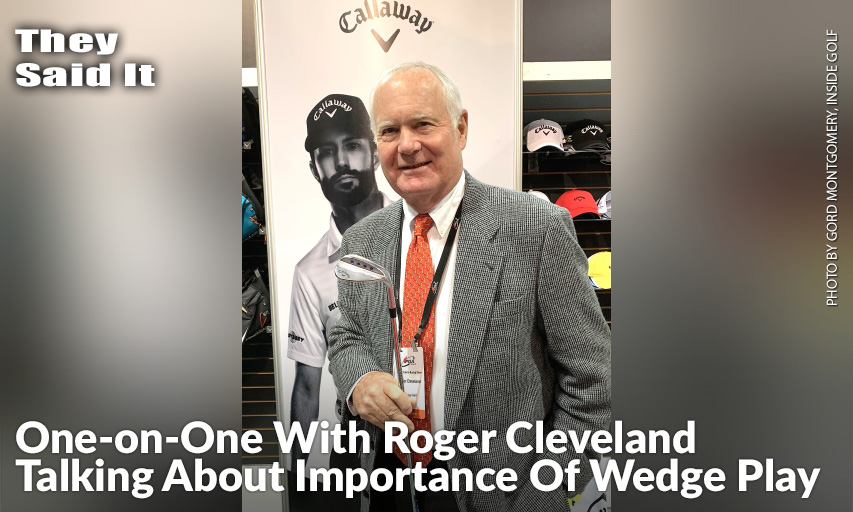 By GORD MONTGOMERY, Inside Golf
CALGARY, Alberta — Everyone knows the most important part of the game of golf is from 100 yards and in. So who better to talk about that segment of the game, where wedges are king, than the king of wedges himself, Roger Cleveland.
Now a designer for Callaway Golf, Cleveland carved out a niche in the golf industry a number of years ago when he launched his own brand of wedges under his own name, and he's never looked back. The thing is, he originally started building persimmon woods back in 1979 but found his true calling with the short-game sticks in 1988.
Having moved on from Cleveland Classics, his next stop was the Callaway brand where he began working with Phil Mickelson, the master of the short game on the PGA TOUR. Inside Golf caught up with Cleveland at the PGA of Alberta Buying Show, where he was helping man the Callaway booth, promoting their new line of Jaws wedges.
In regard to the importance of wedge play, Cleveland said it's a vital part of the game if one wants to score well, regardless of whether you hit the ball 200 yards or 300-plus yards off the tee.
"A lot of people don't understand if you take the time, and get some lessons on the short game because the technique is different than your long game," how much that will help you  improve your scores, he began. "It doesn't take strength to have a good short game — it takes technique and a good product. You can lower your score, increase your enjoyment of the game faster than any other segment of the game."
One of the biggest flaws in hitting short shots, he continued, is that most people simply try to use a similar swing with a wedge that they use with their driver and fairway woods. That's simply wrong, he states.
"People try to miniaturize their big swing for their short game, but it's different."
Asked about the televised one-wedge-that-fixes-all scenario, the wedge guru said those clubs are good in one circumstance only. In reality, a good wedge, regardless of the name on the back, can be used in any number of ways.
"The TV ones tend to be one-dimensional. They have very wide soles. You can't open them up and increase the loft. For some players, that's fine. But if a player wants to take some time and learn some technique that doesn't take strength, they can get out of a lot of situations where you can't with those other clubs. They (premium wedges) are, frankly, better looking and better feeling than those one-dimensional clubs. And they perform better."
A big tendency in the golf world these days is getting properly fitted for clubs. Again though, Cleveland noted, this seems to focus mainly on drivers and fairway woods with wedges being overlooked. That, he emphasized, is a huge mistake for anyone looking to score better out on the course.
"When you get into the short game and start studying it, based upon your technique, you need a sole and an angle of bounce to support that technique. If you don't have that, especially in your highest bounce, you're going to suffer. It's very important to be fit."
As for what wedges to carry, Cleveland feels five degrees between each one in your bag is the proper amount, starting from the pitching wedge and working upwards. In regard to  using a club with extremely high loft, he suggests unless you fall into a select group you don't need to worry about stuffing one of those into your bag.
"If you're not strong, I hate to say this, but you really don't need a wedge that's more than 56-degrees. Sure, it's nice to hit higher lofted clubs but I think your gapping should be four to five degrees between each wedge. Dependent on your strength, you're going to have a variation of distances. Iron sets  now are typically pretty strong with your wedges, let's say it's 45 (for a pitching wedge). So I like fives — 45, 50, 55. Distances (between clubs) can be, you know, anywhere from 10 to 12 yards, something like that."
To determine what the distance split with your wedges is, Cleveland continued, you can find a simulator and spend some time whacking balls into a screen and gathering all the information that provides you. That should be enough to give you an accurate assessment on how far the ball flies, in the air and with roll, off each club and the yardage distance between each. Or, you can simply do it the old-fashioned way, outside.
"It's hard. Trackman can help. The other thing is, find a field and go out and mark off yardages. Sure that's old fashioned, but when Phil goes out to practice, he puts out towels," to mark off his distances and goes to work.
Getting around to the product he's promoting, Cleveland said the new Callaway Jaws line gives players plenty to work with in order to improve game performance.
"These bring a wonderful feel, more spin, especially with your higher lofts, and that higher spin, especially in the 40 to 50 yard areas which is an area where you really need to control the ball and trajectory, it's about five to six hundred RPM more with this groove. It's a special groove that we put in, as well as the micro-grooves we put in. It's 84 edges to catch the ball. That's control with a great feel," and that's really what the short game is all about ended the wedge master — along with hitting shots closer to the hole for tap-in birdies and pars.
---
About the Writer
Gord Montgomery is a member in good standing of the Golf Journalists Association of Canada. He is now in his 12th year of writing for Inside Golf.
He can be reached at This email address is being protected from spambots. You need JavaScript enabled to view it.. He's also on Twitter at @gordinsidegolf and on Instagram at gordinsidegolf2.