New Morningstar Managers Look To Put Parksville Course Back On The Vancouver Island Golfing Map
Details

Category: Inside Golf
Published: 2019-11-26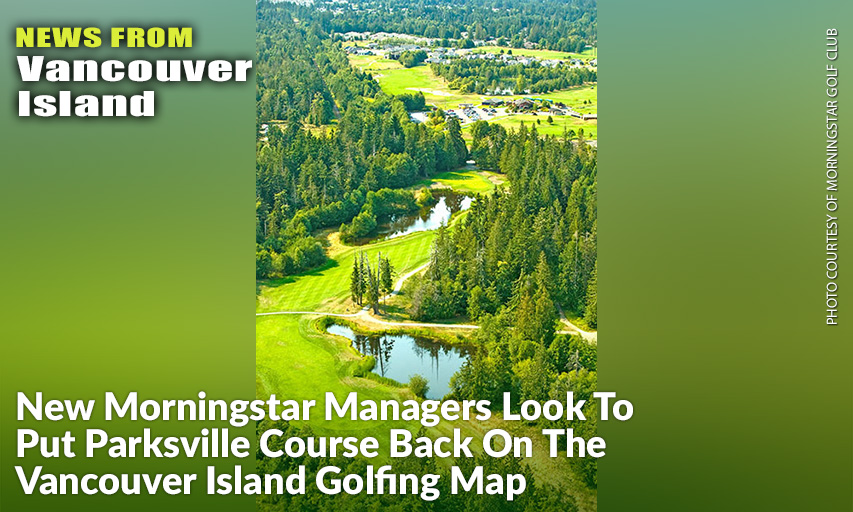 By BRAD ZIEMER, British Columbia Golf
There was a time, not all that long ago, when Morningstar Golf Course was a must-play stop for golfers visiting central Vancouver Island. But Morningstar, beset with ownership and financial problems that took a heavy toll on course conditioning, fell out of favour with golfers in recent years. Happily, it seems the Parksville layout is on the road to re-establishing its once lofty reputation.
"Morningstar had a great reputation and it certainly got tarnished, but not obliterated, and so we hope to get a lot of that back and have people put Morningstar on their play list again," says Barrie McWha, a familiar and highly respected name in British Columbia golf circles.
McWha and his partners, brothers Ray and Mike Riva, own Wedgewood Golf Management, which took over management of Morningstar on Nov. 1. The course, which remains listed for sale, has been in the hands of a receiver since June of 2018 after its former Edmonton-based owners defaulted on mortgage payments and filed for bankruptcy.
The G-Force Group in Vancouver was appointed receiver and had been operating the course until it hired Wedgewood Management to run it. McWha, a life member of the PGA of Canada, is no stranger to the Vancouver Island golf scene. He managed Fairwinds in Nanoose Bay for a time in the early 1990s before spending 10 years at the Pheasant Glen Golf Resort in Qualicum. He knows better than most how good Morningstar was in its prime.
The Les Furber-designed layout opened in 1991. For a time it was the annual site of the Canadian Tour's Spring Qualifying School. It also played host to a former Canadian Tour event. It has been a past site of both the B.C. Amateur Championship and the Canadian University/College Championships.
McWha and his team hope to continue the work G-Force did in improving conditions at Morningstar. The Operating Engineers Pension Plan, a former owner of the course, is the main creditor. The OEPP recognized that Morningstar would not sell unless course improvements were undertaken and it made an investment to do just that. 
"They have put almost $1.5 million into it in the last 15 months," McWha said. "You don't usually see investment and receivership in the same sentence, but in this case it is appropriate. The receiver felt that given our knowledge of the region and our reputation and so on, that we would be better placed to take it back to where it was."
McWha said course conditions have dramatically improved in the past number of months. "The biggest challenge they had here was the irrigation issue," he said. "They use effluent water and it became contaminated with salt five years ago and that was sort of the beginning of the downhill slide. That, combined with the ownership of the day being in the oil patch and having their difficulties. So spending just stopped.
"Fast forward to this year, the receiver has been working diligently to fix all of the irrigation problems. And as of the end of August those were fixed. There is now a daily monitoring program of the effluent and fresh water mix. The members today are raving about the conditions. It is a different colour of green, so we are all pretty excited about going into 2020 and sort of completing the recovery."
Play has already begun to rebound as word spreads about the improvements made to Morningstar. "There are now about 140 members," McWha said. "That's a 30 per cent gain over last year. They had a pretty loyal core here, but they lost a fair number of members. So I think we'll see that recovery go on into 2020. Some people will certainly take a wait-and-see attitude, but right now it is certainly encouraging to see not only the ones that continue to be members, but the ones who are coming back and just new members period."
WcWha realizes that recapturing the lost tourist market will be a key to Morningstar's long-term success. The course had been a staple on the itineraries of many golf groups visiting the Parksville-Qualicum area for golf vacations. Much of that business disappeared in the past couple of years.
Morningstar recently rejoined the Golf Vancouver Island marketing group to help win back some of that business. "We are now part of the Vancouver Island Golf Trail," McWha says. "And that was really important. You are more conspicuous by your absence than anything else."
McWha said he also wants to reintroduce some of the programs that were lost when the course was having money troubles. "What we have to do is get back to having some of the programs that you would expect at a place like this, things like instruction and junior programs. The members play a lot of golf here, but what we have to do is get into that fringe market and grow it. (Head professional) Mark Forrest is a good player and a good teacher, but has been running a cash register for two years. So that is going to change.
"Ultimately, our goal is to create some events and just let people know that Morningstar is back."