Valero Texas Open's 2017 Birdies For Charity Campaign Nets US$2.35M For Community
Details

Category: Inside Golf
Published: 2017-07-14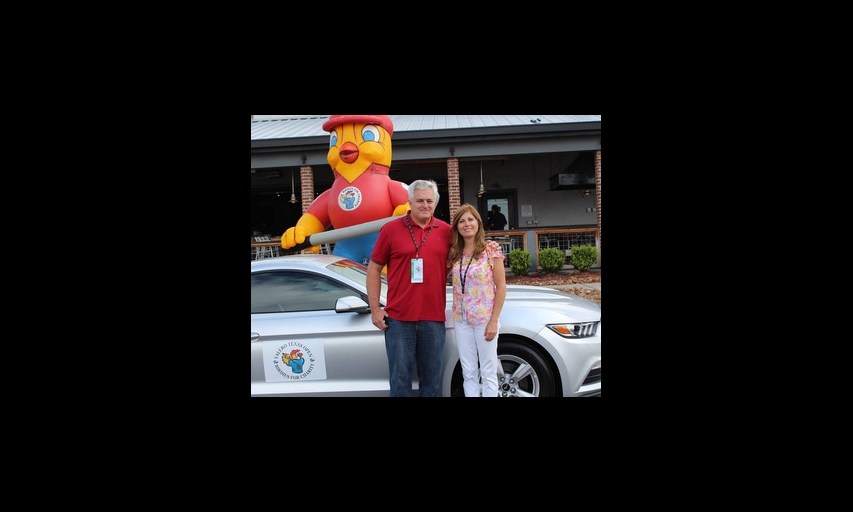 Birdies Donor James White And His Wife, Kim, Won A Two-Year Lease On A Ford Mustang Compliments Of South Texas Ford Dealers. (Photo/PGA TOUR Charities)
SAN ANTONIO, Texas — The second-annual Birdies Breakfast of Champions took place June 29, 2017, at Brick House Tavern.  Representatives from over 138 organizations — charities and program sponsors — from San Antonio, Austin and Corpus Christi attended the event as funds raised through the eight month-long Birdies for Charity campaign were distributed to one-hundred-and-seven (107) participating agencies.  More than $2.356M of this year's $2.83M fundraising total was presented to a wide-variety of worthy causes.
The Birdies for Charity® campaign is a charitable initiative organized and supported by the Valero Texas Open, providing over 150 charity organizations throughout the greater San Antonio community and beyond with a fun and unique fundraising platform.
Individuals who made pledges or monetary contributions to Birdies for Charity had the chance to participate in one of several give-away contests provided by the Valero Texas Open.
GUESS THE BIRDIES CONTEST
Five (5) donors correctly guessed the exact number of birdies made during the Valero Texas Open – 1,975 birdies – a random draw amongst the five donors resulted in Les Barnes winning a Stay-and-Play Package at the J.W. Marriott San Antonio Hill Country Resort & Spa and TPC San Antonio.  Barnes made a contribution to the Birdies for Charity campaign in support of Northside Lions Charitable Foundation.
DONOR ATTENDANCE CONTEST
As has become a Birdies for Charity tradition, donors who attend at least one day of the Valero Texas Open (Thursday-Sunday) were entered into a grand prize drawing to win a two-year lease on a brand-new 2017 Ford Mustang courtesy of South Texas Ford Dealers.
At the conclusion of the Birdies Breakfast of Champions, representatives from South Texas Ford Dealers together with the Valero Texas Open surprised James White with the keys to his new Ford Mustang.
By winning the donor attendance contest, White also earned Fisher House Inc. an additional contribution of $20,000 from the Valero Texas Open. 
Andrea Desbien representing Fisher House Inc. at the Breakfast of Champions was so moved by the surprise contribution awarded through this contest that she gave a big hug to James White. 
"This means so much and will do great things for our organization," said Desbien.
As participating Birdies for Charity organizations continue to finalize their annual collections in the weeks ahead, the remaining funds raised through the campaign will be distributed by the Valero Texas Open.  Birdies for Charity, thanks to its corporate supporters, is able to deliver 100% of all funds raised to participating organizations.
Please visit www.ValeroTexasOpen.com to learn more about the Valero Texas Open and its Birdies for Charity program.